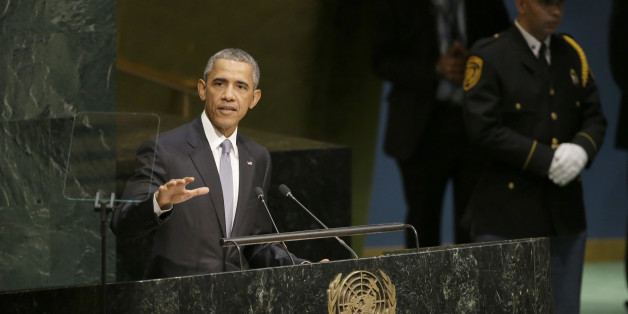 One could not have guessed that President Barack Obama was in his last years in office. He dropped gentle diplomacy and bluntly criticized Russia, China and even Iran, during his address to the United Nations General Assembly.
Russia was faulted on Syria and Ukraine, China on the East China Sea and Iran for fuelling sectarian conflicts and chanting "Death to America." U.S. politicians were also criticized for polarization, talking about a Cold War and building walls to keep out immigrants.
But the question remains -- what to do about Syria? Obama said he would be willing to work with both Russia and Iran to end nearly five years of a brutal civil war with more than 250,000 deaths and millions homeless. But how?
Obama and Russian President Vladimir Putin met face to face, the first time in nearly a year. Putin proposed a "broad international coalition" to fight ISIS as well as a UN Security Council resolution on who does what militarily. But there was no sign the United States was joining a military coalition that would include Damascus. Nor was there a positive word on a political process.
A little opening for Assad
However, the United States over the past weeks has appeared to agree to having Syrian President Bashar al-Assad part of a transitional phase but not leading a new government. Obama, in his speech suggested a "managed transition," an indication that he was willing for Assad to stay for a while if it meant a genuine negotiation for a future rule without Assad.
The United States and Britain are adamant Assad could not be part of Syria's future. France's president Francois Hollande has given a firm "non" to any cooperation with Assad. He also told a news conference that his country had just carried out air strikes against ISIS in Syria, not just in Iraq.
Moscow has beefed up its military support to Assad, blamed for maiming and killing countless civilians, often with indiscriminate air strikes. Still Putin said the Damascus regime was needed to fight the Islamic State because "no one except Assad and his militia is truly fighting ISIS in Syria."
(U.S. experts contend Assad's troops are fighting rebels instead in an effort to hold on to government. By putting down peaceful protests four years ago, they opened the door for ISIS.)
"In accordance with this logic, we should support tyrants like Bashar al-Assad who drops barrel bombs to massacre innocent civilians because the alternative is surely worse," Obama said in his speech.
"Let's remember how this started," Obama added. "Assad reacted to peaceful protests by escalating repression and killing."
But Putin insists it was the American invasion of Iraq and its Shi'a government that drove fighters to ISIS. In a "morning after" scenario, the Russian president contends that getting rid of government leaders in Iraq or in Libya left the door open for the flipped-out Jihadists.
And now Ukraine....
Then Obama turned to the Crimea, annexed by Russia, and its military presence in eastern Ukraine, saying he recognized the "deep and complex" history between Moscow and Kiev.
"If that happens without consequence in Ukraine, it could happen to any nation gathered here today. That's the basis of the sanctions that the United States and our partners impose on Russia. It's not a desire to return to a Cold War."
Putin did not hesitate to criticize the expansion of NATO eastwards and blamed the current crisis on a "military coup."
South China Sea
On China, Obama said the United States had no interest claiming territory in the South China Sea.
But he said, "We have an interest in upholding the basic principles of freedom of navigation and the free flow of commerce, and in resolving disputes through international law, not the law of force. So we will defend these principles, while encouraging China and other claimants to resolve their differences peacefully."
China's president, Xi Jingping, in his first visit to the United Nations, ignored Obama's comments about dictators or human rights, saying one should respect ways different countries choose to improve lives of their citizens. "The world is simply more colorful as a result of its cultural diversity."
"Death to America" chant
Describing the recent nuclear deal with Iran as an example of international cooperation, Obama said Tehran was fueling sectarian conflict by deploying "violent proxies" to advance its interest. Such actions, he said, isolated Iran "from the promise of trade and commerce."
"The Iranian people have a proud history, and are filled with extraordinary potential." But chanting "Death to America" does not create jobs, or make Iran more secure.
Iranian President Hassan Rouhani said his country was mourning the loss of thousands of pilgrims who died while tried to visit the Hajj in Saudi Arabia. He recommended an independent investigation of the tragedy and left New York a day early on Monday because of it.
He called the nuclear agreement a success of his presidency and said he expected nuclear weapon states to fulfill their commitment to nuclear disarmament. And he said the Zionist regime (he could not bring himself to say "Israel"), should not remain the only Middle East country with nuclear weapons.
Implementation of Iran deal in 2016?
Late on Monday, Federica Mogherini, the European Union's foreign policy chief, said she had met with Iran and the six powers that negotiated the nuclear deal. All hoped that work on implementing the agreement could begin in early 2016, she said. Her meeting with foreign ministers was the first since the agreement was set Vienna on July 14.
Obama also organized a forum on UN peacekeeping where a slew of countries pledged more than 40,000 troops and police to UN operations. In addition, helicopters, engineering companies and field hospitals were offered, including 40 military units from European Union states. Developing nations to date have made up the bulk of peacekeeping soldiers.
China's Xi, for one, promised 8,000 troops for a standby force, one of the largest contributions to date.

As for the United States, which has few peacekeepers, Obama said the numbers would increase and the U.S. would offer air and sea lifts, engineering projects like building airfields and base camps and technology.