Dear Anderson,
I want to commend you on your piece this week for CBS' 60 Minutes showcasing your dives in Botswana with crocodiles. To say the least, diving with such powerful animals is tricky, dangerous and requires luck as well as a very well trained team. Your desire to continually get back in to see them in their environment is a sign of the curiosity that begets a true explorer. Although I do not recall if the segment mentioned how long your team spent looking for the animals it is rather typical to spend days, weeks, or even months looking for them. For example, during our expedition to the Amazon in 2007, my family and I, along with our 13-person Ocean Futures crew, spent months filming a variety of subjects which became a two-hour television special, "Return To The Amazon" that aired on PBS. During our filming, we had several chance diving encounters with animals such as anacondas, pirhanahs & caymen (relatives to crocodiles) which can be similarly dangerous to humans.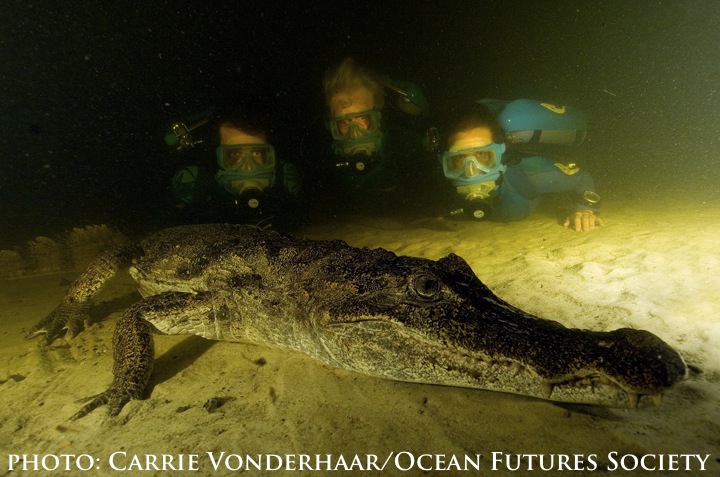 I can't help but feel an open ended-ness to your piece, however. With our global environment suffering tremendous human pressure on every level, as an iconic television figure I believe you missed a valuable opportunity to talk about the plight of crocodylians and to educate your large audience about the value they play in the overall ecosystem. Furthermore, there is no doubt that some who viewed your segment might have seen it as a validation to do the same and dive with these reptiles themselves even if they do not have a properly trained crew with them.
Certainly, television audiences enjoy the chills and thrills we, as adventurers and filmmakers, can bring to programming. However, given that the range of programming covering nature topics is slim, let's do our best to present our natural world as something we must revere and protect. We should not forget our fundamental duty as public figures to show the way, be good stewards of our water planet, and respect the animals and humans that call it home. After all, this is our one and only life support system.
Your friend and admirer,
Fabien Cousteau