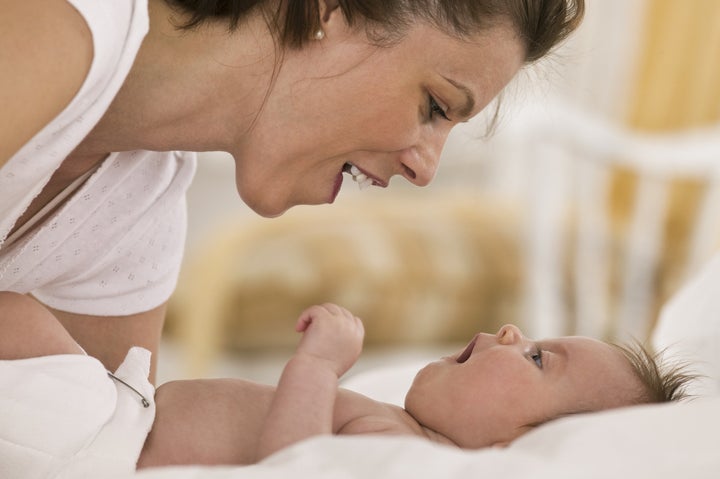 A young, slim, blond woman looks straight into the camera, her gaze unwavering, her tight jeans, hip top and cute flats marking her as a modern, possibly successful, definitely determined woman. A child (her child) standing on a chair, smartly dressed in camouflage and sneakers, also looks into the camera while sucking at her breast, his expression a little more puzzled than his mother's.
The cover image of the May 21 issue of Time magazine has stirred quite a few conversations -- and heated discussions -- about parenting, and in particular about the limits of the attachment between mothers and their children. I am no expert on the topic, so I will stay out of the conversation about what good parenting is. What struck me was the picture itself.
The mother holds her child with only one arm, the other hand elegantly on her narrow hips, attracting attention more to herself and her attitude than to what she is doing. The child keeps both his arms down, not even attempting to hug her while breastfeeding. Where is the emotional bond? Where is the carnal affection that is supposed to be shared by mothers and their offspring?
I am sure that the magazine editors chose this particular shot for its potential impact, but I found it interesting that the body language of both subjects in some ways sanitizes the very act the picture is supposed to draw attention to. Where are the bodily messiness and the corporeal elements that make breastfeeding a crucial experience? It is almost as though the photographer pointed at what he was witnessing without actually embracing it, expressing some sort of discomfort not caused by the age of the child, which some might find troubling, but by the very act. The uneasiness about breastfeeding that exudes from the magazine cover is significant in itself, as it reflects a sensibility that many seem to share in American culture.
Beyond any visual representation, breastfeeding comes across as problematic as soon as it takes place outside the private sphere. According to a report by KSDK 5 in St. Louis, a Hawaiian woman leaving Lihue Airport on the island of Kauai was forced to pump her breasts in the public toilet to prove that her electric breast pump was actually functioning. A TSA agent claimed she was not allowed to carry empty milk bottles onto the plane if her machine was not real. She was allowed to board only with full bottles. Although TSA has apologized for the incident, the event highlights cultural anxiety about breast and breastfeeding.
This preoccupation is heightened if the individuals involved are celebrities. Beyoncᅢᄅ made a splash for allegedly breastfeeding in public during a rare outing with her also iconic husband to the restaurant Sant Ambroeus in New York City. Considering that the owners are Italian, I suspect they were relatively nonplussed about the brouhaha that followed the sighting. Breastfeeding in public is not a rare occurrence in Italy, although it is unlikely to happen in a restaurant. On this side of the Atlantic, things appear to be quite different.
I am particularly intrigued that Beyoncᅢᄅ was in the eye of this minor media whirlpool. To appeal to all sorts of audiences, the artist has been performing a delicate balancing act between her wholesomeness on one side and the centrality of her body in her act on the other. While this is definitely not uncommon in the contemporary music scene, few others have actually hinted to the actual edibility of their flesh. Beyoncᅢᄅ has let us all know that she is bootylicious, a neologism she crafted with her former group Destiny's Child to indicate the deliciousness of her derriere. And I suspect that her public breastfeeding is further complicated by the peculiar history of race relationships in the U.S. and the historical role that black women played in taking care -- and often breastfeeding -- children, even when they were not theirs.
In the three instances I refer to, as different as they are, a female body reminds us of our connections with the flesh, our inescapable biological makeup and our need to be fed. The physical materiality of our hunger is made into a spectacle that many seem to find uncomfortable. All things considered, it is not surprising that such a public display of breastfeeding cannot find its place in the mainstream, whether printed on the cover of a major magazine or performed by a global celebrity.