You can almost feel the vibe that once was when you walk through the streets of Florence. The architecture, the hundreds of old shops and the many magnificent landmarks, such as the Il Duomo, (which remains until this day, the largest brick-built dome in the world) speak volumes of how this marvelous city would have undoubtedly been -- back then -- the "Center of Now."
Of course, the tagline "Center of Now" today belongs to leading UAE development company Emaar, and is used to promote Downtown Dubai; the home of modern-day global landmark Burj Khalifa... the world's tallest building which probably garners as much attention today as when the Il Duomo was completed in 1436.
However, that is not the only reason why one could argue that 21st century Dubai resembles Florence back then.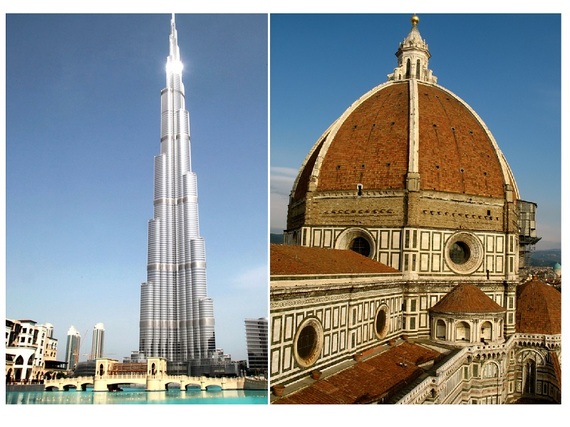 Caption: Dubai's Burj Khalifa and Florence's Il Duomo
Both cities had humble beginnings; for its part, Florence originated as a Roman city that flourished due to trade and banking. This is much like Dubai -- once a poor, desert Emirate with very little resources -- was funded mainly because of its role as a hub linking Africa, the Middle East and Asia (so much so, that it was historically referred to as al-Wasl, which in Arabic means 'The Connection!')
Both cities managed to overcome their limitations, exceed their natural boundaries and achieve a "global status;" mostly owing to the visionary ruling families, namely the Medicis of Florence and the al-Maktoums of Dubai.
Patrons of Art, Science and Culture
Indeed, the House of Medici, a banking family-turned-political dynasty that ruled Florence between the late 14th century and 18th century, were renowned for bringing prosperity, wealth and fortune for their people.
Like their counterparts who ruled other city-states of their time, the Medicis strived to achieve greatness for Florence through the patronage of art, culture, architecture, commerce and banking, among many other fields.
In particular, they were renowned for creating an environment where art and humanism could flourish. They were the patrons of some of the greatest art mankind ever produced, including the magnificent works of Michael Angelo, Donatello and Leonardo Da Vinci.
And it is thanks to the Medici vision and patronage of art that Florence remains today a global capital for art, fashion and culture. (I write this column as Pitti Immagine Uomo, the world's most important platform for men's fashion is taking place and attended by industry leaders from across the globe.)
The Medicis were also big on science; Cosmo II, who was the Grand Duke of Tuscany, is best remembered for being the patron of Galileo Galilei, his childhood tutor and a man credited for making acute astronomical observations, including being an advocate of heliocentrism.
"For the Hope of the Arab World"
To draw an analogy with Dubai; one only has to recall last May's unveiling of the UAE's unmanned mission to Mars (known as the 'Hope Probe') when HH Sheikh Mohammed bin Rashed al-Maktoum -- Ruler of Dubai and VP of the United Arab Emirates -- said: "One man asked me how much [the Mars mission] costs. I told him it is not a cost, it is an investment."
He then added: "The mission to Mars is really for the hope of the Arab World and will send a message that you can be better, you can improve your country."
Needless to say, under Sheikh Mohammad's leadership, Dubai -- like what Florence once was -- has significant influence in regional and global economics, politics, art and science.
Home to more than 2 million people and 200 nationalities, Dubai has solidly positioned itself beyond a mere travel and business hub to a city that seeks to attract and retain the best talent and most ambitious entrepreneurs.
It was recently home to a competition called "Drones for Good," an initiative that brought together scientists from across the globe (as well as from the UAE) to encourage the use of drones for peaceful purposes.
And after attracting the biggest regional and global media outlets to its Media City, the Emirate is going after designers, artists and creative thinkers through the Dubai Design District (known as 'D3').
It has also revealed plans to open The Museum of the Future, where visitors can see and experience first-hand what the future is going to look like (the museum's structure itself is a masterpiece and has already been labeled the "Eiffel Tower of Dubai").
However, perhaps the most significant similarity between the Florence of yesterday and present-day Dubai is their surroundings. Just like Florence was home to the Renaissance when darkness dominated Europe, Dubai is a beacon of hope and enlightenment when we look at what is happening in neighboring Arab and Muslim countries.
Around this time last year, I wrote a piece about "UAE Water Aid," a Ramadan initiative by Sheikh Mohammad to bring clean water to 5 million needy people around the world.
I had written that the campaign couldn't have come at a better time, as the Muslim world suffers - perhaps more than ever - from the hijacking of its religion by vicious extremists who have done nothing for Islam except tarnish its image and create misunderstandings and hatred.
Indeed, when we compare the likes of ISIS who are killing innocent people -- in the name of Islam -- for no reason except for having different religious beliefs to the UAE Water Aid initiative which sought - -also in the name of Islam -- to save lives regardless of race, religion or color, then one can't pray for anything except that the UAE model prevails and inspires a regional renaissance of its own.
This post was originally published on Al Arabiya English.