Saudi Arabia is definitely not without its faults. But many may not comprehend -- especially if they are not from the Kingdom nor are experts on its history, society and politics -- the significance of some of the landmark decrees issued by the newly inaugurated monarch, King Salman bin Abdulaziz who ascended to the throne on Jan. 24, 2015.
Indeed, only a few hours into his reign, King Salman announced his confirmation of HRH Prince Muqrin as Crown Prince and appointed HRH Prince Mohammad bin Nayef (the Kingdom's Interior Minister) as Deputy Crown Prince. By a long period of speculation and anticipation has ended by the Kingdom firmly securing -- once and for all -- the line of succession and a smooth transition to a new generation of the royal family.
Among other important developments in Saudi Arabia over the past 10 days was the major cabinet re-shuffle, which saw -- for the first time -- the appointment of three ministers in their 30s. This is particularly significant when one notes that 60 percent of the Saudi population is below the age of 21.
Another interesting aspect of the new cabinet is that eight of its ministers came from the private sector, bringing in much needed corporate experience and best practices required to execute reforms and make quantum leaps in vital areas such as education, health care, information and agriculture.
However, many media outlets, -- including reputable Western ones -- might have been too busy reporting on inaccurate or non-issues, such as the recent debacle over Michelle Obama not wearing a headscarf as she accompanied her husband, U.S. President Barack Obama, to pay condolences to the Saudi royal family in Riyadh.
Some U.S. reporters even fell for an amateur hoax claiming that Saudi state television blurred out the images of Michelle Obama during the broadcast of the visit. (This led the Saudi Embassy in Washington, D.C. to respond by tweeting a denial and recommending that media outlets use facts, not Facebook to source their stories!)
Report by Bloomberg View's Josh Rogin that Saudi TV "blurred" image of First Lady Michelle Obama is FALSE. Should check facts, not Facebook

— Saudi Embassy (@SaudiEmbassyUSA) January 27, 2015
Of course, one has to accept that we -- journalists -- all make mistakes, and must always apologize and accept responsibility for them. However, would it have been really difficult for a U.S. journalist to simply Google images of female world leaders and officials who previously visited Saudi Arabia to find that many of them actually didn't wear the headscarf?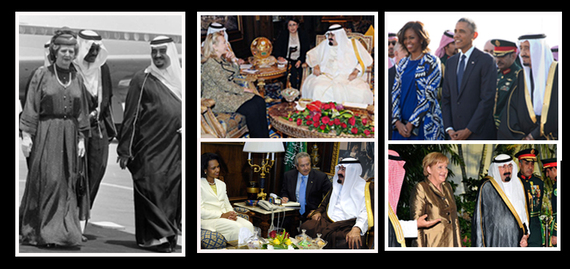 Caption: From (L) clockwise: Late British PM Margaret Thatcher, former U.S. Secretary of State Hillary Clinton, U.S. First Lady Michelle Obama, German Chancellor Angela Merkel and former U.S. Secretary of State Condoleezza Rice on visits to Saudi Arabia, in which they did not wear a headscarf. (Al Arabiya)
Another interesting story this week, was the Washington Post retraction and correction of previous claims that King Salman suffered from dementia. In a statement obtained by Al Arabiya News, the Washington Post said it retracted the statement because it was "too speculative, unsubstantiated" and did not meet its "standards for publication."
It is unfortunate that in their search for sensationalism, many media outlets miss out on important stories. For instance, very few actually noticed the public appearance of a number of Saudi women (many of whom chose not to wear their face-veil) to pledge allegiance to the King, the Crown Prince and the Deputy Crown Prince, shaking their hands and -- in one instance -- one of the king's nieces actually gave her uncle a peck live on Saudi state television.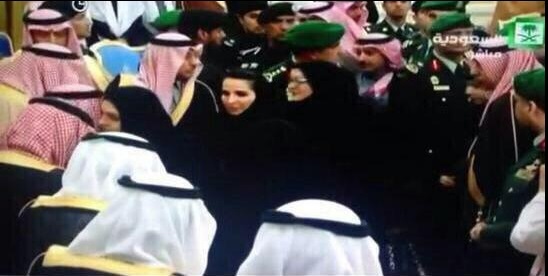 Caption: Saudi women seen pledging allegiance to the king, the Crown Prince and the Deputy Crown Prince, shaking their hands and -- in one instance -- one of the king's nieces actually gave her uncle a peck live on Saudi state television. (Courtesy: Saudi state television)
*This blog post is based on a column published in Al Arabiya News on 3 February 2015 under the title 'King Salman needed only ten of his 'first one hundred days'