Prime Minister Najib Mikati of Lebanon is no stranger to Davos; in a 'previous life,' he used to attend the annual meetings of the World Economic Forum (WEF) as a tycoon businessman rubbing shoulders with the world's most influential movers and shakers.
However, he arrives to Davos this year a different man. As head of the Lebanese government in a very delicate time, P.M Mikati comes with a whole new agenda.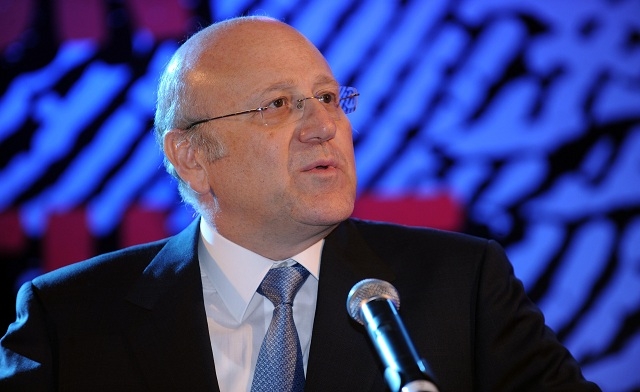 (Prime Minister Mikati of Lebanon -- Al Arabiya image, used with permission)

In an exclusive interview which I conducted with him for Al Arabiya, he says that during his participation at the WEF Annual Meeting he will seek to call on economic and political leaders to perceive Lebanon as the beacon of hope for freedom and pluralism in the Middle East.
The Syrian Crisis Spill-Over
As optimistic as he sounds, P.M. Najib Mikati's plans were likely to be obstructed by questions around the 'elephant in the room': the Syrian crisis spill-over.
Throughout the interview, Lebanon's P.M repeats that his government is doing what it takes to isolate Lebanon from the consequences of the atrocities happening in neighboring Syria.
Known to have been a close personal friend of President Bashar Al-Assad of Syria, Mikati tells Al Arabiya that it has been two years since they last spoke.
On the humanitarian side, Mr Mikati says that he "feels very sad about the violence that is claiming hundreds of innocent lives each day in Syria."
As such, he stresses that his government is "committed to support, within its capacities, the displaced Syrian families awaiting their return to their homes."
According to his figures, over 206,000 displaced Syrians would have been officially registered.
"The situation has reached an alarming level that Lebanon cannot handle on its own," he adds as he explains that his government designed a sustainable response plan as he called upon the international community for support.
Economic Recovery and Inner Challenges
The inner workings of Lebanon itself are not at their best and tourism in this Mediterranean country is suffering. Recent kidnapping incidents of some tourists from Gulf countries certainly didn't help and the growing armed hegemony of Hezbollah doesn't send comforting signals.
In Switzerland, home of the World Economic Forum, P.M Mikati is very likely to also be asked if his country (which was known as "Switzerland of the Middle East") will ever be able to make a come-back.
He stresses that any country in the geographical case of Lebanon would have suffered from the regional turmoil. On tourism, he admits that there has been less tourists coming in and says that "citizens of countries whose governments have, unlike Lebanon, taken side in the conflict taking place in Syria may have felt some unease."
There is also the question of Lebanon's debt, currently estimated at $56 billion and whether or not this nation will ever be able to make a recovery.
Against all odds, Prime Minister Mikati still sounds optimistic and mentions that the Lebanese debt is manageable, whilst the banking sector is still enjoying growth in its deposits whilst claiming that his nation's economy has achieved close to 2 percent in real growth.
The full transcript of the interview can be read here.