One of the most fascinating things was witnessing how people in the Middle East were shifting their opinions regarding Syria, following the recent indications that a Western strike is imminent.
A recent story published by Al Arabiya English explains how people who used to condemn the West for its inaction regarding the suffering of the Syrian people, are the same ones who are now attacking the strike and labeling it as part of a global conspiracy to take-over the Arab World.
An interesting reaction about this matter which was quoted in the story was by Emile Hokayem, author of Syria's Uprising and the Fracturing of the Levant, who tweeted on Wednesday: that he is "Not surprised to see Arab officials/analysts privately urging strikes on Syria and staying mum or even opposing them in public. Hypocrisy."
In the past week, social media masses have swiftly begun to unleash their ire with user generated content poking fun at the big players in the Syrian conflict. Social media users were torn between those who mocked Assad for getting the cold shoulder treatment by Russian's Putin, whilst others channeled their creativity to portray that Assad is a victim of a global conspiracy; going as far as questioning whether the West had planned for this chemical attack to happen to justify the anticipated attack.
Anti-American material was quick to spread on social media sites by regime-apologists, with many posting archive pictures of Abu Ghraib and insinuating that this is the destiny that awaits Syria; whilst others were drawing similarities between former President George W. Bush and President Barack Obama calling them both 'war criminals'.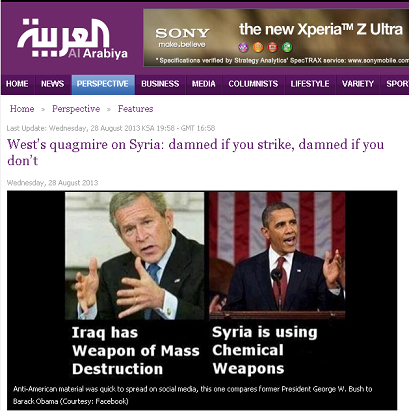 (Sample of Anti-American user generated content -- photo courtesy: Al Arabiya)
However, for Ghassan Ibrahim, an independent opposition figure, the things are really clear.
"It doesn't require much effort to understand that this [the alleged chemical weapons attack] was masterminded and carried out by the Syrian regime," he told Al Arabiya.
"The attack targeted children, women and the elderly, most, if not all, of whom were civilians."

Ibrahim is adamant that "the only party to blame is the regime" and adds that the "international community should act accordingly."
According to Ibrahim, lack of international action against the perpetrators of the attacks will be perceived as a "green light for them to carry on."
"The attack has to be decisive and prevent the regime from any further attack on the Syrian people; the final result has to be that Assad either steps down or ends up like [former Libyan leader Muammar] Qaddafi"
Ibrahim also attacked those who are criticizing the potential strike on Syria, saying that many of them were at first criticizing the West for not intervening stating conspirastic reasons such as that Syria -- unlike Libya -- has no oil.
"These people are simply not thinking of Syria, they are taking based on their ideology and putting their party interest above national interest, Syrian people have been desperately calling on the international community for a long time to intervene and put an end to the bloodshed.
However, as noted before, many Arab social media users have celebrated the potential strike and posted material that mocked Assad; among the most shared, was a spoof of Russian President Vladimir Putin's phone showing missed calls and concerned messages from his Syrian counterpart.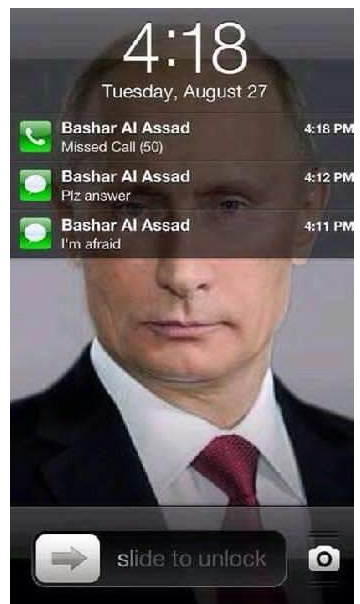 The full story can be read here.