The head of the Saudi religious police, Sheikh Abdulatif al-Sheikh, recently made public statements revealing that there was nothing in Shariah Law that prohibits women from driving.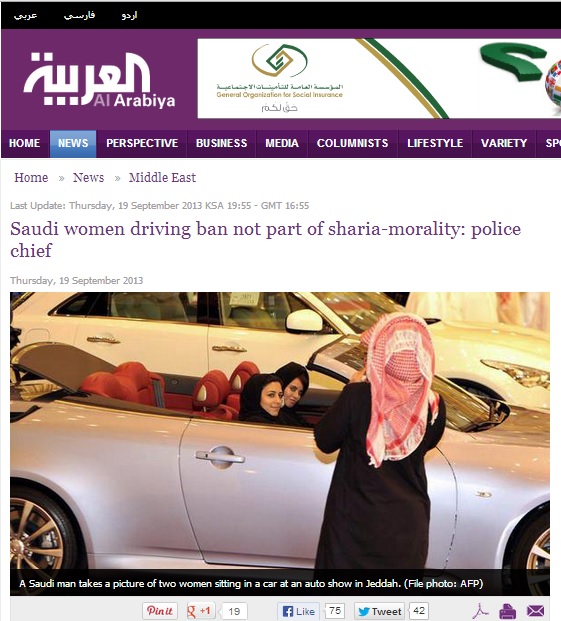 Caption: Al Arabiya English published a story regarding the Saudi women driving ban last September 19, 2013. (Screen-grabbed: Al Arabiya English)
Whilst the Sheikh has a duty of clarifying and correcting what many possibly and wrongly think is a teaching of Islam, one can't help but be amused when such a basic, well-known fact is reported as news around the world.
Of course, if this is an indicator of anything, it suggests that there is much work to be done spread the understanding of Islam internationally - including among Muslims themselves.
More importantly, and as the kingdom celebrated its National Day this week, it is about time the ban on women driving is addressed seriously and profoundly.
Steps towards progress

While the development of women's rights in the kingdom still has a long way to go, it should be noted that before the reforms introduced by the late Saudi King Faisal during his 1964-1975 rule, Saudi women did not enjoy as much support as they do today. King Faisal had challenged many ultra-conservative social norms by making women's education mandatory.
Indeed, under King Abdullah - the current monarch - we saw the appointment of the first-ever female member of the Council of Ministers. We also saw thousands of female students sent abroad to continue their higher education and a decree allowing women to vote in municipal elections starting in 2015. Earlier this year, we saw the Saudi Shura Council (the consultative assembly which advises the Saudi government) swearing in 30 female members for the first time.
Last month, the Saudi Council of Ministers broke new ground by passing a draft law criminalizing domestic abuse. While this step was welcomed by several international human rights groups, there was also a call for the law to be reinforced with effective implementation.
Now, while there is no dispute that the government has accomplished much and still has even more to do, we shouldn't neglect or underestimate the tremendous efforts and impressive achievements of the women themselves.
Against all odds

Despite the obstacles, Saudi women from various walks of life are making it BIG and this is not just locally, but globally as well.
Just a few days ago, Haifa al-Mansoor became the first Saudi filmmaker to ever garner an official entry at the Oscars, in the category of best foreign language film.
I had the pleasure of interviewing Mansoor almost a decade ago when her latest film - at the time - was being recognized regionally and internationally. Ironically, she and her line of work were being harshly criticized by some ultra-conservatives in Saudi Arabia, a country where public cinemas were (and still are) prohibited.
While claiming that the criticism didn't bother her, Mansoor didn't deny that it is "any film-maker's desire for their work to be seen by as many people as possible, especially your own citizens, if the film is an about an issue that concerns them."
Much like the ban on women driving, there is no clear reason, law or fatwa behind the cinema ban in Saudi Arabia. Such bans are the norm for those in societies where the line between what is socially acceptable and religiously imposed is pretty vague.
Still, Mansoor didn't let these challenges stand in her way and just like her fellow countrywomen who recently conquered Mount Everest, made it to the Olympics and made strides in the fields of medicine, science and business, she deserves nothing less than our full support, absolute trust and non-stop encouragement.
Indeed, with such impressive accomplishments, the ambition of Saudi women should stretch far beyond merely driving a car, which should be considered a simple right for any woman who wants to. They should be actively taking a bigger role in driving the whole kingdom towards a more prosperous future.
However, we are wrong if we think that this issue can be resolved by a simple government decision. We - as a society - need to first accept that a women's place is not behind a man... but next to him!
*This article was originally published in the opinion section of Al Arabiya English.