This one's for the felines. Those mysterious and moody yet delightfully playful and snuggly creatures that have captured the hearts of pet owners everywhere. And rightfully so. With their superior attitude, keen knack for comforting weary souls and amusing fondness for spirited fun - not to mention, expert mouser skills - it's no wonder that for many people cats are the "purr-fect" pet. Why not treat your favorite feline to a visit at one of New York City's chic cat-centric centers?
Organic Offerings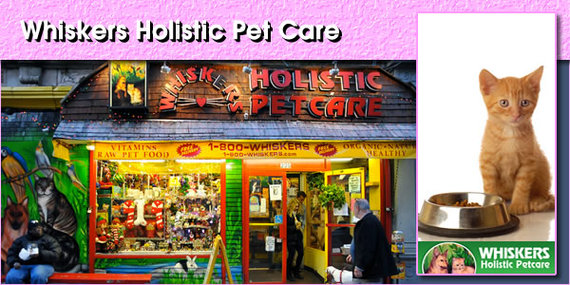 Whiskers Holistic Pet Care - Manhattan - 235 East 9th Street (at Second Avenue) - Astoria - 19-25 Ditmars Boulevard (at 21st Street)
Bringing the benefits of holistic wellness to kitty companions, Whiskers Holistic Pet Care focuses on educating pet caregivers and researching, identifying and introducing premium products that are both healthy and natural. By avoiding the use of toxic substances and invasive procedures, this self-proclaimed group of "animal crazy" professionals keeps your cat's care close to their hearts.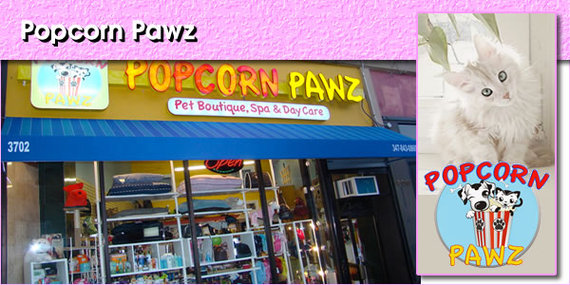 Popcorn Pawz - Inwood - 4771 Broadway
Far more than a typical pet store, Popcorn Pawz knows that your feline family members also deserve top-notch treatment. The boutique offers holistic dog and cat food, along with a wide variety of pet products, including toys, treats, clothing and carriers. The shop is also well-known for its state-of-the-art grooming services, designed to keep your kitty looking regal. Pet parents call Popcorn Pawz a dream come true!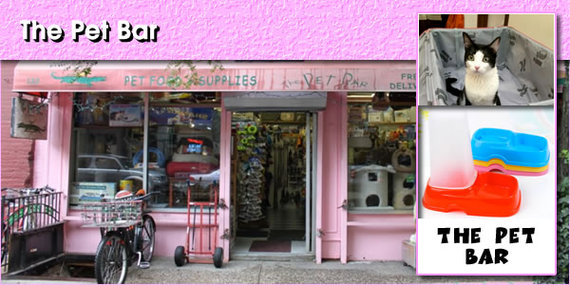 The Pet Bar - 132 Thompson Street (between Prince and Houston)
Only the best for your pretty kitty? Look no further than The Pet Bar, which offers up a plethora of toys, treats and high quality eats to spoil your feline furball. Worried about lugging home that kitty kibble? Fret not! The Pet Bar delivers all over Manhattan, ensuring that you will feel as pampered as your nap-loving feline.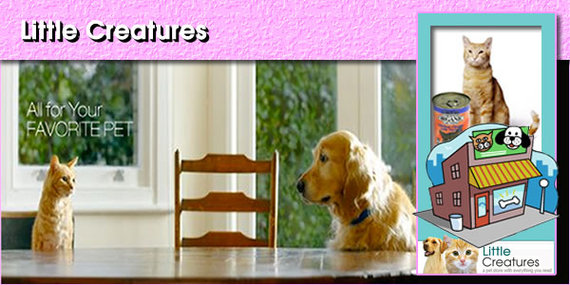 Little Creatures - 770 Amsterdam Avenue - 525 Amsterdam Avenue - 575 Columbus Avenue
Natural and organic foods are on the menu at all three Little Creatures locations. The specialty shop also stocks vitamins, join supplements and more. Best of all, catering to the city's cat loving crowd, it will drop your items with your doorman or deliver them to your apartment doorstep seven days a week.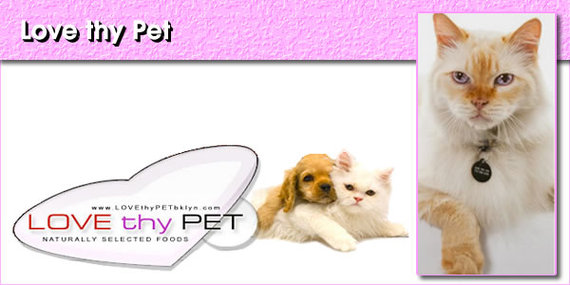 Love thy Pet - Brooklyn - 164 Union Street (between Hicks and Henry)
Voted the best pet supply store by New York Magazine, this family-owned Carroll Gardens shop is all about sharing the best, holistic products in a friendly atmosphere. When visiting the store, cats will enjoy free treats while their doting owners shop for food, toys, supplements, supplies and more.
Adoption and Fostering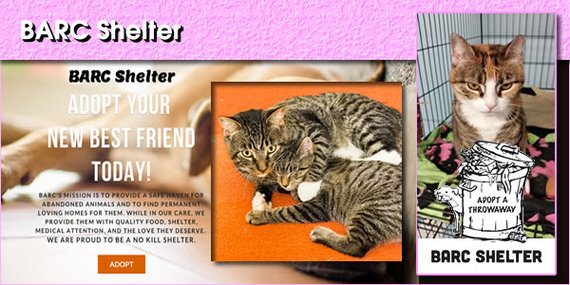 BARC Shelter - Brooklyn - 253 Wythe Avenue
Condo association not feeling your feline fever? Unsure of whether or not you are ready for a steady pal? Try volunteering at BARC, which stands for Brooklyn Animal Resource Coalition, a non-profit, no kill, privately run shelter. Situated in Williamsburg, it's the perfect place to spread your love, meet people and play with hordes of cute kitties.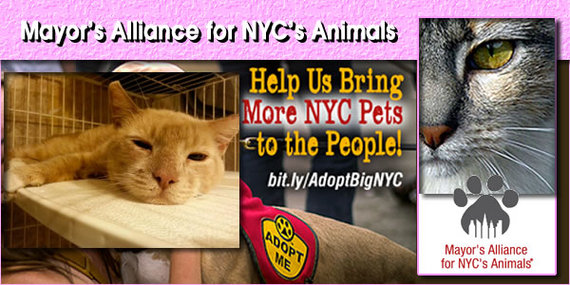 Mayor's Alliance for NYC's Animals - 244 Fifth Avenue
If you are a little more serious about your cat commitment, try being a foster mom or dad. Most foster associations work within your time frame and needs--and it's a great way to see if you are "cat material." An excellent place to start is at the Mayor's Alliance for NYC's Animals, the metropolis' sole umbrella organization for animal welfare. Check out this non-profit which, bee-tee-dubs, is a great source for breed-specific rescue programs.
Kitty Care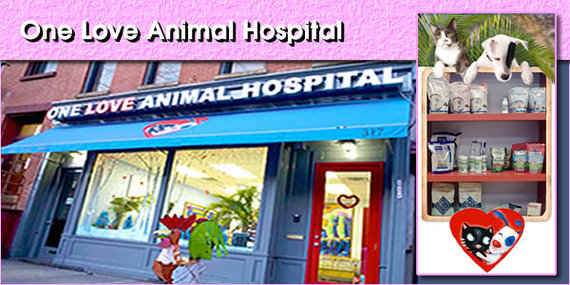 One Love Animal Hospital - Brooklyn - 317 Atlantic Avenue (between Smith and Hoyt)
Want a happy, healthy house cat? Pet care can indeed be costly, but no one wants to skimp out on a furry bestie. So, if you're looking for compassionate care, check out One Love Animal Hospital in Downtown Brooklyn.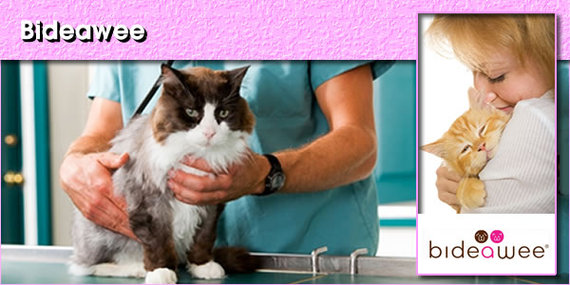 Bideawee - 410 East 38th Street (Between First Avenue and FDR Drive)
For the wallet-conscious, try the super affordable Bideawee, which also houses adoption facilities. A couple of hard and fast rules: Even if your pet is not sick, they should have a doc who is familiar with their files; if money is an issue, let it be known up front--most vets will help you figure out a solution; and micro chipping is not painful, but affordable and will ensure your furball can always find its way home.
Grooming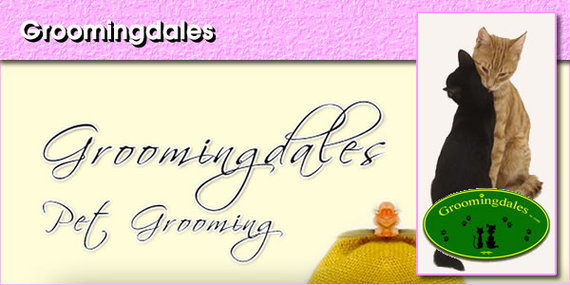 Groomingdales - 349 East 82nd Street (between First and Second Avenues)
The aptly and delightfully named Groomingdales proves that indulgence is an all-inclusive pleasure. For short-hairs, expert grooming can be fun every now and again, while long-haired little ones can surely benefit from a beauty bath and proper fluffing.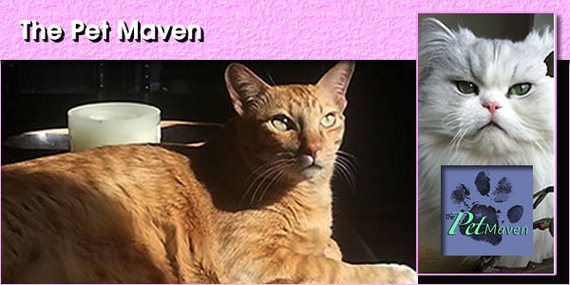 The Pet Maven - 2 Tudor City Place (between First and Second Avenues)
For a cat-only experience, it's best to call in the specialists. We love The Pet Maven for at-home cat sitting and care -- including a massage and blow-out!
Cat Sitting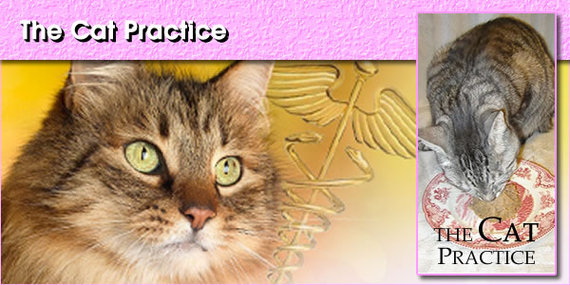 The Cat Practice - 137 Fifth Avenue (between Sixth and Seventh Avenues)
Looking for an exceptional facility to care for or watch over your cat? Look no further than The Cat Practice, the first exclusively feline vet practice in the US. In addition to stellar care, advice and supplies, it offers long and short-term cat boarding seven days a week.

Ruby & Jack's Cat Sitting - 1146 Second Avenue
Noted for loving cats "as much as cats love catnip," Ruby & Jack's will look after your precious pussycat while you're away with its individual kitty condos. The provider boasts sophisticated suites that pull out all the stops. Soundproofed and air-conditioned confines offer superb accommodations for feline guests and come with loving care from staff, including cuddles. Does your kitty prefer the comforts of home? If so, you're in luck -- Ruby & Jack's also makes house calls.
Cat Cafes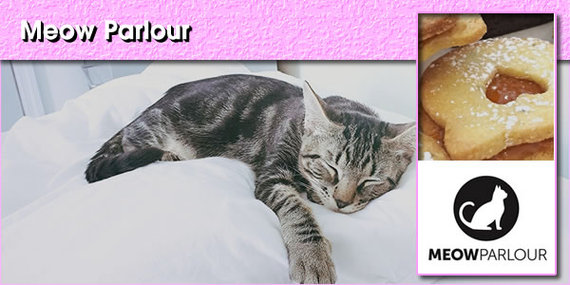 Meow Parlour - 46 Hester Street
New York's first official cat cafe is the place to be if you love coffee and kitties. Following a trend that started in Asia and quickly caught on around the globe, Meow Parlour allows Lower East Side patrons to enjoy interaction with cats in a home-like setting, renting time to hang with adoptable roaming kitties. Use the free WiFi, enjoy a sweet treat from the Meow Parlour Patisserie, located around the corner, and enjoy meeting some new furry friends.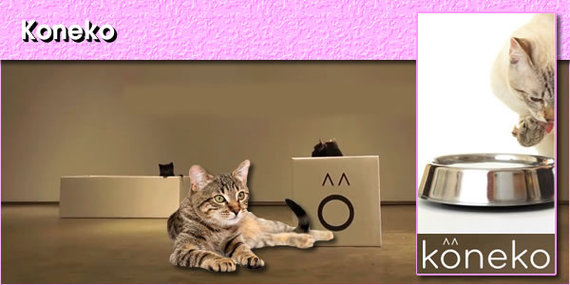 Koneko - 26 Clinton Street
Taking its cue from Japan's cat cafes, Koneko, which translated means "kitten," will be America's first authentic Japanese-style cat cafe when it opens for business this September. Get ready to dine on sushi with a furry feline purring away in your lap. Open for reservations for "cat naps" and welcoming walk-ins soon, Koneko is sure to be a kitty lover's top destination.
With options that are the cat's meow, and in every cat-egory imaginable, the city's kitties are bound to be loved, pampered and even spoiled. They wouldn't have it any other way!