The weather is better, the mood is lighter, and summer is nearly here - now is the time for outdoor shopping! Open-air markets abound in the city even during the worst weather, but late spring/early summer is the perfect time to meander and find a great treasure.
Even better, you'll be buying from your neighbors - local farmers and artisans who are part of the area's economy. And the shorter transport distance means you'll be helping the environment as well as yourself. Remember: not all great markets are open-air. For rainy days, consider indoor flea markets.

Here are a few of my favorites: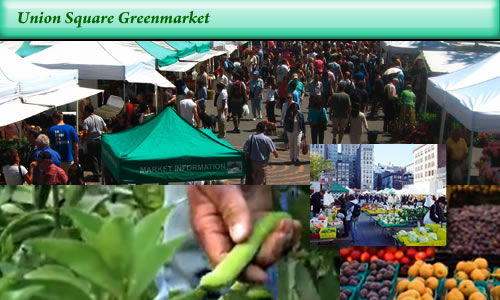 Union Square Greenmarket
Union Square West from 15th to 17th Streets
Held Mondays, Wednesdays, Fridays and Saturdays year-round. The granddaddy of them all (since 1976), the perfect place for locally grown produce and baked goods - as well as soaps, candles and other items.
Smaller Greenmarkets can be found at:
57th Street at Ninth Avenue (Wednesdays)
Columbus Avenue between 77th and 79th Streets (Sundays)
97th between Columbus and Amsterdam (Fridays)
Abingdon Square (Saturdays)
Bowling Green -Broadway at Battery Place (Tuesdays and Thursdays)
Columbia - Broadway at 114th Street (Thursdays and Sundays)
Dag Hammarskjold Plaza - 47th Street and 2nd Avenue (Wednesdays)
Inwood - Isham St. between Seaman Avenue and Cooper St. (Saturdays)
Port Authority Bus Terminal--North Wing (Thursdays)
Saint Mark's - East 10th Street and 2nd Avenue (Tuesdays)
Staten Island Ferry White Hall Terminal 99 4 South Street (Tuesdays and Fridays)
Tompkins Square - Avenue A and East 7th Street (Sundays)
Tribeca - Greenwich Street between Chambers and Duane (Saturdays)
Tucker Square - Columbus Avenue at 66th Street (Thursdays and Saturdays)
Zuccotti Park - Cedar Street between Broadway and Church St. (Tuesdays and Thursdays)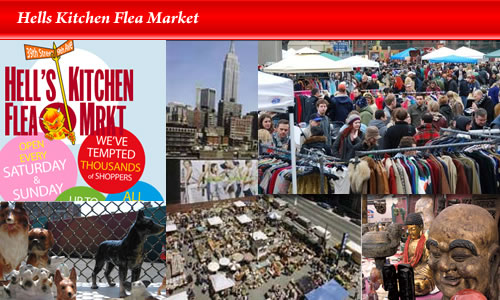 Hells Kitchen Flea Market
39th Street Between 9th and 10th Avenues
Open every Saturday and Sunday, this market may be in Hell's Kitchen, but heaven for the savvy second-hand shopper. Vintage clothing, vases, planters etc. can be found here. Some of the vendors from The Annex in Chelsea have relocated to this market.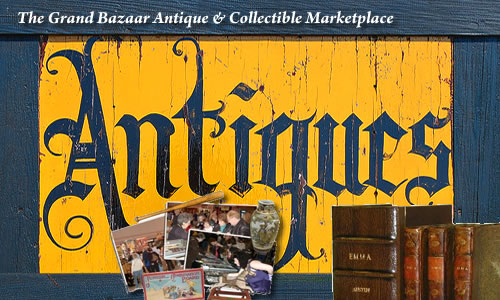 The Grand Bazaar Antique & Collectible Marketplace
25th Street between Broadway and Sixth Avenue.
Saturday and Sunday - Offers more than 125 vendors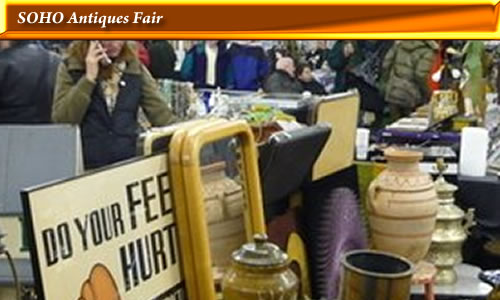 Soho Antiques Fair
Grand Street and Broadway
You never know what you'll find here on the weekends - antiques, crafts, whatever.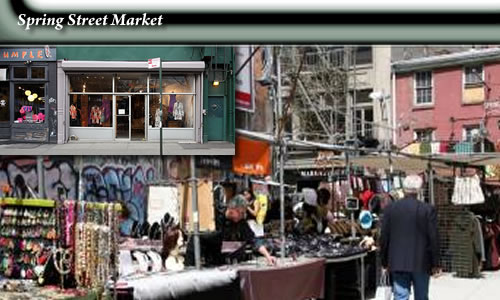 Spring Street Market
43 Spring Street
This small (15 vendors) market is open every day, featuring new and vintage clothing, jewelry and crafts. No antiques.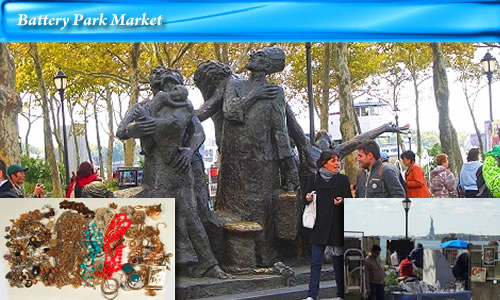 Battery Park Market
State St between the water & Battery Place
Held on Thursdays, offers antiques, new and used jewelry and crafts.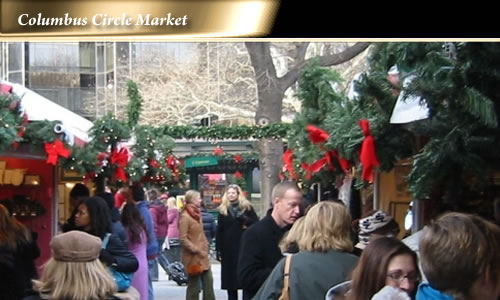 Columbus Circle Market
10 Columbus Circle
Held from April through Christmas - antiques, collectibles, jewelry (new and used).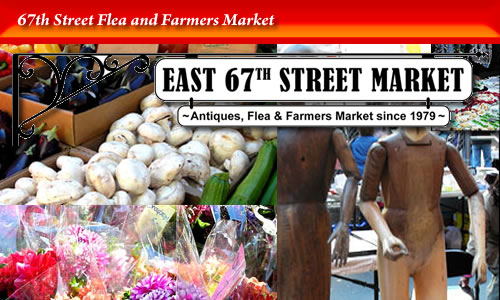 67th Street Flea and Farmers Market
67th Street between 1st and York Avenues
Yes, they do markets on the Upper East Side. Held on Saturdays year-round, this market features 70 vendors of antiques, collectibles, furniture, jewelry, stamps, coins, toys, books, you name it.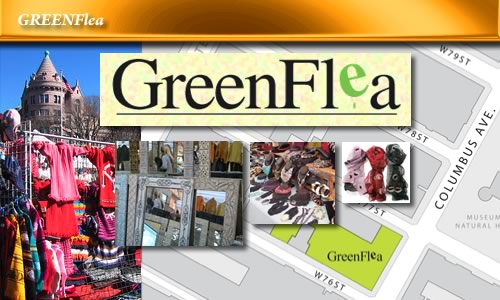 Greenflea
Greenwich Avenue at Charles St. (Saturday)
Columbus Avenue between 76th and 77th Streets (Sunday)
This market offers both open-air and indoor vendors, and a terrific combination of imports, handmade crafts, antiques, books and produce.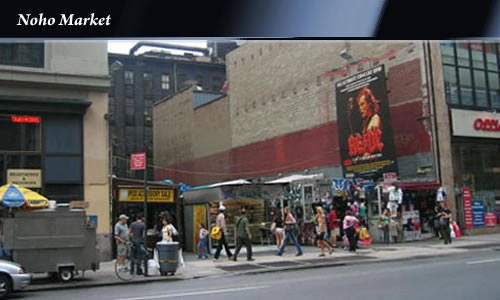 Noho Market
Broadway and West 4th Street
Open daily! Jewelry, tapes, sunglasses, and other accessories.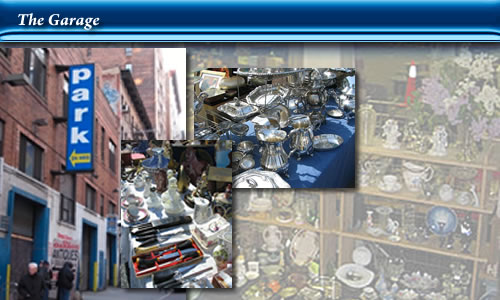 The Garage
112 West 25th Street
Held on Saturday and Sunday, with as many as 125 vendors selling antiques, collectibles, and other types of vintage and mid-century modern items.
Other markets seem to spring up all the time - walk along Houston Street, and you'll find tables with unique jewelry, a perfect casual skirt or the perfect belt. Click on the web, read around, or just wander to find your newest treasure. Happy shopping!