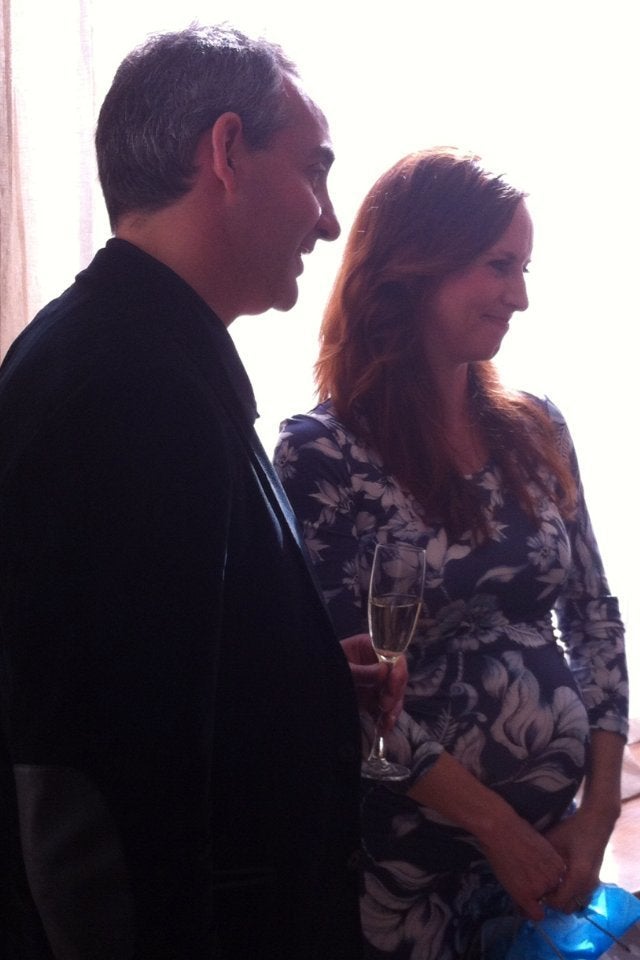 First off, let me make this clear: at 41, I am profoundly grateful that I am about to become a first-time mother. At nine months pregnant, I love my son already. This kid has been prayed for and paid for. He was a surprise to us, conceived naturally a month before our wedding. The morning we flew to Rome to get married, my fertility doctor -- a superhero who had performed corrective surgery on my uterus, frozen my eggs, seen me through two miscarriages, a post-miscarriage D&C, and one round of IVF that had to be punted into an IUI -- told us compassionately that my pregnancy hormone levels were low, the fetus was abnormally small, and the chances of a miscarriage during the wedding weekend or honeymoon were about 80 percent. There were no tears, just grim expectations, and we flew off to celebrate our marriage with 75 of our closest friends and family.
We said prayers in every church we entered in Florence and Venice though. My new husband used his impressive Italian to schmooze us into Vespers, and when I was suddenly overcome with nausea and fatigue on a leisurely morning walk to see David at the Accademia, I became giddy with hope: I'm really pregnant.
When we got home to New York from Italy, my husband and I grasped hands in the doctor's office for a 7-week ultrasound. The baby's heartbeat was a tiny pulsing explosion on the screen; it made me beam and my husband cry. Afterwards, we walked to a cafᅢᄅ on Lexington Avenue and split a smoked salmon on pumpernickel, because I hadn't yet read any of the pregnancy books that told me not to eat smoked salmon. And, we couldn't stop smiling.
Our little guy is a champ who has hit all his marks in this high risk pregnancy. I've been to the hospital for tests many times a week for many months. I actually love lying on my left side on a hospital bed and marveling at the variability in his heart rate, as if he's some kind of physiological genius. I admire him already.
And yet, at 39 weeks, I'm downright blue. That putative nesting instinct never kicked in -- I didn't want to deal with creating "the baby's room" (though this might have something to do with giving up space in a two-bedroom Manhattan apartment). It was my husband who had to open all the baby shower gifts which were haunting me in their candy-colored gift wrap -- thank you notes demanding to be written.
I have no problem being full-term pregnant and do not understand women who say, "I can't wait to get this baby out of me!" I'd be happy to keep the kid inside for at least a few more months. He is currently quite manageable. I don't have to change diapers, he drinks his own pee, and I cherish the intimacy of feeling my little buddy move around all day long. He delights me when he gets hiccups.
I'm blue because I'm scared about how utterly my life will change, and I'm sad about saying goodbye to my soon-to-be old life. Not in the cynical way that smug parents warn, "Say goodbye to your life!" as in say sayonara to sleep and spontaneity and romance and a perky rack.
No, I mean that I really love my life just the way it is. This life, in my 40s, is a life I've forged and prayed for and fought for and created and adjusted. I've lost a mother and a marriage. I've changed my career and settled, alone, in the greatest city in the world. I've met the love of my life and am acutely grateful for him every day. I know how much sleep I need, how much time on the elliptical I need and how much chocolate that buys me. I also know how little I need to make me happy, ironically blessed as I am to be surrounded with just about everything I've ever wanted. Paradoxically, falling in love with my husband made me think, for the first time, that I'd be okay if I never had a baby at all. Without children, he and I could make up for spending the first four decades of our lives apart.
And now there's this kid coming in to shake things up.
I've always wanted, notionally, to be a mother. And I was certain I would be, because everyone I know, gay or straight, married or single, rich or not so much, who truly wants to have a child figures out a way, some way, to have one -- whether through adoption, fostering, surrogacy, fertility, accident, or persistence. But I never held a friend's baby and felt a visceral yearning that I need one of these to make my life complete.
I froze my eggs as a practical move. I told my husband in our wedding vows, "I knew you were The One when you let me put my syringe in your refrigerator."
The life experience of being a mother has always been appealing, but now I'm up against the reality of having a kid. The former sounds like giggles and smells like a newborn's head; the latter is redolent of tantrums and poop.
My wisest friend pointed out that, for many of us, our late 20s and our 30s are about scrambling to assemble a life we think will make us happy. We feel an urgency to get married and have kids while we grow our careers -- and we imagine the aggregate will be fulfilling. That equation didn't work out for me. When I was married the first time, my now ex-mother-in-law proposed that having a baby might bring something positive into our unhappy marriage. I told her that I'd like to get pregnant ... if only her son wanted to have sex with me.
I wouldn't take back any of the nadirs of the past two decades -- the years I surrendered to unyieldingly sunny Los Angeles, hearing things like this from an acting coach: "Why aren't you as pretty as I want you to be?" or when my former husband asked me, seriously, if I'd consider having an exorcism. All of those disappointments and challenges ended up being clarifying, like microdermabrasion for the soul. They led me to this miraculous life now. The one I'm sad to leave behind.
Since it's become a national pastime to assign bad mother status, I, of course, wonder whether I already am one. But there is a part of me that hopes just maybe these pre-partum blues might make me a better, more honest mother. Not the woman who will replace her Facebook photo with a picture of her child. Not the mom who will say "We have a soccer game" when her kid is the one playing. I won't wear my child's initial on a necklace like a maternal dog tag, suggesting that he is my identity or accessory. Because I am not having this baby to complete my life. It's not his burden to make me happy; it's my honor to help him be happy. He's not our answer; he's a lifetime of questions we will help him solve. This little soul, who achieved existence with the odds against him, chose us to be his parents. I have faith that any day now, the blues in my life will be my boy's eyes.