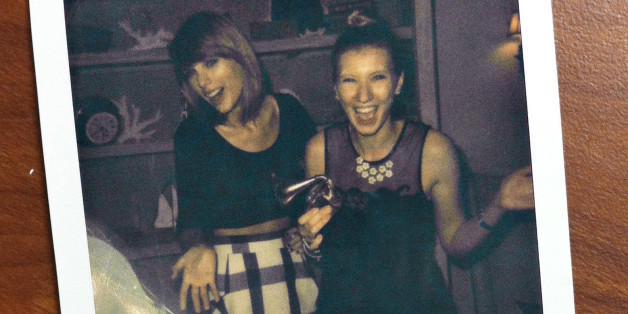 October 2, 2014 started as an average autumn day. I was about to start my shift at Dairy Queen when my phone rings, showing a RI number that I did not recognize. Expecting a telemarketer, I answered, and was greeted with, "Hi, is this Fallon Wilson? I'm calling from Taylor Nation." Immediately I start freaking out (of course) as the lady on the phone asks if I'd be interested in attending a secret event in Rhode Island on October 4. Attempting to control the excitement in my voice, I answered a bunch of questions, practically jumping up and down. I was then told a time, place and secret password to say upon arrival at the undisclosed location. They said to come alone, to leave my phone in the car and that if I were to share any of the event's information with anyone other than a parent prior to Saturday at 11 p.m., I would be disinvited.

Naturally, I could barely eat or sleep for the next two nights because I was so anxious and excited. I had read about the "1989 Secret Sessions" on Tumblr in the weeks previous, wondering how those people were chosen and how I could possibly be included in such an event. Then suddenly, come Saturday afternoon, I too was on my way from UConn to Taylor Swift's home.

After a lengthy wait in my car, a super nice woman from Taylor Nation escorted us one by one to a small building where we signed a few forms, received a wristband, a quick security check and climbed into a shuttle with seven other girls (we were group three of nine). The eight of us talked excitedly and screamed as we entered the gates of Taylor's driveway. After another quick security check, we were escorted up the stairs from the garage to the main floor of her home.

As anyone could imagine, her house was decorated with the perfect blend of vintage furniture, black and white photos and beach-y accents. Huge windows lined the walls revealing a breathtaking view of the ocean, despite the stormy day we were having. We were guided to the sunroom that featured tables of delicious food and Taylor's grand piano. We mingled and ate as the other groups were escorted in, feeding off of each other's energy. I have never been in a situation before where making friends came so naturally.

After a fairy long wait and a phenomenal sing along to "Shake it Off," we were told we could go into the living room. After a few minutes, Taylor sneaks into the room and we all went crazy. The level of excitement and happiness in the room was overwhelming, I almost cried. We try to control ourselves as she sits down, and formally welcomes us all to her home. She went on to explain how each of us was hand selected by her and her team (Taylor Nation) based almost entirely upon our social media accounts. She made a list of people she really wanted to meet because of our dedication over the years. It was amazing to see how genuinely excited she was to meet us, just as we were excited to meet her.

She explained that we were among the few groups of people that would hear the entire 1989 record, with a full explanation of each song, before its release date on October 27. I could not stop myself from smiling the entire time. Each song was so perfectly crafted, and I loved hearing the backstory before it was played. We rarely get to hear detailed descriptions unless it is brought up during short interviews. The overall sound of the album seemed to have a Lorde/Lana Del Ray/Phil Collins vibe to me, in the best possible way. Still Taylor, but different and great.

Halfway through the record we took an intermission where we could stretch our legs, and Taylor passed around homemade cookies she had made that morning (I had the chocolate chip, SO good). As she made her way around the room with the baked goods, I got the chance to talk to Taylor's parents a little bit. They are two of the sweetest, most genuine and proud people you could ever meet. Which is not surprising, seeing as how they raised their daughter to be the exact same way.
Reconvening in the living room, I sat on the floor this time, and Taylor ended up sitting right in front of me. As she played the songs from her iPhone, she would lip sync the words and dance in her chair, making up moves that went with the words. I'd pick up on the lyrics during the first chorus of some songs, Taylor would lock eyes with me, point, and we'd actually sing to each other. It was so surreal and I'm pretty sure she could tell that I was dying of happiness. I also got to hold her cat, Olivia (Dibbles), which excited me a lot.
Once all the new songs were played, Taylor looked up at us and says, "Now it's time for the dance party," and pressed play on "Shake It Off." We all got up to dance and started screaming the lyrics. Taylor made her way through the crowd, actually stopping to dance with me during the first chorus. We were singing and shaking it off together, face to face. It was literally a dream come true, and the night wasn't even over yet.
When the song finished, we were brought back to the sunroom to sit in our groups and wait for our individual time with Taylor. We bonded over our favorite songs, chatted with her parents a little more, and even got to go out on the back deck overlooking the pool and ocean! When it was announced that our group was next, we did eenie-meenie-miney-mo to see who would go first, and of course, it landed on me.
Extremely nervous and excited, I walked into the room and immediately ran into a hug. She told me she was so excited I could come and I told her how happy I was to be there. I told her about the letter I had written, and that because we only had a few minutes, I could only tell her about the biggest impact she had on my life. Despite being a fan since her self-titled album, it wasn't until 2009, when my mom passed away suddenly, that I needed her most. I told her about how her attitude and the way she graciously dealt with hard situations inspired me to continue looking for the good things in life, even when it seems so dark. That year, I had been working on a slideshow of home movies for my mom to "The Best Day," a song that we both loved. Unfortunately, my mom passed away right before Christmas, before I could show her, and it was played at her funeral instead. Taylor didn't know it, but she had been with me every step of the way. Her definition of being fearless, living in spite of the things that scare you, got me through the most difficult of days, and still is my mantra today.
I tried very hard to keep it together while telling my story, but we were both teary-eyed by the end of it. She hugged me so tight, and we talked for a little while before our time was cut off by the photographer. As we both tried to recover, Taylor looked at me and asked, "What do you want to do for our picture?" I replied, "I know this sounds weird because we're sad, but I really want to be laughing in it." She asked if I wanted to hold her Grammy (how could I possibly say no to that?), we took our picture, hugged one last time, I thanked her so much for having me, and walked out of the living room. Polaroid in hand, I was greeted at the front door by a woman with a gift bag with all sorts of goodies.
I drove back to UConn with a huge smile on my face, calling everyone I could think of to tell them about my incredible night. It felt like I had just walked out of a dream more amazing than I could have ever imagined. It honestly felt like I had spent the night with my long-lost best friend. I will be forever grateful for this experience.