Family Vacations In Honolulu: A Huffington Post Travel Guide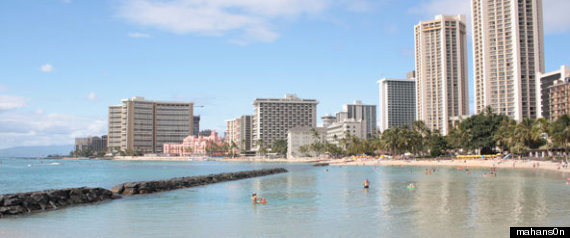 Family vacations in Honolulu can be rewarding experiences or absolute disasters -- it all depends on pre-trip homework. To make planning easier, we've done all the preparation. As part of a Huffington Post Travel series on traveling with children, here are recommended attractions for those planning Honolulu family vacations.
Waikiki Beach
Waikiki Beach
, one of the most famous beaches in the world, stretches from Diamond Head to the Ala Wai Canal. The 2-mile-long beach offers swimming, surfing and outrigger canoe rides as well as picnic facilites, showers, restrooms and lifeguards. No family vacation in Honolulu is complete without a visit to Waikiki Beach.
Address: 2909 Kalakaua Ave. to 2005 Kalia Rd., Honolulu, HI 96815
Phone: N/A
Hours: Open 24 hours
Price: Free
Diamond Head State Monument
Diamond Head, the iconic volcanic crater that looms over Honolulu, is part of the 475-acre
Diamond Head State Monument
. Visitors can make the nearly one-mile hike from the trailhead up to the summit. Those not wanting to take the strenuous yet scenic hike will still find plenty of lookout points, as well as picnic facilities and a lunch wagon.
Address: Diamond Head Road between Makapu'u Avenue and 18th Avenue, Honolulu, HI 96809
Phone: 808-587-0300
Hours: Daily from 6 a.m. to 6 p.m.
Price: Vehicles, $5; pedestrians, $1
Honolulu Children's Discovery Center
Located in downtown Honolulu across from Kakaako Waterfront Park, the
Honolulu Children's Discovery Center
offers an array of interactive learning exhibits. Among these are Your Town, where kids can be a grown-up for a day and pretend to be a banker or bus driver, among others. There's also Hawaiian Rainbows, where kids learn what makes Hawaii so special.
Address: 111 Ohe St., Honolulu, HI 96813
Phone: 808-924-5437
Hours: Tuesday through Friday 9 a.m. to 1 p.m., Saturday and Sunday 10 a.m. to 3 p.m.
Price: Adults, $10; Hawaii residents and military, $8; seniors (62+), $6; infants under 1, free
'Iolani Palace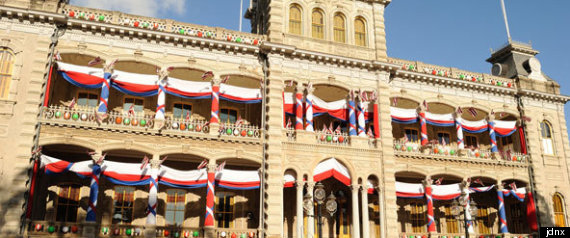 Once the home of Hawaii's monarchs, 'Iolani Palace is the only royal palace in the United States. The two-story palace was completed in 1882 and combines European design with Hawaiian building products for a unique result. Today, the palace is listed on the National Register of Historic Places and welcomes visitors to view its beautifully restored rooms.
Address: 364 S. King St., Honolulu, HI 96804
Phone: 808-522-0822
Hours: Open Monday 9 a.m. to 5 p.m., Tuesday and Thursday 10:30 a.m. to 5 p.m. and Wednesday, Friday and Saturday noon to 5 p.m.; Tours begin every 10 minutes.
Price: Self-guided tours: Adults, $12; children 5 to 12, $5; children under 5 are not permitted in the palace
Bishop Museum
Located in Honolulu's historic Kalihi district, the
Bishop Museum
is the largest museum in Hawaii. Founded in 1889, it is also one of the oldest. The museum showcases an array of Polynesian artifacts and Hawaiiana exhibits as well as dinosaurs, a sperm whale and a host of other intriguing natural history displays.
Address: 1525 Bernice St., Honolulu, HI 96817
Phone: 808-847-3511
Hours: Open Wednesday through Monday 9 a.m. to 5 p.m.
Price: Adults, $17.95; seniors (65+) and children 4 to 12, $14.95; children 3 and younger, free

The USS Arizona Memorial At Pearl Harbor
Exactly 1,177 crew members lost their lives on the battleship USS Arizona on Dec. 7, 1941, at Pearl Harbor. Today, the USS Arizona Memorial honors them and others who died that fateful day. Visitors to the site watch a 23-minute documentary about the attack at Pearl Harbor before boarding a Navy boat to the memorial, which straddles the sunken USS Arizona.
Address: 1 Arizona Memorial Place, Honolulu, HI 96818
Phone: 808-422-3300
Hours: Open daily from 8 a.m. to 3 p.m.
Price: Free
Honolulu Zoo
The 42-acre Honolulu Zoo is located in the vast Kapiolani Park in the heart of the city near Diamond Head. The zoo is home to more than 1,200 animals. Highlights include a tropical rainforest and an exhibit that showcases the animals of the Pacific Islands.
Address: 151 Kapahulu Ave., Honolulu, HI 96815
Phone: 808-971-7171
Hours: Open daily from 9 a.m. to 4:30 p.m.
Price: Adults (ages 13 and older), $13; Hawaii residents, $6; children 4 to 12, $3; children 3 and younger, free

Have you been to Honolulu? What's your favorite attraction?

Check out more FAMILY VACATION GUIDES.