The greatest challenge of my latest trip to Zanzibar, was balancing my enthusiasm for exploring the island and meeting new people, with my need to protect my safety. Though I come from East Africa, and had traveled to Zanzibar briefly a few times previously, I was unsure of how to protect my safety amidst unfamiliar surroundings, unknown people, and a lost language. Swahili was my first language, but I lost much of it after my Toronto elementary school principal told my parents to switch from speaking Swahili to speaking English with us at home. With my limited ability to communicate, when I first arrived in Zanzibar, I was wary of strangers, while surrounded by them. I was warned by colleagues, and my homestay family, not to walk alone after the sun set at 6:30pm.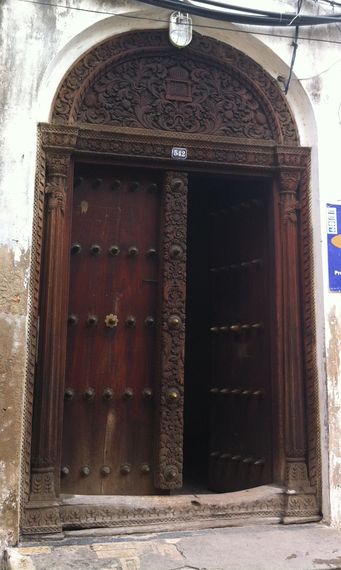 Photo: Farah N. Mawani
As I gradually learned my way around, and relearned Swahili, I felt more comfortable. I started to walk longer distances on my own, even after sunset. One day as I walked along the ocean in Stone Town, a man greeted me with a big smile and enthusiastic "Hello Sister!" Another called out to me, from a bench nestled in a parkette, to say "Hello. Nice to meet you. I appreciate you," and yet another said "Karibu!" Swahili for "Welcome." I was surprised and reassured at the same time. Surprised at their kindness, warmth, and generosity to a stranger. And reassured that the region of my ancestors still reflected the warmth I remembered, the warmth I long for when I'm in my Toronto home.
I often find it hard to express complex and intense emotions in words. But the word "Karibu" says so much. It captures the heart of Tanzanian and broader East African culture. It is used so frequently, as a greeting to welcome you to a place, and then again when saying "goodbye," letting you know that you are welcome again, or that you are always welcome. It is one word that evokes powerful emotions, and feelings of inclusion. I think we should use the word "welcome" more in our English interactions.
In East Africa, it is so ingrained that it is even spoken in unexpected places and interactions. One Sunday, a colleague and I were anxious to get one more weekend swim in before I left Nungwi, the village she was based in, to take the bus back to Stone Town. We didn't want to swim at the local beach where we were, because women did not typically swim there. We walked to a nearby large, expensive, hotel, and approached the security guards behind the gates. We asked if they could let us in to use the beach in front of the hotel. While confirming, then explaining to us that they could not let us in, they couldn't help saying "Karibu" multiple times.
Another time, my colleague and I stopped at a high school, mid bike-tour, to use their bathroom. It was a Sunday, so we weren't expecting any students to be there, but there were a number of them using the classrooms to study for upcoming exams. A peer school monitor in a special uniform approached us, and started explaining his role. I braced myself for him to reprimand us for coming onto the school property, and politely but firmly ask us to leave. Instead he said "Karibu. You are welcome. A school is a place of learning, so it should be open to anyone."
Even when "Karibu" isn't expressed explicitly, an implicit welcome infuses the way people treat each other. I was warmly and immediately welcomed into my Youth Challenge International and Zanzibar Youth Forum work teams, as if I had always been a part of them, and always would be. If I faced any professional or personal challenges, my colleagues took responsibility for them as if they were their own. Our project goals were collective goals that we all contributed to achieving. We supported each other, and worked together to problem solve and address project challenges big and small. We celebrated our achievements together. I wanted to bring that approach home with me.
One evening at sunset, I went for a swim in the ocean in front of a Stone Town hotel. I was reveling in the beauty of the water with flecks of orange from the surrounding sunset dancing in the waves. A group of young men started swimming towards me, and I went into fight or flight mode. I tried to get the attention of one of my colleagues who was swimming with me, but he had gone too far out into the water for me to get his attention. So I instinctively swam away from them, feeling grateful that I was a strong swimmer. They called out to me, "Zanzibar ni mahali ya amani!"/"Zanzibar is a peaceful place!" and I laughed at their audacity. "We just want to talk with you," they added. I slowed, then stopped, and relaxed into the calm water. I let them catch up with me and welcomed them with a smile. We talked and laughed as the orange sky enveloped us with warmth.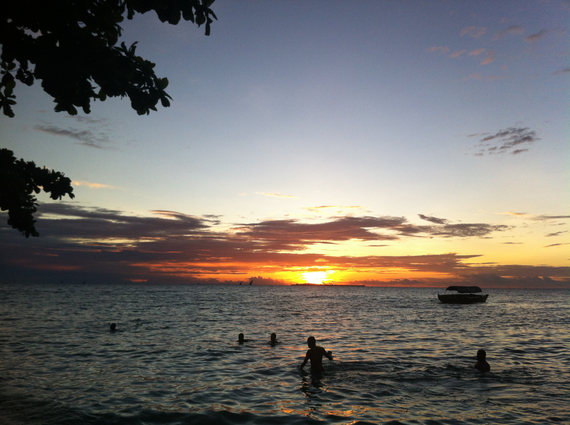 Photo: Farah N. Mawani