She was crying, in that quiet way that people do when they are in pain and not only don't care if anyone notices, but wouldn't know even if they cared. I was sitting across from her in one of the emptiest subway cars I've been on in years.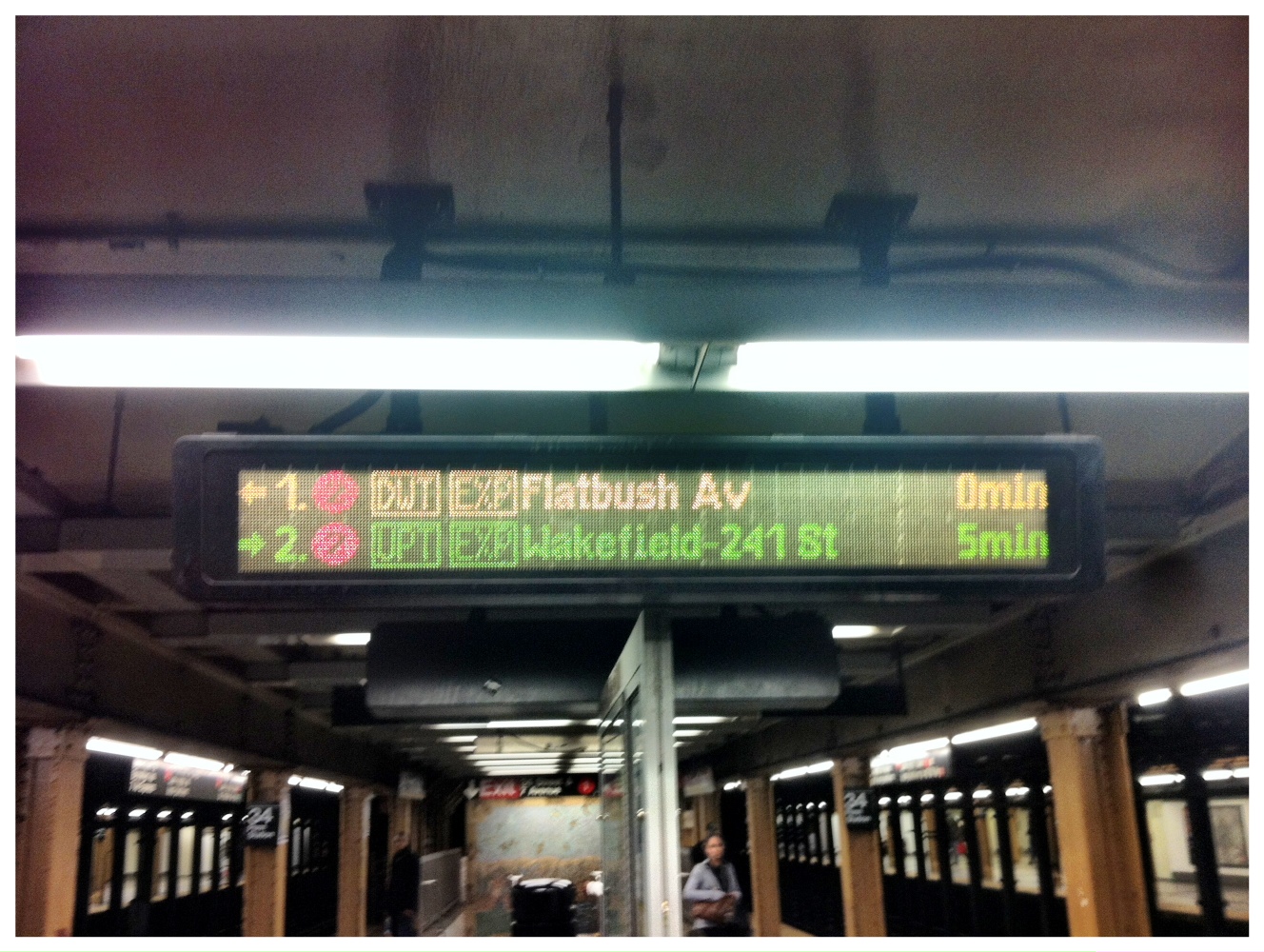 I took my bags and crossed over to sit next to her. "I don't know what you're going through, but be kind to yourself," I said. When you say this kind of stuff, whether you are sincere or not (and I was), you might get a f-bomb dropped on you. Instead she looked up at me, and her eyes focused, and she said, "This is why I know I made the right decision to move to New York."
She looked to be about 25. She had moved here three weeks ago from another city and hasn't had any luck finding an apartment. I don't know what else was on her mind, but that she told me. And she told me she loved that New Yorkers weren't fake, and that they were kinder than people said.
"Life in New York is hard," I said. "And we know that. And most of us" (I do truly believe this) "have each others' backs."
We got off at the same station. I gave her my card and said I might be able to pass on the name of a couple honest real estate agents. No promises I couldn't keep. No promise of success either.
We were on the second to last train leaving Penn Station, where I'd come from an event in Baltimore. As I left, rushing to beat the weather, my mother gave me an apple from her garden to take with me.
Hilarity and bitterness and a lot of alcohol, some self-spilled on the crotch of the man sitting next to me (much to his chagrin), were all present on the Acela. It got in at 6:53 or so, by schedule. NYC subways were set to shut at 7. As I emailed some friends, with the picture above:
Byotch here made second to last Brooklyn train. Divine gratitude.

Already got friends nearby willing to feed me. Or: potato chips and malt liquor from Bodega. Hoping grocery store is open (usually is til 9 but...)

I am so grateful. This is when knowing how NYC works makes a diff. 7 p.m. service shutdown means last train originates at 7. I boarded past 7. And didn't pay. They left gate open and told people to run.

I HEART NY.
So, as to those potato chips and malt liquor... the grocery store was closed, taunting me with the promise of fresh vegetables as I gazed at the employees closing up. I went to the bodega and asked if they could run me some stuff from the deli counter. The older man, maybe the father, said yes. The younger guy, maybe the son, running the counter, turned on the radio for the Muslim call to prayer. The dad sliced some food and I looked in vain for bread. "Last bread," the dad said, pointing. All I saw was chips and an ice cream freezer. I kept looking. "There," the son said. "There!"
I used all the cash I had on hand, since there was no ATM, and had to return two cans of tomato paste to balance my order. I have plenty of food now. Not necessarily what I would have chosen at a "real" store, but plenty. The bread... well, I looked at the brand and said "I hate this bread." Aloud. And then I thought to myself "First world problems. Take the effing bread and make yourself some french toast. And be grateful about it."
Just about then one man walked in to buy blunts, and another, an older man, started trying to talk his way into my pants. The shtick was older than I was and stale as a week-old baguette. When his rap failed, he chanted at me -- more like a threat than a prayer -- "God is good! God is good!"
I don't like it when dirty old men, or young ones, or ones my age ask me to smile for them as a parlor trick... or ask me to call-and-response God is Good. But tonight, I wasn't in the mood to split hairs.
I do believe in a divine good, if not the dogma of most religions. And I believe we can all be ports in storms, whether Hurricane Sandy or something a bit more existential. "God is good," I said. And to the shopkeepers and the drunk horny man, I said, "Thank you. Get home safe."
I'm home safe. The divine is very, very good.
P.S.: While I was writing this, I learned a second man I knew personally in college committed suicide. Life is hard. Feel your pain. Then give it over, if you can. RIP.