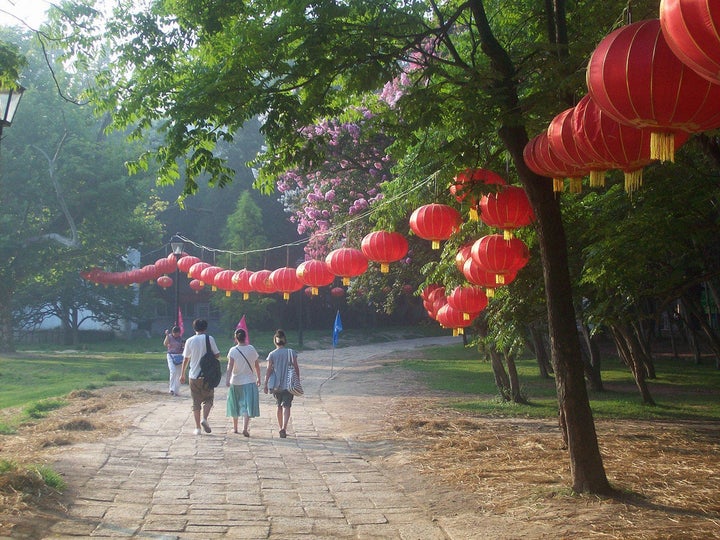 The next time you're in the mood for an ice cold beer and head to Qingdao, a huge city in Eastern China where German settlers built the Tsingtao Brewery, constructed Bavarian-style beer gardens and created an International Beer Festival. FATHOM contributor Adam Graham checks out the scene.
Did you hear the one about the Chinese-German fusion restaurant? An hour after you eat, you're hungry...for power. Two cliches in combination create a third. Still, Qingdao, a former German colony dangling off China's Shandong Peninsula -- and the home to not a few German-Chinese fusion restaurants -- is more of a testament to unpredictable cultural mixes than to the simple addition of stereotypes.
Seven hours north of Shanghai and six hours south of Beijing, Qingdao has made itself a posh summer resort city for China's emerging bourgeoisie, and claims some of the republic's highest living standards. It's nestled on a fertile and hilly crook of land between the Yangtzee and Yellow River deltas and has regular auto ferry service to nearby Japan and Korea.
Also spelled Tsingtao, the modern but soulful metropolis has a complex history that involves a founding by the Dongyi peoples over 6,000 years ago. Next came the mighty Zhou Dynasty (China's longest-running), followed by German and Japanese colonial occupations in the late 19th-century. In 2008, the city experienced a pre-Olympic boom (the sailing regatta was held here) and a subsequent post-Olympic bust, though blocky high-rise construction and commercial developments on the outskirts of town are erecting at a pace that make Westerners nervous. The metro population is already at eight-and-a-half million and growing.
But the city center of this summer resort "town" remains a peaceful enclave and a world away from assembly line China. Any Hamburg native might feel right at home when pulling over Signal Hill in Qingdao's Old Town, graced with cherry blossom trees, quaint red-tiled roofs, and storybook Bavarian and neo-Romanesque architecture. A twin-spired church sits atop a cobbled lane that winds up the densely wooded hill to a gorgeous Bavarian Governor's Mansion (where Mao once stayed) surrounded by observatories and museums. From the blustery summit, a vista of the city's port, its numerous beaches, and wooded parks give way to futuristic skyscrapers in the distance. The image suggests an immense and sprawling Teutonic city -- or perhaps a deferred utopia of the Hanseatic League.
The port city's plan was revised by Hamburg architects in 1897. The city had then been taken over by the Imperial German concession of Jiaozhou Bay after the murder of two German missionaries. Much to the chagrin of 19th-century locals, these city planners laid the final blueprint for Qingdao. But today, Qingdao's architecture heritage is celebrated as part of China's diverse history.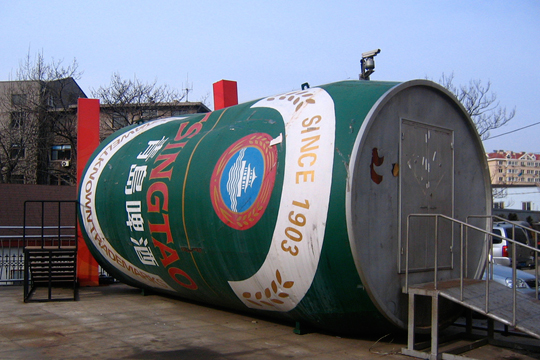 What to Do
Visit the Tsingtao beer factory, which was built in 1903 and is housed in a manicured red-brick Bavarian house as a testament to the krauts' homesickness for beer. Take the tour of the bottling plant and be sure to enter the "Tipsy Room" -- by turns cheesy and inexplicable. The crooked walls and floors simulate being drunk and are reminiscent of something Bart Simpson might lumber through at Duff Gardens. The beer-tasting room at the end of the tour is a great place to sample the real deal and purchase photos, maps, and other Tsing Tao paraphernalia.
Afterwards, take a step out onto Deng Zhou Road (aka Beer Street) to peruse the brewski-related tschotskes and beer halls that some of the city's 32 million annual tourists experience each year. The city swells for the annual Qingdao International Beer Festival, held the last two weeks of August. In addition to beer, Qingdao is known for its prized mineral water from the legendary Mount Lao Springs, and is also one of China's four ancient sea salt zones. Chardonnays and Rieslings from Huadong Winery, just 20 minutes away, are becoming increasingly reputable among wine aficionados.
The city's six beaches are the main summer draw. Unfortunately, trash is a problem at some of them, and last year saw an outbreak of blue-green algae bloom (though a naturally occurring phenomenon, it doesn't exactly make for ideal swimming conditions). Nevertheless, summer weekends in Qingdao's city beaches bulge with crowds. The cleanest, least populated ones can be found from Zhanqiao Pier to Shilaoren Beach in the eastern suburbs. Laoshan Beach (at the entrance to Laoshan National Park, about a 30 minute drive east of the city limits) is one of the most beautiful in the region and sits under the protection of the verdant Taoist holy mountain, Lao Shan, which contrasts nicely against golden sand.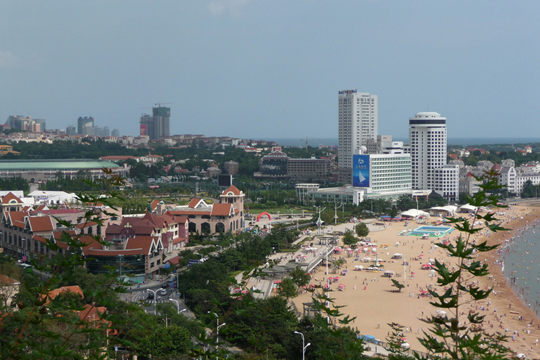 The clean, broad, and surfable Old Stone Man Beach is another one within close proximity to the city. Beaches 1, 2, and 3 are crowded with locals but not always the most pristine. Starting from (Taipingqiao) Cape of Peach, the most beautiful sections of the beach include Fushan, Zhanshan, Taipingshan, and Huiquanjiao. The warm water and soft sand make it ideal for sunbathing and swimming. Leafy Lu Xun Park is an ideal seaside picnic grounds called "a fairyland by the sea" by beloved Tang Dynasty poet Li Bai.
The city's fashion district (Minjiang) is a great place to explore real everyday Chinese life. Yes, there's a Wal-Mart and Starbucks, not to mention a slew of luxury stores like LV, Gucci, Prada, Carrefour, and Hermes. Nobody loves luxury brands more than the Chinese, regardless of their authenticity. Jimo Lu market is the Canal Street of Qingdao, and the best spot to score knock-off designer goods for cheap.
An increase in population has meant the clean-up of shanty towns, a refurbished Commercial Street in the Shi Bei District, and a freshly painted and picturesque Tai Dong Street. Qingdao Atrium City is an old work shop converted into a sort of a nocturnal canopy of dining and entertainment venues. Most interesting is the development of Wine Street, capitalizing on the area's promising wine future and sure to put Qingdao's vines on every oenophile's radar.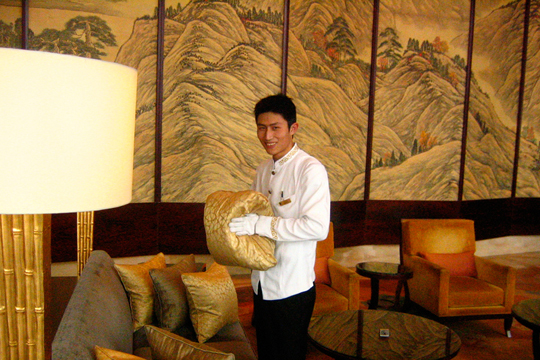 Major four and five star hotel chains have unfurled all over Qingdao. Most notable is the service-forward Shangri La -- it is hands down the best bed in town. Be sure to get in on the complimentary breakfast at uber-modern Cafᅢᄅ Yum, stocked with every genre of cuisine you can imagine. Breakfast alone has a Japanese miso station, a stir fry and noodle wok, a western spread including crisped bacon, beef wellington, and an omelet station, twelve different juices including kiwi and strawberry, dozens of sweet breads and fruits, dim sum, and two six-foot pots of congee.
Head to the concrete Zhanqiao Pier originally built in 1890 by Emperor Guan Xu. There's an ornately carved two-story octagonal wooden pagoda called the Wave Stopping Pavilion, particularly popular among romance-seekers when moonlit. The walk to the pier is filled with vendors selling everything from sausage to illegal red coral. To actually stay on the beach, check in to Seaview Garden Hotel, an expansive quasi-Victorian property which offers sweeping views of the water and impeccable service, and is ranked the number one Qingdao hotel on Tripadvisor.com.
What to Eat
Foodies should note that there's a real stratification to the food in China. In total, there are eight principal cuisines and Qingdao's falls under the Shandong umbrella but in the Jiadong style, one of two culinary regional methods within Shandong. Like many coastal Chinese areas, seafood is a mainstay. The Yi Qing Lou Seafood Restaurant is a vegetarian's worst nightmare. Before you sit down at your table, you are guided by pink fur-clad hostesses through a cold stock cellar, which is equal parts zoo and kitchen. There, you choose your meat from a selection of live rattlesnakes, crabs and turtles, filet of alligator, shark fin, sea urchin, rabbit, or giant prawns. Monnemer Eck's is a lively German restaurant frequented by ex-pats, locals, and tourists in the mood for bratwurt, schnitzel, and draft beer. It's the ideal place to tell your German-Chinese fusion joke.
Good to Know
Unlike many rapidly developing cities in China, Qingdao, which means The Blue-Green Island in Cantonese, is positioning itself as an eco-leader in China's industrialized east. After all, its success as a tourist destination relies on cleaner beaches, safer water, and an overall healthier environment. The city has been greening itself and continues to exceed the conditions found 50 years ago.