FATHOM assistant editor and Rockaway resident Berit Baugher shares what to do, where to eat, and how to get to Rockaway Beach, New York City's up-and-coming (or totally retro) urban beach community.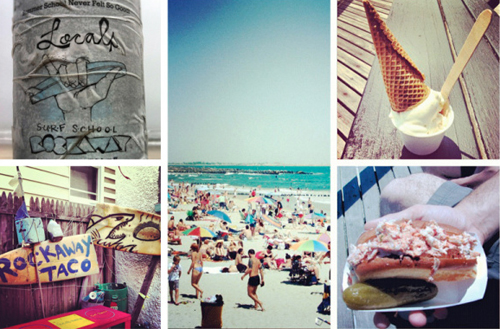 THE SCENE
The boardwalk comes alive during summer months as surfers, young creative types, and old-school New Yorkers frolic on one of America's largest urban beaches. This south shore enclave is in the midst of a renaissance after a few decades of economic decline (thanks to the urban planning scheme of Robert Moses). The Victorian resort town -- once loved for its amusement park, Olympic-size pool, and ocean-front hotels -- began catering to the local surfing scene a few years ago. One thing thing lead to the next, and now the neighborhood has a beer garden, DJ dance parties, and a new spin on traditional boardwalk concessions (think Venezuelan arepas, Mexican street food, and artisanal ice cream). It's safe to say that Rockaway is -- what else? -- riding the wave.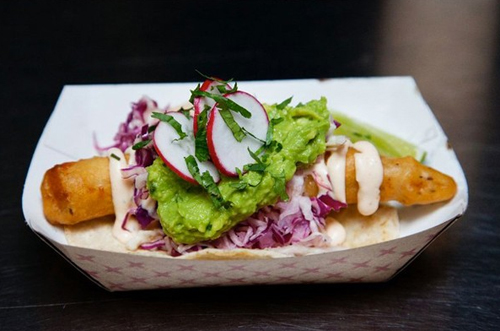 Rockaway Taco's famous Fish taco. Photo: Courtesy of Rockaway Beach Club
WHERE TO EAT
Bon Appetit
418 Beach 129th St.; +1-718-634-6399
This small deli in the village of Rockaway Park is a local favorite. An iced coffee, caprese pasta salad, and sandwich from the extra large chalkboard menu make an ideal beach picnic.
DiCosmo's Italian Ices
95-19 Rockaway Beach Blvd.
Real-deal Italian ices from a 1915 recipe. Stick with the original lemon or spice it up with papaya, pina colada, or the Peterstown special (orange-pineapple).
Rockaway Taco
Beach 96th St. and Rockaway Beach Blvd.; +1-347-213-7466
This colorful beach hut brought cool to the Rockaways years ago and has been drawing crowds ever since. The surfers come for the fish tacos, but we like the Mexican corn and plantain chips with fresh guacamole.
Thai Rock
375 Beach 92nd St.; +1-646-455-3991
Live music, waterfront seating, good food, and strong drinks. The perfect way to end a day at the beach. The pan-fried chicken dumplings are delicious, the Duck Pad Kee Maow is super spicy, and it's all oh-so-good.
Rockaway Beach Club: A conglomerate of summer vendors have reclaimed the boardwalk concession stands:

Beach 106th St.
- Caracas: Homemade Venezuelan arepas and empanadas. Guest DJs spin in late afternoon once the rum cocktails start flowing.
- Steve's Ice Cream: Small-batch ice cream made from simple ingredients. Signature flavors include strawberry ricotta, bourbon vanilla (this stuff is strong), and Mexican chili chocolate. Try the salty caramel ice cream sandwiched between two freshly baked cookies. Perfection.

Beach 96th and 97th Sts.
- La Fruteria: Sandwiches, salads, baked goods, coffee, and fruit smoothies and juices are blended before your eyes. Try the homemade cinnamon sugar donuts.
- Lobster Joint: The Brooklyn favorite set up an outpost serving fresh lobster, shrimp, and crab rolls.
- Low Tide Bar: Beachside bar and beer garden.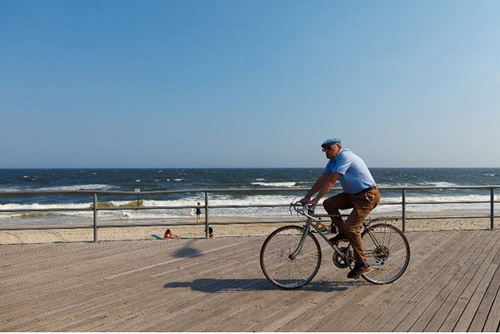 The Rockaway boardwalk. Photo: Courtesy of Rockaway Beach Club
WHAT TO DO
Beach Bootcamp
Beach 86th St. on the beach; +1-877-700-8616
Through September 6th; Tuesdays and Thursdays at 7 p.m.
Bootcamp-style fitness workouts on the beach.
Boarders Surf Shop
192 Beach 92nd St.; +1-718-318-7997
Locally owned surf shop with shower, changing room, and bathroom facilities. Lockers are available for regulars who want to store boards for the season. Surfboard, body board, and bike rentals available at their smaller Beach 97th St. outpost.
H20 Generation
+1-212-427-5600
Locally owned retro-style stand-up paddleboard maker. Private lessons and classes available.
The Kite Collective
Beach 96th St.
Traveling exhibition of handmade miniature kites created from recycled Patagonia windbreakers and sold from a refurbished snack machine on the boardwalk.
Locals Surf School
+1-718-869-9803
Group, semi-private, and private surf lessons.
Yoga on the Beach
Beach 108th St. on the beach; +1-718-318-4000
Through August 25th; Saturdays at 8 a.m.
Free beachside beginners hatha yoga class. Bring a mat and towel.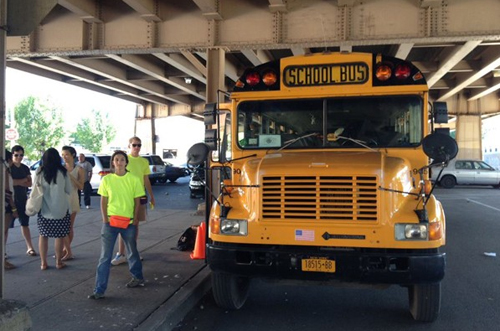 Photo: Courtesy of Rockabus

HOW TO GET THERE
Subway
From Manhattan:
A train to Far Rockaway. Transfer at Broad Channel to the S shuttle. Get off at 90th, 98th, 105th, or 116th.
From Brooklyn:
L or J trains to Broadway Junction. Transfer to the A train to Far Rockaway. Get off at 90th, 98th, 105th, or 116th.
Rockabus
Shuttle from Williamsburg to Rockaway this summer in a big yellow school bus.
9-7 p.m. on weekends, buses run every 40 minutes
$10 one way, $18 round trip
Ferry
Rockaway Beach Ferry goes from Pier 11 at Wall Street to Jacob Riis Park Beach in Rockaway. Make a day of it with the boat and bike combo.
9 a.m.-5:30 p.m. on weekends and holidays
$20 one way, $30 round trip, $5 to carry on a bicycle or surfboard
Bike
From North Brooklyn go south on Wythe to Flatbush. Cross the Marine Parkway Bridge and then go east past Jacob Riis Park to the Rockaways. Approximate travel time is 1.5 hours from Williamsburg or Greenpoint.
LOCAL COLOR
For more day trips from NYC, check out fathomaway.com.