Whether you've got a pink Cadillac, a little deuce coupe, or a Chrysler that's as big as a whale -- it's time to get out of town. With the help of Fathom's friends and admired travelers, we compiled our favorite U.S. road trips into one big list. First stop: The Northeast
Head to Southport and Westport if you're in the mood for low-key antiquing and the beach. The Delmar Hotel and Artisan restaurant are around the corner from what is, quite possibly, the sweetest, tiniest town. Terrain, Anthropologie's stunning offshoot (greenhouse, garden center, cafe), just opened up in Westport.
Route to take: Straight shot on I-95, 90 minutes from Manhattan.
Good to know: The Gray Goose Cafe is adorable for lunch.
Head to Greenwich if you're in the mood for fresh air and fancy shopping. Hit up "the ave" for boutiques like Dighton Rhode and Privet House. Enjoy a leisurely lunch at local favorite Meli Melo, where specialties include French onion soup and freshly squeezed oj. If you're still around for dinner stroll down to L'Escale for harborside dining and specialty cocktails named for the seven heavenly virtues.
Route to take: One hour by car from New York City via I-95.
Good to know: The Drawing Room serves handed blended teas and delicious scones with clotted cream. Their adjacent shop is the place to buy decorative pillows and scented candles. Stop off in Port Chester for a pizza margarita at Mario Batali's Tarry Lodge and freshly baked bread and cured meats from the market.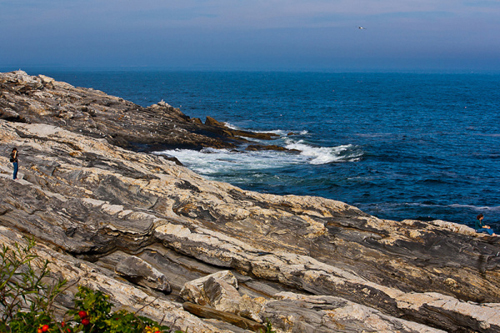 Coastal Maine. Yuri Long / Flickr
Head to Rockland if you're in the mood for farm-fresh food without the Boston or New York price tag. Make a reservation at Primo and enjoy a creative menu that uses produce and animals raised on the property.
Route to take: Route 1 affords beautiful coastal scenery, complete with waves crashing into rocky cliffsides and charming lighthouses.
Good to know: The Farnsworth Art Museum is also located in Rockland, giving you a good dose of culture along with a fantastic meal.
Head down the coast of Maine if you're in the mood for by-the-book prep, nature adventures, and rural farm areas.
Route to take: Skip around from Camden to Rockport to Kennebunkport to Norway.
Good to know: Stay at the Country Inn or The White Barn Inn; stock up on L.L. Bean; let Ducktrap Kayak handle your paddling details.
While in the area: See Little Black Book for Coastal Maine.
Head to the Chesapeake Coast if you're in the mood for a nautical trip. Start by gazing at the sailboats from your bedroom window at Inn at Perry Cabin. Get dirty with buckets of peel-and-eat shrimp poured onto tables covered in brown paper by day; clean up for the five-course dinner menu from a Per Se alum at Bartlett Pear Inn.
Route to take: Route 301 is a pleasant alternative to the NJ Turnpike and I-95.
Good to know: The NYT has a list of finger-licking crab shacks that's worth a gander.
Head to the Berkshires if you're in the mood for dance, theater, yoga, Shakespeare, and skinny dipping with mountain as the backdrop.
Route to take: Saw Mill from NYC, Mohawk Trail into North Adams from Boston.
Good to know: Jacob's Pillow, Mass MoCA, Kripalu, and Canyon Ranch are all here.
While in the area: see our Berkshires hot list and itinerary.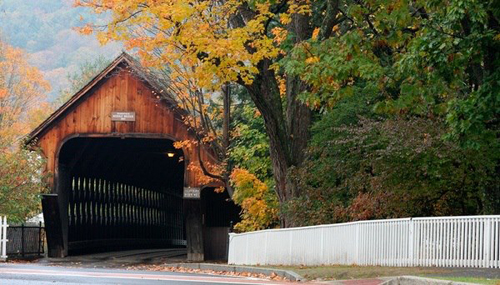 Photo: Courtesy of Woodstock Inn & Resort
Head to the North Fork if you're in the mood for large plots of farmland, farmstands, U-picks and wineries. Book at slow-food hang Red Barn B&B or North Fork Table and Inn.
Route to take: Tiny town centers dot the Main Road (Route 25) and Sound Avenue (Route 48).
Good to know: The Custer Observatory is open every Saturday from dusk to midnight for stargazing.
While in the area: see our North Fork hit list.
Head to Hudson if you're in the mood for juxtaposing well-worn Victorian charm with big city comforts and a bit of edginess. Stay at Inn at Hudson, drink a perfectly pulled espresso at Swallow, check out the mini food truck emporium on Warren Street, have killer (local, sustainable, homemade) burger with the works at the retro-fitted '50s diner Grazin', and finish off with a nightcap and live show at Helsinki.
Route to take: Ride Amtrak right into town; zip up from NYC in a car on 87.
Good to know: Check the schedule for happenings at the cathedral-like Basilica Hudson, an old glue factory that's been turned into a performing arts space.
While in the area: see our Hudson Valley hit list.
Head to Livingston Manor if you're in the mood for a monastic environment. Book a weekend at Dai Bosatsu Zendo, a Japanese Buddhist sanctuary where you can workshop the basics of being -- like breathing and being quiet.
Route to take: The Palisades (from NYC) are soothing and scenic.
Good to know: No prior Zen practice necessary. And if you want your alone time with somebody, you can rent a small cottage on the premises.
Head to Woodstock if you're in the mood for quintessential Americana combined with a new, LEED-certified spa. Book the grand Woodstock Inn, right in the heart of the most picture-postcard-perfect New England town ever. This place has it all: roaring fireplaces, delicious, homemade ice cream, covered bridges, sleigh rides in season.
Route to take: The Taconic Parkway from NYC. It might be a slightly longer route, but the scenery — and a stop at the old-school Millbrook Diner (3266 Franklin Ave.; +1-845-677-5319) — makes it worth it.
Good to know: Vermont is just a great state. Gorgeous views, good food, and outdoor activities (from cross country skiing to mountain biking) abound.
For more road trips through the Northeast, South, Midwest, and West visit Fathomaway.com for the whole story.