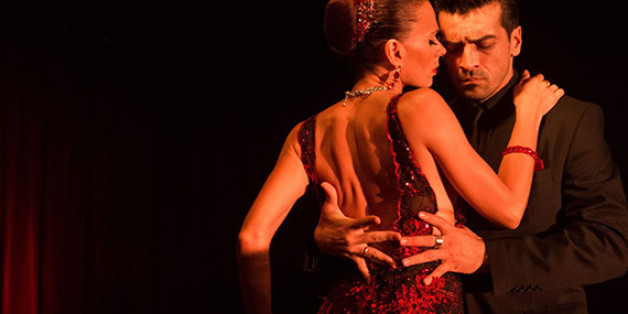 Don't stand on the sidelines. Strap on your hot new tango shoes and join the dance party.
By Berit Baugher for Fathom
From the back street brothels of Buenos Aires to the stages of Paris, the seductive national dance of Argentina has come a long way. When you're in town, don't stand on the sidelines watching. Explore the cultural origins, try on a pair of the hottest tango shoes, and join the passionate porteños with their fancy kicks.
Jean Jaures 735; +54-11-4964-2015
Sheet music, instruments, and an old victrola line the walls of the museum dedicated to the legendary and handsome musician who brought tango to the world through songs and movies.
The World Tango Museum
Av. de Mayo 833, 1st fl.; +54-11-4345-6967
Journey through the history of tango with exhibits showcasing the dance evolution from 1850 to present day. Located above Café Tortoni, Argentina's oldest and most famous coffee house.
Arenales 1239, Rue des Artisans, Apartamento M; +54-11-4815-5690
Named for the title of a classic tango by Eduardo Arolas, the quirky shoe store is Mecca for handcrafted tango shoes in fashion-forward designs. You don't have to tango in them. They're great as regular high heels.
Confiteria Ideal
Suipacha 384; +54-11-4328-7750
Strap on your dancing shoes and learn to swirl and dip in afternoon lessons held at the old-school Argentinean dance hall.
Martha Salotti 445; +54-11-4010-9000
Red velvet curtains with gold trim part for the city's best tango troupe in a nightly dinner and cabaret-style show at Faena Hotel and Universe.
Milongas
From midnight onwards, join the locals at one of the city's many tango salons. The "it" party changes from night to night, so let your partner lead the way: Salón Canning, La Maldita Milonga, La Catedral, Tangocool!, Milonga 10, La Viruta.
Read more on Fathom: Buenos Aires Guide, Home Hotel in Buenos Aires, Do Over: Buenos Aires
Berit is an assistant editor at Fathom. You can follower her on Instagram, Pinterest, and Twitter. She travels for sweets and beautiful design.