Prime your debit cards for the scary frenetic shopping season is upon us. Personally, I'd rather set my hair on fire with an acetylene torch than hit department stores in the wee hours of the morning. I'm fearful of stampedes and perfectly pleasant, mild-mannered folk, who channel the demonic when encountering a 50% off sign. Believe me when I say that I plan on avoiding vertigo and panic attacks by doing all my holiday shopping online. That having been said, after I acquire my requisite gifts for my loved ones, I plan on some minor self-indulgence. After a year of struggling to make ends meet and miserly living, part of me wants to let loose, indulge and splurge on that third, midnight slice of chocolate caramel cheesecake (don't you dare judge!) and the blinking online banners advertising 75% sales. For my two-part Splurge-On-Me Holiday Gift Guide, I'm offering lush, almost bewitching, covetable options -- from cookbooks to dimestore luxe products to high-end fragrances.
Orlane Absolute Radiance Lightbox ($200): Although the price-tag might elicit epic shudders, I've teamed up with six girlfriends to invest in this seven-minute wunderkind product, which absolutely delivers instant radiance and sheen to my complexion. An ardent skeptic, I was amazed by the immediate lift and even glow the regimen cast on my skin. The kit contains the Absolute Radiance Dazzling Eye Ritual, which consists of Eye Contour Serum & Under-Eye Patches; Shimmering Skin Masque + Cream and Absolute Radiance Evanescent Cream. My recommendation? Round up your best girlfriends, whip up a batch of red velvet cupcakes, sip the loose tea, and indulge in an unbelievable luxe spa experience.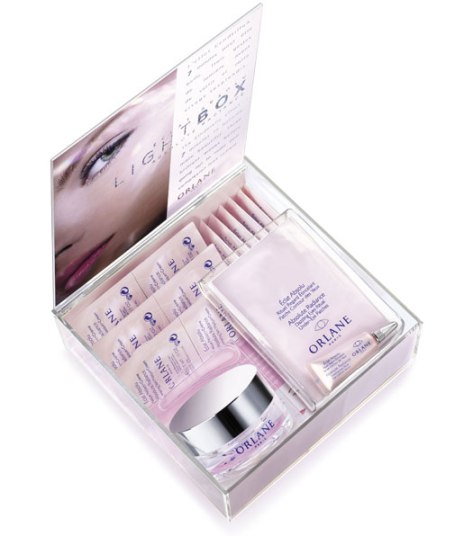 Frederic Fekkai's dashing Femme Fekkai Sensuelle's Eau De Parfum ($95): Depending upon my mood, I've at least five fragrances in rotation - anything from a touch of lavender oil to the fanciful. A smart, sinful entree into the luxury fragrance-infusion space, Sensuelle is Frederic Fekkai's first hair care collection to infuse fine fragrance, including shampoo, conditioner, hair spray and eau de parfum. Decidedly feminine, but at turns bold and soft, you'll find sensual orange blossoms, arresting jasmine grounded in woody and amber notes. The scent is fresh and it lingers. However, if you're looking for a more affordable, but equally delectable option, invest in Avon's In Bloom by Reese Witherspoon ($34). From the delicate ladylike packaging to the supreme floral bouquet (gardenia blossoms and lush florals, enveloped in amber wood and peach tea leaves) this signature scent is the perfect holiday gift.
Philosophy's The Amazing Grace Collection ($50): The holy grail (or at least in my opinion) of buffing washes, this is a 3-in-1 gel infused with the beloved Amazing Grace fragrance. I've been stockpiling this scrub for years because not only does it leave my skin unbelievably smooth and subtle, there's a subtle fragrance hit that makes you smell clean. For holiday, Philosophy is offering an incredible value by including their signature Amazing Grace fragrance and luscious body wash in addition to the revered scrub. After a long work-week, indulge in a D.I.Y. spa experience. However, if you're in the market for an even more wallet-friendly buy, consider Bath and Body Work's Lemongrass Cardamon Stress Relief Body Cream ($16.50). The unctuous, velvety cream will nourish your parched, distressed skin and leave you soothed by sweet shea butters and lemongrass and moisturized.
Martha Stewart's Baking Handbook ($28.80): Whether you're purchasing your first or fortieth cookbook, the section of your local bookstore can inspire vertigo -- the seemingly infinite choices! However, a mainstay in my cookbook repertoire, Stewart doesn't fail in delivering perennial favorites -- from the coconut banana bread to complex French pastry. The Baking Handbook also provides an outline of essential baking tools and techniques. Although this cookbook isn't new, it's a worthy investment for the beginner cook as well as the high-brow baker. Today, I found another gem amidst the rubble. Thumbing through James Beard award winner, Karen DeMasco's The Craft of Baking: Cakes, Cookies, and Other Sweets with Ideas for Inventing Your Own ($35) gave me pause. From babka to shortbreads to beignets to luscious cream, you will want to bake every single recipe in this book. Combing her infectious passion for pastry and her sound tips, tricks, and techniques, DeMasco restores my faith in cookbooks - that not all are staid Food Network marketing vehicles.
Elemis' Exotic Frangipani Monoi Moisture Melt ($48): If you're in the market for a delicious body oil that not only makes your skin fragrant and luxuriously smooth, but also conditions your tresses and cuticles, I highly recommend Elemis' exquisite treatment oil. Formulated with an exotic blend of Coconut Coprah Oil and sweet scented Frangipani flowers, you'll leave your shower de-stressed, delicious, and moisturized. For holiday, Elemis is offering up an indulgent at-home spa kit for $71.25.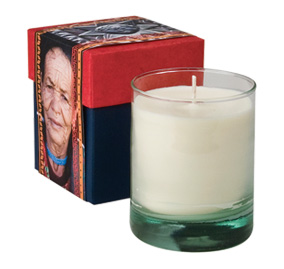 Aveda Himalayan Glow Candle ($32): For decades, Aveda has been committed to supporting fair-trade practices, sustainability, and giving back. In 2002, the brand partnered with Nepali communities to produce beautiful, indigenous artistic wrapping and fragrances, which have resulted in an increase in household income by 318%, sent 4,800 children to school -- curbing child labor -- and reduced migration for jobs by 15%. This year Aveda has introduced a delicious, limited-edition soy-wax aromatherapy candle, infused with certified organic essential oils of clove, vanilla and cinnamon in a 95% post-consumer recycled (PCR) glass container, and packaged in a reusable gift box wrapped with Lokta paper from Nepal. The scent is warm, enveloping and will fragrant your home while savory fare cooks on the stove and warm desserts are unearthed from the oven.
This holiday take a moment to not only be grateful, humbled and kind for what you have and that which surrounds you, but do be a little selfish and take care of yourself. Whether you spend a lazy afternoon baking cookies or indulging in a spa treatment with your beloved friends, reward yourself for another year of hard work and achievement!
Stay tuned for part two of my Splurge-On-Me Holiday Gift Guide.