For the past twenty-four years I've viewed Mother's Day with a mixture of dread and disdain. Hallmark Cards tell us a story of a woman wearing in an apron; clutching a rolling pin, her face is a picture of joy and life. Commercials depict a serene beach, a picnic table and a verdant yard overflowing with children and a maternal figure holding court while everyone adorns her with flowers, confections and praise. Our mothers are sacrosanct -- it is considered taboo in our culture to feel otherwise. However, for over two decades I've been a motherless daughter, having endured a painful separation from a drug-addicted, narcissistic parent. I severed a cord between a myself and woman who was my first hurt. So I sought out other women -- strong, great role models from whom I could learn. My friend Elizabeth's mother sends me cards congratulating me on my minor achievements, and emails clippings and prayers when I'm feeling small and sad. My therapist held my quivering hand and guided me to the light, allowed me to find my own happiness when I felt there was none. Several of teachers and work colleagues have given me wisdom over the years, and I've found my identity as a woman a result of a patchwork of luminous figures who should be revered and beloved.
Last month I spoke with my mother. It had been nearly fourteen years since I heard her voice, and although she kept saying mother, mother, I kept thinking about the parade of women who proceeded her, women who have taught how to be a fierce, independent, empowered woman. Role models who broke ranks in our culture with their words, their work, and their heart. And although tomorrow is a holiday where we honor those who have birthed us, perhaps we should also take a step back and reward all the women in our lives who have made us better people. So while I find it strange for me to dole out heartfelt greetings to a biological parent who is a stranger to me, I plan over the next week to honor women in my life who have shaped me to the outspoken, creative and courageous woman I always strive to be.
Below I've outlined my picks for gift-giving for the fabulous women in your life. From the fanciful and decadent to the sweet and simple, I've got you covered.

The Lifelong Mentor: When I think of classic, iconic jewelry, I always cleave to David Yurman. A family-owned business, the Yurmans are vociferous in their belief that artistic integrity is paramount over trends and mass-production. Throughout the years I find myself returning to the elegant pieces for they feel regal, always offering an element of surprise in construction and design. From the Warm Oval Mosaic Bangle to the exquisite, faceted Blue Topaz Albion Split-Shank Ring, reward the woman who has guided your career and provided sage counsel when you desperately needed it.
The Loyal Best Girlfriend: Amongst my friends, we've debated a Clarisonic purchase for well over a year. It's a costly beauty acquisition for a product whose promise seems too extraordinary to be true. Visibly healthy skin, a reduction in pore size and an overall reduction in blemishes and imperfections, the Clarisonic is akin to finding the perfect mate. After sampling the product myself, I want to share the joy and splurge on my closest girlfriend. While the pricetag on the hero product is a bit hefty, the travel-friendly, battery-operated Clarisonic Mia* is a terrific alternative. This is the gift you gal pal will absolutely want but will debate until eternity before investing. If you happen to have a friend with blemish-free (is this possible?!) skin, consider a gift certificate to Completely Bare Spa, the eminent spa for glowing facials and professional hair removal. From sculpted tans to serenity now! facials to hair removal free of shame and heart-wrenching pain, Completely Bare is the haven for a beauty-girl indulgence for the friend who may be drowning in work, children and bills. A friend who deserves a respite, some quiet time and a bit of luxe pampering.
The Oldest, Dearest Friend: Over the years I've learned that the best gifts for friends who know you inside out, are the simplest. For my college buddy, I plan on sending her a Marimekko Tote* designed exclusively to support Avon's Crusade Against Breast Cancer. Affordable, vibrantly-hued, it is the perfect carry-on for her children's lunches, books and small toys. I am stocking the bag with cosmetic and fragrance samples, author Antonya Nelson's haunting and prolific story collection, Nothing Right, a few issues of Food Network magazine, NEST's Blue Garden Candle*, and a smattering of photographs from when we were younger, wide-eyed and hopeful. I love these sorts of gifts -- something really affordable, personal and playful.
However, if your friend is in dire need of centering, of a strong yoga practice that focuses on breath and alignment, I'd be remiss if I didn't evangelize Yoga Works, an incredible yoga studio in New York and Los Angeles that features vinyasa classes, barre-centric workouts and sculpting classes -- all in a serene space minus the haughty, holier-than-thou attitude ubiquitous at the factory studios.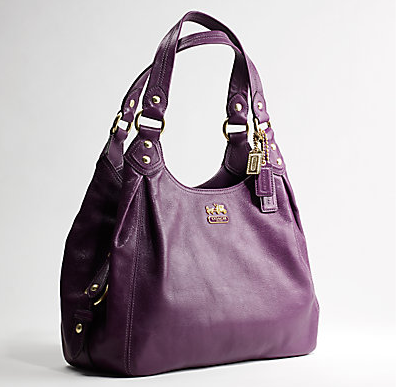 The Mother Figure: Sometimes I feel selfish in my affection for my oldest friend's mother. She is a stalwart figure, a wise and kind woman -- she helped me purchase my first business suit when I was nineteen and pursuing internships and she escorted me to Coach to purchase my first "work bag". I feel grateful to have this woman in my life because she has always been measured, patient and thoughtful when I've been rash and abrupt. I remember when I moved into my first apartment she sent me a food mill and a handwritten note that brought me to the verge of tears. She believed in my greatness, and although she isn't my mother, a day doesn't go by when I don't feel blessed to have this great woman in my life. And although Coach has made formidable strides in offering chic, modern bags for the young, upwardly mobile professional, I'd be remiss if I weren't nostalgic in wanting to gift a classic bag to an endearing woman. Right now I'm smitten with Coach's Madison Maggie handbag. It's elegant, refined, and roomy enough for all of your mother figure's essentials. The bag ushers in a timeless, nostalgic feel while the soft hues (lilac!) render this gift picture-perfect for the wonderful woman in your life.
And the best gift you can give? A Thank You. Calling the woman in your life and thanking her for making you want to be a better woman.
*Full Disclosure: Samples were provided for editorial consideration.