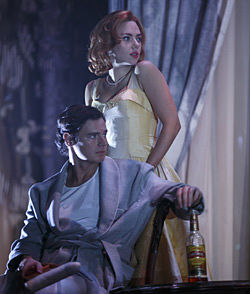 It's an unusual Cat on a Hot Tin Roof when Big Daddy is the one standout. Tennessee Williams' bourbon-soaked drama about family, homosexuality and mendacity is powerful, but this Cat has been declawed.
That's ironic, given the intensity of the drama and its star cast in the current Broadway revival at the Richard Rodgers. Maggie (Scarlett Johansson) works hard as the sultry wife whose husband Brick (Benjamin Walker) has abandoned the marital bed, placed center stage like a wrestling ring. While there is ample discord -- "we occupy the same cage" Maggie shouts at the ever-aloof Brick -- there isn't much heat.
Brick, the once-golden athlete, is mourning the loss of his best friend, Skipper. Maggie, like Big Daddy, cottons onto the fact that this may be a case of the love that dare not speak its name. In this rendition, both his wife and redneck father seem accepting; it's Brick who insists it was just a "pure friendship." But his guilt over Skipper's suicide, confusingly alluded to here, is played straight. It's hard to tell whether Brick is simply in denial or ashamed he didn't respect Skipper's feelings more. Walker, who was excellent in Bloody Bloody Andrew Jackson, is curiously distant.
While the gay references were expunged in the famous Liz Taylor-Paul Newman film, Williams reworked his original 1955 script for a 1974 revival. This round, Big Daddy, the foreman turned owner of the massive Delta plantation, recounts that two men once shared a bed -- the same bed Brick refuses to share with Maggie. But his words fall on drunken ears.
Which brings us to Brick's reason for drinking: "mendacity!" The lies that engulf the Pollitt family are legion -- Big Daddy's illness, the land grab by son Gooper (Michael Park) and his wife Mae (Emily Bergl), the ill-fated Skipper and the aching reality that marital sex has tormented father and son alike. Neither man loves his wife; both mourn the loss of passion. (Big Mama, the seasoned actress Debra Monk, seems to be in a play all her own.)
Admittedly, it's a tough work to perform, and Johansson's Maggie has to carry the first act. She has a wistful quality at times, tigress at others. Terrified of being poor, she fears her childless state endangers any future inheritance. As Johansson proved in View From the Bridge, she's got stage presence. But her talents are hampered by the inability to hear her clearly. Rob Ashford's directorial sound choices are disturbing; you know you're in trouble when the sound effects drown out the actors. And the accents are inconsistent.
It's the second act, in which Big Daddy (an impressive Ciaran Hinds) and Brick face-off that sparks begin to fly. Confronting domestic truths proves to be the core of the production. This is a diseased family that revels in spite; the many pretenses of Southern life are laid bare on a dark and stormy night when the set threatens to engulf the action.
Williams is our poet laureate of longing and emotional disconnect, but his lyrical language demands directorial finesse to ensure theatrical revelation.
Photo: Joan Marcus