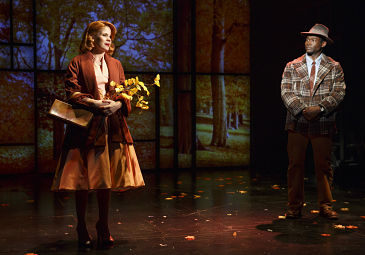 There is something both touching and jarring about the new musical Far From Heaven, now at Off-Broadway's Playwrights Horizons.
Starring the incomparable Kelli O'Hara, the production, based on the 2002 film, deftly captures the visual and social palette of the late 1950s. Social mores may be a bore, as the Connecticut housewives lament, but violating them is lethal.
That's the touching element: Cathy (O'Hara) is a picture-perfect suburban wife with a not-so-perfect life. "Autumn in Connecticut" is a lovely song that celebrates the beauty of the season, but underneath this colorful landscape lurks bigotry, despair and profound loneliness. She loves her handsome husband Frank (Steven Pasquale) and two kids, but the presumed happiness is not as it appears.

First, Frank is arrested for loitering; then she catches him passionately kissing another man. Given the times, her understanding is laudable. Her Hartford milieu is filled with vicious gossip Mona (Alma Cuervo) or good friend Eleanor (Nancy Anderson), who senses trouble.
True, the social options are limited, which makes the quiet restraint of the score, music by Scott Frankel and lyrics by Michael Korie, all the more moving. One haunting number, "The Only One," exquisitely sums up the sorrow that Cathy and Raymond (Isaiah Johnson), her black gardener, experience. Here, the love that dare not speak its name is interracial. The two are kindred spirits -- sensitive to art and feelings and poetic in their restraint.
The irony is that Frank, in 1958 no less, moves in with his lover, while Cathy and Raymond are damned by convention. Despite Fifties' taboos, self-involved Frank is indifferent to the havoc he wreaks. He can fulfill his desires; Cathy's leaves her a pariah -- her only transgression is kindness. That's the jarring part of Far From Heaven, an inherent weakness in the story.
A musical replica of the movie, Far From Heaven deals in big themes, but in such a detached and silent way that it's hard to gain real dramatic traction. All suffering is internalized. Yet director Michael Grief gets great cast performances all round; the scenes between O'Hara and Johnson are beautifully rendered. The lighting and costumes recreate the period with élan.
The pain of the principles is all too real, but the production, like a dry martini, is a bit too smooth. The surface doesn't crack; that cool New England detachment keeps Far From Heaven in a strange kind of theatrical purgatory.
Photo: Joan Marcus