There is cause for celebration -- after a three-year hiatus, Forbidden Broadway is back. One can almost hear strands of Gypsy in the background: "You'll be swell, you'll be great." And it is. Proving you can't keep a good parody down, "Like Jesus and Judy, we're resurrected."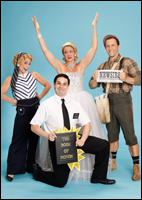 As always, the legendary show at the 47th Street Theater is a fast, funny and satiric love letter to Broadway musicals. Gerald Alessandrini is The Great White Way's ultimate critic -- and he pierces its pretensions with rapier wit.
This year, he deliciously spoofs Evita, "La Evita Loca," with the manically smiling Ricky Martin; Once, "kill the orchestrator, if there is one," and Matthew Broderick's lumbering clod in Nice Work If You Can Get It, among others.
Forbidden Broadway - Alive & Kicking! pays homage to the very institution it savages; only a passionate theater lover could pen such a smart, insightful score. Whether it's lampooning Bernadette Peters in Follies, "In Stephen's ear, I'm still the belter," a smackdown of Diane Paulus' arrogance in the revamped Porgy and Bess or Catherine Zeta-Jones' appalling attempt at singing -- "Send in the Hounds" -- the comedy zingers are spot on.
Best of all, audiences get the digs even if they haven't seen the shows.
When it comes to surgical theater strikes, Alessandrini's aim is true. Four versatile new cast members deliver the goods: Natalie Charlé Ellis, Jenny Lee Stern, Scott Richard Foster and Marcus Stevens. This isn't camp; it's a masterwork of clever commentary on New York's greatest cultural institution, staged at lightning speed.
Directors Alessandrini and Phillip George and costume designer Phillip Heckman should be lauded for returning sanity and perspective to the stage. Forbidden Broadway doesn't just deflate Broadway's excesses or affectionately spoof stars, it is a potent reminder that a first-class comedy critique is an art form all its own. Don't miss it.
Photo: Carol Rosegg