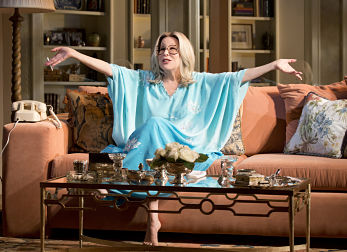 The Divine Miss M is playing the other Divine Miss M -- Hollywood's Sue Mengers, the first super agent. She boasted an A-list roster of clients in the 1970s -- Barbra Streisand, Faye Dunaway, Cher, Gene Hackman, Burt Reynolds -- coupled with a quick wit and ball-busting style.
Mengers was ambitious, driven and unique -- and as played by Bette Midler in I'll Eat You Last, now at Broadway's Booth Theater, she's entertaining as well. John Logan's play, which functions as memoir meets show biz, is really an homage to a powerful woman whose twin obsessions -- movies and gossip, "the lube by which this town slips it in" -- took her to the top.
When a famous star offers to bring her baby over, Mengers, who loathed kids, suggests she just drive by and have the baby wave. That sums up the famed agent: It's all about business. Pitching Hackman for The French Connection, both the director and studio say no. "I hear maybe."
For 90 minutes, audiences revel in the talented Midler recreating this force of nature, deliciously dish without ever leaving her couch, in Scott Pask's beautifully apportioned set. Such is her charm, even profanity sounds profound. Her Sue Mengers is a quintessential American story: Scrappy is transformed into successful.
That's all the more impressive, given her background. In 1940, she and her German Jewish parents fled to the U.S. Her childhood is grim, but it toughens her. She learned English at the movies, and forever after, it would be her beacon. Her rise as a talent agent, and her tough negotiating style, were legendary. Most of all, she had fun. She may have been a polarizing figure to some, but she was a tough broad with a singular style -- usually stoned in a caftan -- who became one of the most powerful women in Hollywood.
A captivating Midler ensures that I'll Eat You Last is a funny and insightful work that honors her spirit.
In the memory vein, Nikolai and the Others is meant to recall artistic Russian émigrés, like Igor Stravinsky, George Balanchine and Serge Sudeikin, who came to the U.S. Set in 1948 in Connecticut, Richard Nelson's latest play, now at Lincoln Center's Mitzi E. Newhouse Theater, is curiously devoid of action.
Ostensibly, it's a chance for an intimate group of nostalgic Russians, who know each other via friendship, affairs or marriage, to seek solace. They also watch part of Orpheus, the lyrical ballet Stravinsky (John Glover) and Balanchine (Michael Cerveris) are creating. Nikolai Nabokov (Stephen Kunken), a former composer now working for Voice of America, is there to help his fellow Russians with any problems.

Into this rural retreat comes the odious Chip, (Gareth Saxe), a 'former' State Department official who works with Nabokov.
In reality, Nabokov is a CIA operative, aiding both his countrymen and the U.S . The cultural Cold War between the U.S. and the Soviet Union was intense post-war -- and many émigrés were caught in a political nightmare. The House Un-American Activities Committee was suspicious of anyone with ties to Russia, eager for them to name names. At the same time, the U.S. government began funding arts efforts to illustrate the cultural supremacy of American arts, recruiting both Americans and new Americans (like Stravinsky) to serve propagandist ends.
Such topics seem ripe for drama, but Nikolai and the Others frustrates its audience: There is no story. Instead, there is a long, heavy-handed play that drains the passion out of these extraordinary people. In Chekovian terms, it shoots the seagull.
Photo: Richard Termine