 "No one stays untainted by the world." So says the Witch in Stephen Sondheim's masterwork Into the Woods, the second offering in the Public Theater's Shakespeare in the Park series. A treasure trove of psychological insights is neatly gleaned from the interlocking stories of fairy tale characters. The current revival in Central Park is outstanding.
Led by Donna Murphy's Witch, the Broadway star delivers a strong, emotional performance that captures the contradictions of pain, revenge and loss. The whimsical and inventive staging of Into the Woods in an actual woods is an added bonus.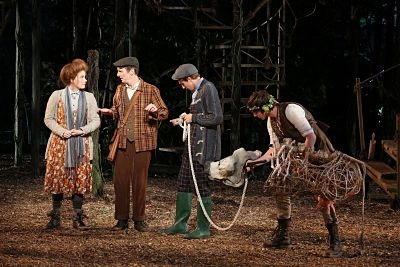 The Delacorte's open-air stage is an ideal setting for the tale of the Baker (Denis O'Hare) and his Wife (Amy Adams), eager to lift the Witch's curse so they can have a child. But they need four things to break the spell: a white cow, red cape, yellow hair and gold slipper.
To achieve those ends, they embark on a quest. En route, they meet an array of characters saddled with their own woes: Cinderella (Jessie Mueller), Little Red Ridinghood (Sarah Stiles), Jack (Gideon Glick), Rapunzel (Tess Soltau) and two Princes (Cooper Grodin and Ivan Hernandez), "raised to be charming, not sincere."
As each ventures into the woods, a Jungian collective unconscious, in search of their destiny, dark secrets and all-too-human frailties are revealed. No one is as they first appear; hidden depths of strength, sexuality and love arise, as does the concurrent problems of a scarred childhood. Sondheim's genius is to wrap important truths in an accessible, engaging way; James Lapine's is to create a connected world of motives and desires. His book makes clear it is all about the journey.
That the two could mine Grimm's characters for humor and heartache gives the score added resonance. The knowingness of "Children Will Listen" and "No One is Alone" alongside the silly narcissism of "Agony," proves there is no happily ever after. There are only moments and larger truths: actions have consequences, often unforeseen.
What makes this revival so special is a pitch-perfect cast: O'Hare and Adams, who possesses a lovely voice, are well-suited to their roles. Stiles' edgy Ridinghood illustrates "the difference between nice and good," while Mueller's Cinderella is touching. The Giant, voiced by Glenn Close, is a work of art.
"You decide what's right. You decide what's good." There is no debate here: Based on the Regent's Park production in London, directed by Timothy Sheader and Liam Steel, this Into the Woods is extraordinary theater.