Two shows off-Broadway are specializing in verbal and vocal virtuosity, respectively. The first, Newsical The Musical at the Kirk, has updated its parodies, zinging the GOP candidates with glee, while sending up everyone from Paula Deen to Lady Gaga in its "End of the World" incarnation.
The latest musical comedy sketches mock the powerful and the celebrated -- but the humor is never cruel. Rather, it is incisive and smart. Similar in tone to Forbidden Broadway, but utilizing current events rather than theater, Newsical traffics in one of the most valuable art forms in a democracy: satire.
In an election year, when bombast replaces reality, it's a much-needed tonic.
That creator Rick Crom skillfully slices and dices the out-of-touch Romney as neatly as Oprah's narcissim is to his credit. Celebrity standing in America is ridiculous; Crom's songs inject a healthy dose of hilarity to a crazed media landscape. And he is aided by four amazing performers: Christine Pedi, Christina Bianco, Michael West and John Walton West; their collective range is impressive.
Events change, stars come and go. We live in a world littered with pompous plutocrats, but the nuttier, inexplicable aspects of pop culture and star power, remain. That's good news for the sassy, high-energy Newsical, which could run for years. It certainly won't run out of material.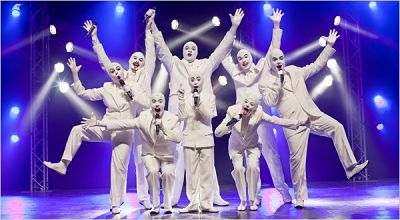 Voca People, which opened last summer at the Westside Theater, has moved to New World Stages. The conceit -- an alien spaceship has mistakenly landed on Earth and can only be re-energized through music. Or as the Voca People explain, utilizing their superb gifts for a-cappella and beat-box: "Musica is energia."
This gentle, but zany crew expertly sings unique versions of 70 songs -- from Doo-Wop to Madonna. This inspired blend of percussive lunacy and performance art displays serious musical talent -- and a freewheeling spirit when it comes to the audience, who are incorporated into the show.
While audience participation is fun, it has its limits. The show would benefit from a tighter narrative and less time breaking the fourth wall. Created and directed by Lior Kalfo, with musical direction from Shai Fishman, Voca People showcases eight aliens who see it as their mission to entertain earthlings.