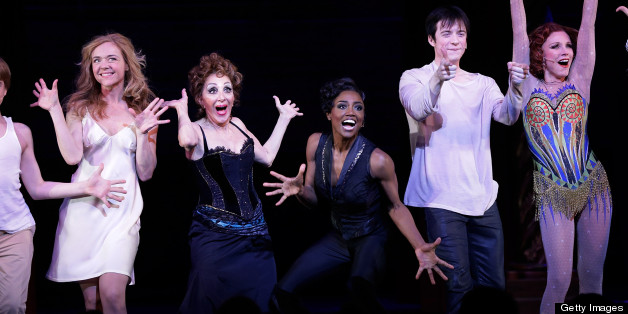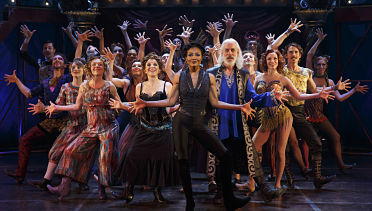 Taking a page from Chicago, the new Broadway revival of Pippin, now at the Music Box, gives the audience razzle dazzle.
This incarnation, which boasts spectacular visuals, all of the human variety, is Cirque de Soleil meets Broadway. Director Diane Paulus has staged Stephen Schwartz' glorious score as a rousing celebration of body and spirit, aided by a sensational cast.
Pippin (Matthew James Thomas) is the son and heir to Charles (Terrence Mann), a ruthless king with a lust for war and power. Staged as a play within a play, this lively musical addresses both Pippin's quest for meaning and his stepmother's (a deliciously conniving Charlotte d'Amboise) machinations to put her own son Lewis (Erik Altemus) on the throne.
Narrated by Leading Player (a fabulous Patina Miller), Pippin's journey explores the nature of power, the seeker instinct and the deeper meaning in seemingly simple things. But despite the serious subjects, the musical is rife with comedy and tongue-in-cheek humor--which adds to its charm.
Plus, Chet Walker's Fosse-like choreography is fantastic. One of the gems, Andrea Martin's show-stopping number, underscores the sheer exuberance of the production. And the performances are memorable -- Rachel Bay Jones' Catherine, who touts her "ordinary woman" status, is touching, while the players are extraordinary gymnasts and contortionists. Pippin is musical as spectacle, an electric, eye-popping show.
While Pippin soars, Love Therapy nosedives. It needs therapy - or its writer and producer do. Since they are one in the same, the play feels like a vanity production.
Now at the DR2 Theatre, Wendy Beckett's latest work, reflects her profession: She herself is a therapist, as is her lead, who stages a series of client sessions, ostensibly from the therapist's point of view. The central figure is Colleen, a caring young psychologist (Margot White) dedicated to "emotional authenticity."
She claims to empathize, but she's slow to process her clients' dangerous signals: an abuse-spewing misogynist (Christopher Burns), a slovenly womanizer (David Bishins) and a terribly depressed woman (Janet Zarish.) The only down-to-earth person is waitress Madge (Alison Fraser), who believes "family, friends and community" are the answers to life's ills.
Colleen claims that connecting with her clients, even hugging when necessary, works. Whatever good therapy can render, it's a private affair. This functions more as a warning against transference, best staged at a therapist conference.
The cast does its best, but it might be better for the production if Beckett scheduled a few sessions on the art of drama and storytelling.
Photo: Joan Marcus