In a desolate Karoo village, three characters -- two Afrikaners and one English South African -- play out a timeless battle: small-minded fears versus artistic flights of freedom. Anthol Fugard's powerful examination of destiny, love and race, set against the backdrop of 1974 South Africa, is a potent reminder that the dramas of daily life can fuel exhilarating theater.
Now at the American Airlines Theater, the Roundabout's revival of The Road To Mecca is a beautifully staged and acted drama. It opens in Miss Helen's (Rosemary Harris) home -- awash in red paint and glitter. This warm abode houses a sweet, understated elderly woman, known for her massive cement lawn sculptures of owls, camels and people, all pointing east. Miss Helen is passionate about her work, which began, tellingly, on the death of her husband.
But art is isolating; the village children mock her "monsters," as does Marius Byleveld (spot-on Jim Dale), the reactionary minister who worries about Miss Helen's fragile health. He tries to persuade her to enter an old age home, a prospect bitterly contested by Elsa (a wonderful Carla Gugino), a fiery young teacher and Miss Helen's closest friend. Yet Elsa is frustrated by Helen's presumed passivity; her anger is that curious blend of affection and irritation.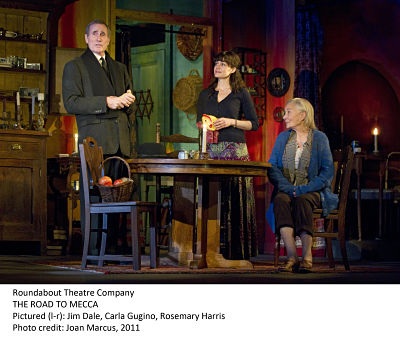 The battle for Miss Helen's future is really a provocative discussion of power and paralysis. Elsa champions racial equality and individual determination, which pits her against the establishment. Miss Helen, rendered with extraordinary restraint and grace by Harris, celebrates creativity -- even if she is radically misunderstood. She, to the consternation of Marius and the respect of Elsa, has found her mecca -- an exotic, colorful, solitary oasis of hope.
Fugard has written a story of love, in various permeations. (He based Miss Helen on the real Helen Martins, whose Owl House is now a museum.) The loneliness of the dispossessed is juxtaposed with the frustrations of the well intentioned. Life is complicated; emotions are fraught with contradictions. The first act is a bit slow, but the second pulsates with meaning. Aided by an excellent cast, Peter Kaczorowski's sensitive lighting and Michael Yeargan's set, which replicates Martins' home, the journey to Mecca is a moving one.
On a lighter note, the Pearl Theater takes on the vagaries of romance.
As a young man, George Bernard Shaw, the charming socialist, was known to strike up flirtations with various women. Jenny Patterson once broke in on Shaw while he was with actress Florence Farr, insisting he return to her. The scene is replicated in his early play The Philanderer, at City Center, in which Charteris (Bradford Cover) tries to extricate himself from his entanglement with the volatile Julia (Karron Graves), while proposing to the savvier Grace (Rachel Botchan).
All three are members of the Ibsen Club, which supports progressive ideals, including sexual equality. The club dislikes a "womanly woman" and "manly man," preferring truth and free love supplant feminine wiles and masculine posturing.
This being Shaw, he manages to lampoon convention, modernity, medicine and marriage. The women adore Charteris, a self-proclaimed philanderer. Yet only Grace understands how to cope with the predicament, which is played out before her father (Dominic Cuskern) and Julia's (Dan Daily). Both men, along with Dr. Paramone (Chris Mixon), who claims to have invented a disease, profess confusion at the New Woman and New Man.
The romantic entanglements give Shaw, in the guise of Charteris, a chance to pontificate on various issues, such as vegetarianism and women's rights. By using comedy to push his agenda, he makes it both palatable and entertaining. Plus, the Pearl Theater is adept at Shaw; two seasons ago, it staged a remarkably good Misalliance.
There isn't a misstep in The Philanderer, save Charteris' wig. As Shaw himself might have said: "Frightful." However, the ensemble is uniformly terrific; Cover cuts a fine figure as the justifying philanderer, while Graves exploits her wiles for all they are worth. The company does justice to a minor Shaw work. As Charteris puts it: "If you take people seriously off the stage, why shouldn't you take them seriously on it, where they're under some sort of decent restraint?"