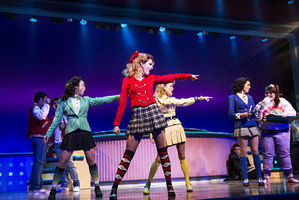 Heathers the Musical proves high school is a killer -- literally.
Twenty-five years ago, the teen cult film starred Winona Ryder and Christian Slater in a twisted tale of adolescent cruelty and angst. Now, the '80s movie has been revamped into an off-Broadway musical at New World Stages.
Co-written by Kevin Murphy (Reefer Madness) and Laurence O'Keefe (Legally Blonde), the pop musical recreates evil Westerberg High in Sherwood, Ohio, where the three clique-mad Heathers -- ringleader Heather Chandler (a convincing Jessica Keenan Wynn), Heather McNamara (Elle McLemore) and Heather Duke (Alice Lee) live to humiliate their classmates.
The three witches are joined by two bullies, dumb jocks Ram (Jon Eidson) and Kurt (Evan Todd) who get their comeuppance, courtesy of bad boy J.D. (Ryan McCartan), who orchestrates the ultimate revenge fantasy.
Veronica (a terrific Barrett Wilbert Weed), a popular but unhappy girl, worries about boyfriend J.D.; he's sexy but oh, so troubled. Then again, in this high school of horrors, mockery and violence are child's play. Yet the pop score never sings the blues in any deep way. If you miss the lyrics, due to the decibel level, you can't miss the thrust: dark comedy commingled with pathos. Even when the musical turns macabre, the score maintains its frenetic pop pace and intense, monochromatic lighting.
The movie's distinctive phrases -- "How very," "What's your damage?" -- remain, as does Heather Chandler's red scrunchie. The sad, horrifying aspects of being 17, "freeze you brain, who needs cocaine," J.D. laments at 7-Eleven, home of his beloved Slurpee -- are all on parade.
Which is why Heathers the Musical will click with fans of the movie -- it's aimed at bringing a millennial crowd into the theater. Marguerite Derricks' choreography isn't inspired, but it is lively, while director Andy Fickman keeps the action in high gear.
Photo: Chad Batka