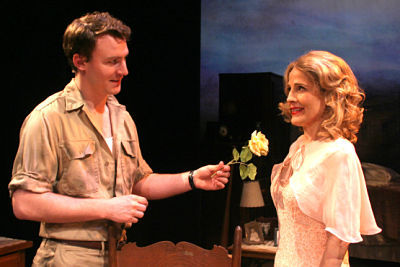 William Inge is a dark chronicler of small-town Midwest lives. The roles of alcohol and sexual impropriety are familiar threads in his work -- a striking contrast to the white-picket fence world of assumed propriety.
He wrote his four masterpieces -- Picnic, Bus Stop, Splendor in the Grass and The Dark at the Top of the Stairs -- in the 1950s. All demand a certain kind of acting; performers who can spin their emotions on a dime.
One of his last, and least heralded plays, A Loss of Roses, now off-Broadway at the Theatre at St. Clement's, is a stronger work than credited at its 1959 debut. Roses is remembered mostly for securing Warren Beatty a Tony nomination for his single Broadway role, which closed after 25 performances.
But the play is solid, and the Peccadillo Theater Company has rightly revived it.
A Loss of Roses is an intimate story. Kenny Baird (Ben Kahre) is a
21-year-old with a job at a filling station; his widowed mother Helen (Deborah Hedwall) is a nurse. They both have jobs during the Depression, no small victory. It's the 1930s, outside Kansas City.
Kenny refuses to leave home; he feels somewhat responsible for his mother's well-being. She, in turn, wishes he was more independent, worried about his drinking and penchant for trashy girls. Kenny acts, in part, like a pseudo-husband; filling in for the father who died when he was young.
Into their lives comes Lila (Jean Lichty), a pretty, out-of-work actress whose past hints at misery and abuse. Helen, who helped Lila escape her family home in Oklahoma, now welcomes her as a guest. But like Blanche DuBois, Lichty's sensuality and appeal aren't her salvation.
However, her presence, like the mysterious stranger in Picnic, is a catalyst to shake up the Baird household.
Troubled families, sexual frustration, inchoate yearnings are an Inge specialty -- and those elements are a potent mix in Roses. Harry Feiner's sets and lighting are spot-on, as is Marianne Custer's costume design. The acting is a bit more problematic. Hedwall is excellent as Helen, combining a no-nonsense approach to life with real empathy, while Kahre and Lichty's push/pull attraction is heartfelt.
But the two are strangely restrained at times, and some of the most meaningful moments aren't as fiercely emotional as the script suggests. Still, Inge's least-known work deserves attention. It's a stark reminder that the pathos of everyday life is just beneath a casual smile. Scratch the surface in Inge's world and the darkness appears.
Photo: Michael Portantiere