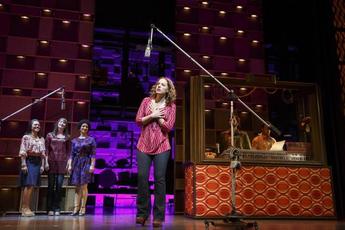 The music of the '60s and '70s is having a revival -- on stage. Two legendary composers from the time, Carole King and Burt Bacharach, are getting their theatrical due.
The first, Broadway's Beautiful, now at the Stephen Sondheim, chronicles about 12 key years in Carole King's life -- from circa 1960, when the enterprising teen marched into music producer Don Kirshner's (Jeb Brown) office, till the release of her landmark Grammy-winning album Tapestry, one of the best-selling albums of all time.
King (Jessie Mueller), along with lyricist and first husband Gerry Goffin (Jake Epstein), caught the zeitgeist of the late '50s and early '60s, with pop tunes like "Will You Love Me Tomorrow," "Take Good Care of My Baby" and "The Locomotion." It's a time when young Jews created pop sounds for classy black singers -- and the audience, which grew up on the music, could not be happier.
Beautiful is aptly named: a smart, funny, first-rate production. The costumes are slick, the staging is sharp and the experience is not to be missed. Josh Prince's choreography clicks, while director Marc Bruni orchestrates pitch-perfect performances from a top-notch cast.
King and Goffin had an amazing energy -- college kids who married when she became pregnant -- and an ear for the times. The Drifters, The Shirelles, Bobby Vee all recorded their No. 1 hits, but Beautiful is more than a playlist. It notes the close friendship and rivalry with songwriting partners Barry Mann (Jerrod Spector) and Cynthia Weil (Anika Larsen), the intense work ethos of Aldon Music, Kirschner's music factory, and King's inner strength in the face of heartache.
Despite marital blows and changing times, she is anchored by her music, eventually realizing she can write and sing her own work, a revelation to the shy young woman.
What makes Beautiful so enjoyable, in addition to a classic pop music score, is a lively book by Douglas McGrath. It creates a you-are-there feel, enhanced by Mueller's excellent performance; she has superbly channeled King's spirit. Epstein sensitively replays Goffin, gifts and demons in tow, while Spector and Larsen have real chemistry together. Beautiful hits all the right notes.
Like the gifted King, Bacharach, a Grammy and Oscar winner, composed soaring melodic poems in the same period. But imagine his music, influenced by jazz and pop, orchestrated by today's young musicians. That's the premise behind co-creators Kyle Riabko and David Lane Seltzer's What's It All About? Bacharach Reimagined at New York Theater Workshop.
Riabko, who helmed musical arrangements, is a talented musician and performer, and he's assembled six additional artists -- Daniel Bailen, Laura Dreyfuss, James Nathan Hopkins, Nathaly Lopez, James Williams and Daniel Woods -- who do Bacharach proud.
Most of his songs -- "Make It Easy On Yourself," "Alfie," "A House Is Not A Home, "What The World Needs Now Is Love" -- which stand the test of time, are about broken hearts. Indeed, Bacharach hit the jackpot with longtime collaborator, Hal David, the lyricist behind some of the most bittersweet songs in post-war America. David's touching lyrics are memorable.
That's why his omission is a grave oversight. It's negligent to mention the legacy of Bacharach, however gifted, without noting David.
Still, the show, directed by Steven Hoggett, works. It's not a musical; there is no story and the briefest of introductions. This isn't Jersey Boys, a jukebox musical where a group's chronology is told via song, or Beautiful, which explores Carole King's journey. This is a fun, hipster concert for baby boomers who remember Bacharach's music and a new generation who can revel in his legendary style.
Photo: Joan Marcus