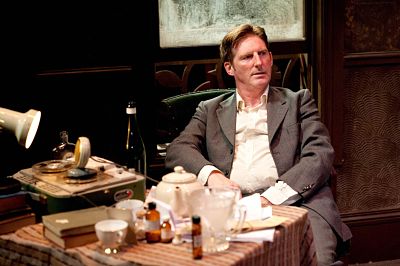 Irish writer Brendan Behan was as renown for his plays as his drinking antics, but attempting to present the life of this complicated, talented man, who died in 1964, is tough. Which is why Janet Behan, author of off-Broadway's Brendan at the Chelsea, now at the Acorn Theater, has wisely taken a slice of life to reveal the whole.
She's succeeded in revealing both his gifts and demons, thanks to the remarkable Adrian Dunbar as Behan, who also deftly doubles as director. Dunbar captures the inner man -- his charm and his torments -- in a compelling performance that while sympathetic, doesn't stint on his narcissism or outrageous behavior.
An import from the Lyric Theatre in Belfast, Brendan at the Chelsea is an entertaining and engaging look at the tortured playwright whose plays, The Quare Fellow and The Hostages were acclaimed in his lifetime, but rarely performed today.
That's a shame, given the hints at his unique style.
Rather than detail the life of the IRA revolutionary turned playwright, Chelsea focuses on the few months Behan decamped to New York to define the man's totality. Behan stayed at the infamous Chelsea Hotel, boasting residents as legendary for their artistry as their drunk or drug-fueled antics. New York offered him a second chance, a life of possibility that his native, censorious Dublin denied him.
Behan hails New York as "the hope of a new beginning and the courage to start over in a place where you know no one and no one knows you. ... in reality, one of the greatest freedoms imaginable." And he might have achieved it, had his health not been so radically compromised, and his life entangled in a series of unsatisfying relationships.
Staying at the Chelsea to write a book about New York, Behan is felled by his extreme drinking, which led to the diabetes that eventually killed him. He also indulges in bisexuality, which, given his reputation as a tough Irish lad, caused its own anxieties.
Living among assorted bohemians, such as composer George (Richard Orr) and friend Don (Chris Robinson), watched over by assistant Lianne (Samantha Pearl) and endured by wife Beatrice (Pauline Hutton), Behan, now a broken man, tries to meet his publisher's deadline.
What's so moving about the play is its honesty; we learn as much about Behan's troubled life as the country that produced him. While the man's poetry and charm are seductive, his destructive impulses are also on display. Thanks to a terrific and eclectic cast, aided by Stuart Marshall's sets and James McFetridge's sensitive lighting, Brendan at the Chelsea is a thoughtful evocation of one of Ireland's great writers. Much like Behan, it pulls no punches.
Photo: Lyric Theatre