The latest movie turned Broadway show, Bring It On: The Musical is a high-energy production that turns cheerleading -- and all its bitchy, backstabbing elements -- into a winning-isn't-everything life lesson.
Now at the St. James Theater, Bring It On, loosely based on the 2000 teen comedy, has a good-natured sassiness, thanks to Jeff Whitty's script and director/choreographer Andy Blankenbuehler's impressive dance routines. The last Broadway show to take on high-school rivalries, Lysistrata Jones, was sharper in its parody; Bring It On is all about fierce face, pumping high-octane gymnastics into its melodious numbers, set to a hip hop meets top 40 score.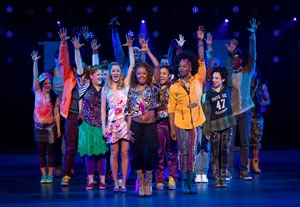 The focus is lily-white Campbell (Taylor Louderman) of Truman High, obsessed with prepping for the upcoming varsity finals. When redistricting sends Campbell to Jackson High, a tough, inner-city school without cheerleaders, she meets Danielle (Adrienne Warren), whose crew dance only for themselves.
The multicultural clashes -- and Campbell's drive to reclaim her status -- begin in earnest when she discovers that scheming Eva (Elle McLemore), her former friend, has done her wrong. Now it's Jackson versus Truman, and all bets are off.
Cheerleaders, their rivalries and inevitable clichés, get old fast. What saves Bring It On are the soaring musical numbers accompanied by feel-good friendships, strong leads in Louderman and Warren, and a kick-ass supporting cast: Gregory Haney as La Cienega, a transgendered member of Danielle's dance crew, and Bridget, the nobody at Truman (Ryann Redmond) who finds her self-esteem and voice at Jackson.
Cheerleading may see an odd focus for Tony-winning composers Tom Kitt (Next To Normal) and Lin-Manuel Miranda (In The Heights) who co-wrote the music, with Amanda Green and Miranda on lyrics, but there is charm in message lite, especially when it meets taut athleticism. Designed to tour, Bring It On: The Musical speaks to high-school kids everywhere.
Photo by: Joan Marcus