Charlie Chaplin was the consummate artist: He produced, directed, wrote and scored his films. Several, such as The Gold Rush, City Lights, Modern Times and The Great Dictator, are classics. All are a tribute to his comedic gifts. The 20th century's first global celebrity, Chaplin's images were plastered on everything from toys to comic strips. He was mobbed wherever he went.
But his cinematic genius, coupled with his sex scandals and progressive politics, made tabloid fodder. They are also fertile ground for a Broadway musical. Chaplin, now at the Barrymore Theater, tells his amazing story in brushstrokes. While it cites his Dickensian childhood and tragic relationship with his mother as his overarching artistic influence, the musical, ironically, sells him short.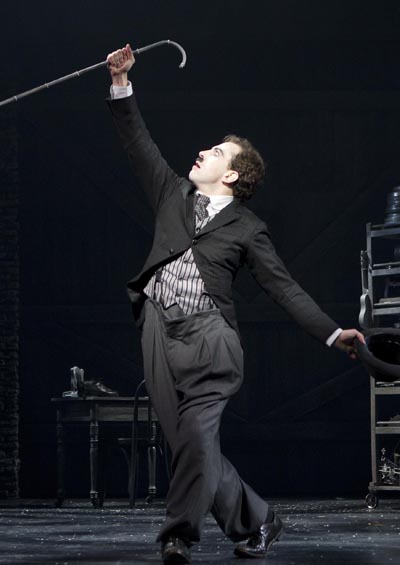 Like the man himself, this theatrical salute is entertaining and visually impressive. Rob McClure as the inimitable Little Tramp is a standout. He beautifully captures Chaplin's sweetness and lyricism, as well as his pain. He's assisted by a stunning black-and-white set, a singular homage to Chaplin's silent picture status.
In fact, the production -- which spans from 1894 London to his belated Oscar in 1972 -- walks a tightrope between charming and mawkish. The cast, including Christiane Noll as Chaplin's beloved, but mentally ill mother, Jenn Colella as a vindictive Hedda Hopper, Wayne Alan Wilcox as brother Sydney and Zachary Unger as the young Charlie are first-rate. Christopher Curtis' music and lyrics, which nicely mix sentiment and longing, has several touching numbers.

The problem is the Chaplin book. It runs through his musical hall roots through his meteoric Hollywood success in workmanlike, rather than inspired fashion. A box-office favorite for over 20 years, Chaplin ran his own studio and perfected on-screen comedy. The scenes depicting his movie career are creatively staged, but don't sufficiently note his reach; this man was a cultural phenomenon.
Plus, there are odd omissions.
Where is Edna Purviance, the Hollywood muse who appeared in 30 of his films? Why is his brief marriage to Mildred Harris (Hayley Podschun) given a greater role than third wife Paulette Goddard, with whom he filmed Modern Times and Great Dictator? His marriages are cleverly portrayed as boxing bouts, as is his troublesome penchant for teenage girls. Second teen bride Lita Grey was a press nightmare, but she also bore him two sons, who are excised here.
More telling, the ironies of his political persecution aren't given their due. Chaplin's films often championed the poor or downtrodden. He was anti-fascist long before Pearl Harbor, anti-Nazi when America was isolationist. But his views made him a target for right-wing witch hunters like Hopper, whose "All Falls Down" number sums up her tawdry viciousness and myopic politics.
Still, Chaplin does have its moments. The psychological underpinning of Chaplin's inspiration is played with poignancy by Noll, while Unger as the youthful Chaplin is terrific. Charlie Chaplin was a complicated man; his work is extraordinary. For all its good intentions, the musical makes one long for his films.