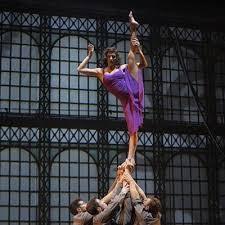 Montreal-based troupe Cirque Eloize capitalizes on 12 talented dancers, tumblers and contortionists to capture beauty in motion. Its current show, Cirkopolis, at NYU Skirball Center for the Performing Arts, combines original music, vivid 3-D projections and humor in a 90-minute eye-popping show.
There is great physical artistry here; individual vignettes, co-directed by artistic director Jeannot Painchaud and Dave St-Pierre, showcase the circus arts, though the emphasis is more arts than circus.
Framed by a Metropolis-style set design of gray and white, Cirkopolis opens in a grim office; one man, Ashley Carr, is mindlessly stamping a pile of papers. The daily grind is interrupted when he rebels, sparking an endless array of action.
The color is introduced in the women's dresses; the monochromatic simplicity highlights their acrobatic elegance. Angelica Bongiovonni on the Cyr wheel is amazing, Maude Arseneault is a wonder on the Chinese pole, while the standout, an extraordinary Myriam Deraiche, is tossed in the air with spectacular results.
Indeed, whether juggling pins or performing astounding feats airborne , the sexy, versatile troupe is first and foremost a collaborative effort. With cheeky creativity, they defy their dreary Cirkopolis industrial world, imbuing it with passion, style and grace.
Painchaud says the production is driven by "the poetic impulse of life, the physical prowess of the circus, and the humor, at once serious and lighthearted. Cirkopolis is all about letting go and allowing yourself to be borne aloft by hope."
For audiences, it will lift their spirits and drop their jaws.