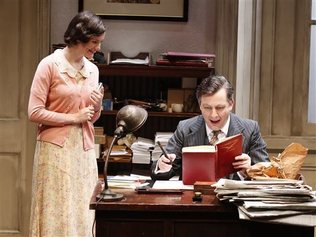 It may seem anachronistic today, but there was a time when formality reigned in offices. That civility is beautifully illustrated in Cornelius, a revived J. B. Priestley work from the 1930s, part of 59E59's wonderful Brits Off-Broadway series. It's a slice-of-office-life play, a story of a thoroughly decent man, Jim Cornelius (a perfect Alan Cox), trying to maintain his business.
The time is mid-Depression, and Cornelius and partner Murrison (Jamie Newall) are desperate to save the company. They, like the aged Biddle (Col Farrell), have spent their lives here. Others, like the office boy (David Ellis), long for a better job, while Miss Porrin (Pandora Colin), a faithful secretary, has a crush on Cornelius.
It's all rather ordinary -- yet in their daily struggles to stay afloat -- poignant. When pretty young Judy arrives (Emily Barber), the emotional dynamic shifts a bit. Her effect is subtle, nothing mooning or overt, but touching. In essence, Cornelius is a study of everyday people trying to cope with dignity, led by a man who personifies quiet class.
Into the fray comes, in Cornelius' words, a "young twister" (Alex Bartram) with dubious ethics, and various creditors. What's telling here is how each person manages; unfortunately, the dramatic tension is tame. But the appreciation for struggle and escape, for dreams of love and adventure, is not.
Neither is the descriptive language: Business competition is described as "a game of snakes and ladders -- without the ladders," while a bank manager is accused of having a "rat trap" for a face.
An import from London's Finborough Theatre, which focuses on new writing and rediscovering neglected works from the 19th and 20th centuries, Cornelius offers an expert ensemble, well directed by Sam Yates, aided by spot-on sets and costumes (David Woodhead) and lighting (Howard Hudson). Plus, it's rare to see 12 actors engaged in a drama.
J.B. Priestley, best known for An Inspector Calls, whose heyday was the 1930s-1950s, was deft at social critique. Cornelius is a minor work in the canon; it's a bit creaky, despite a well-done production.
Photo by: Carol Rosegg