"I shun the normal and the commonplace," proclaims Cyrano de Bergerac, writer and duelist. "My style comes from within!" The 17th-century swashbuckler was a real Frenchman whose life was the basis of Edmond Rostand's 1897 play Cyrano de Bergerac, now on Broadway at the American Airlines Theater.
Douglas Hodge, Tony winner for La Cage aux Folles, stars as Cyrano -- and it's an inspired, riveting performance. Hodge imbues Cyrano, famed for his impressive wit, freethinking and large, ugly nose, with energy and vulnerability. His pugilistic impulses, which rally his loyal friends, are muted by his love for Roxanne (Clémence Poésy).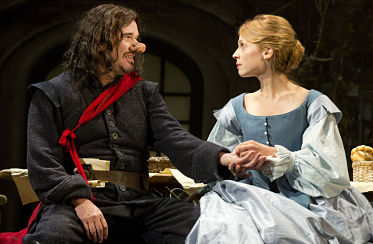 Yet she is besotted by the handsome, but tongue-tied Christian (Kyle Soller), a cadet in the legion of the dastardly Comte de Guiche (Patrick Page, last seen in Spider-Man: Turn Off The Dark).
Because he cannot woo her openly, fearful his nose will revolt her, Cyrano courts her by proxy. He pours his love into eloquent letters he ghostwrites for Christian -- causing Roxanne to fall in love. The power of the words, she later reveals, matter more than mere looks. They pierce the heart.
The backdrop to Cyrano's romantic tragedy is a dangerous Paris. When Cyrano and his friends aren't fighting the Spanish in Arras, the city's elite are enraged by his plays, which attack the pomposity and hypocrisy of aristocrats and religion alike. "My wit is sharper than the finest mustache, and when I walk among men I make truths ring like spurs," he announces. They also attracted the attention of Molière, who promptly plagiarized them.
Cyrano fervently proclaims his creative independence, even at personal risk. Ironically, he hides his secret desire at his peril.
Years later, the futility and heartbreak of his misguided sacrifice come full circle. Cyrano and Roxanne share final moments -- "I was the prop, never the star" -- rendered with such pain and longing, Hodge is a shoe-in for a second Tony nomination. A lovely and spirited Poésy, a first-rate cast and Jamie Lloyd's lively direction aid him in this excellent revival. Soutra Gilmour's sets and costumes are economic and evocative, while Japhy Weideman's sensitive lighting beautifully captures the mood.
Rhyming couplets are a challenge -- but the cast handles it well. This production, as Cyrano is fond of saying, is loaded with panache.
Photo: Joan Marcus