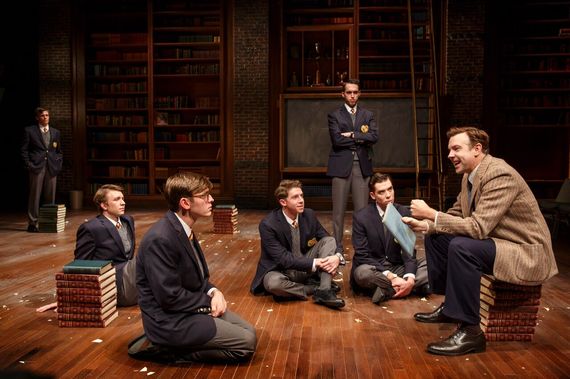 And suddenly, the spark ignites.
Dead Poets Society, now off-Broadway at CSC, is a beautifully rendered production, deftly directed with elegance -- and without sentimentality -- by John Doyle.
The boys come alive -- and despite their adolescent angst -- discover beauty and depth; which sounds ideal -- if their world wasn't run by pompous, authoritarian figures. Culture and sensibility are anathema to them. And a clash is inevitable.
Keating pushes the boys to open their minds and hearts in an era when conformity and anti-intellectualism rule. Oscar winner Tom Schulman adapted his screenplay, and it has added resonance in such an intimate setting.
We feel the boys' longings, much as we absorb the larger ethos. That the humanities can enhance your life is a valuable message; one that seems critically important today.
Doyle keeps his production lean, using books for desks and getting excellent performances from a strong ensemble cast that doesn't miss a beat: Zane Pais, Thomas Mann, Cody Kostro, William Hochman, Yaron Lotan, Bubba Weiler, David Garrison, Stephen Barker Turner and Francesca Carpanini.

But at the climatic moment of the play, a phone went off. It shattered the small theater -- robbing both actors and audience of a truly dramatic finale.
That outage wasn't enough: CSC permits food and drink in the theater, so the people next to me laid out a picnic on their laps. It's not Yankee Stadium.
No wonder Patti Lupone doesn't want to do theater any more.
The theater isn't your living room; it's an artistic enterprise worthy of respect and consideration. Otherwise, stay home. The brilliance of Dead Poets Society deserves nothing less.
Photo: Joan Marcus