A dark drama has moved into Detroit, now at Playwrights Horizons. Lisa D'Amour's play, set in a city suburb, underscores the economic collapse of both neighborhoods and the middle class.
Detroit is disturbing and unsettling; moments of humor punctuate a sorry existence for two couples: Mary (Amy Ryan) and Ben (David Schwimmer), a paralegal and loan officer, are juxtaposed with Sharon (Sarah Sokolovic) and Kenny (Darren Pettie), their down-on-their-luck white trash neighbors.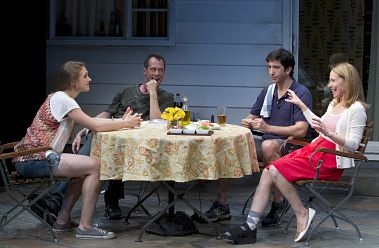 Yet they come together, by geographic happenstance, in a time, Sharon bemoans, when neighbors and neighborly values are rarely acknowledged. It's an interesting premise; traditional American communities, Detroit laments, are being undermined by unemployment and psychological dislocation.
Given the actual Detroit's woes, it's less a eulogy than a death knell.
The couples live in model homes that were built by Bright Houses -- they reside on Sunshine Street. Clearly, the sun has set.
Ben has lost his job; Mary drinks too much and consoles herself with dreams of living in the woods -- as if nature will assuage the horrors of modern life. Both are alienated from reality. Each longs to adopt another guise to escape an untenable truth: They are isolated from friends, family and each other.
Conversely, Sharon and Kenny are suspect. Their grasp on truth and sobriety is tenuous. Whether it's the male primal wish for a boy's night out, or the women swapping unhappiness, the suffering is real.
The psychological angst is augmented by physical injuries that assail the quad: Ben and Mary are wounded remnants of a lost America. Sharon and Kenny double as its parasitic underbelly. The cast is uniformly good; though they would be better served by a tighter second act.
Detroit, a 2011 Pulitzer finalist, is a well-crafted elegy for a once-prosperous American suburb, a symbol, in the post-war years, of new beginnings. Notably, all the action takes place on the patio -- where decades of suburbanites entertained at the requisite cookout.
Now, the only thing on the menu is despair and burnt dreams.
Photo: Jeremy Daniel