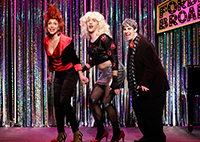 As always, the legendary Forbidden Broadway franchise at the Davenport Theater is a satiric love letter to Broadway musicals. Writer/creator Gerard Alessandrini is The Great White Way's ultimate critic -- and he pierces its pretensions with rapier wit. Or in the show's words: "Lyrics perverted to put producers through hell."
This year, he deliciously spoofs Hedwig and the Angry Inch and Aladdin, among other targets. This isn't camp; it's a masterwork of clever commentary on New York's greatest cultural institution, staged at lightning speed.
Forbidden Broadway Comes Out Swinging! pays homage to the very institution it savages. Only a passionate theater lover could pen such a smart, insightful score, and Alessandrini shares his thoughts about the show's longevity.
You've been zinging Broadway for 32 years. It's a fantastic way to vent. What's the secret to its long success?
I think the secret is that it renews itself all time -- keeping it fresh and always topically funny.
What's new in the current show?
This rendition has more new numbers than ever before! We spoof Matilda, Rocky, The Bridges Of Madison County, the live network TV version of The Sound of Music with Carrie Underwood, Bullets Over Broadway, Idina Menzel in Frozen, as well as the new revivals of Pippin, Les Miserable and Cabaret.
The best part about FB is that you go after sacred cows -- Sondheim, Lupone, Peters, etc. What's been the general reception among the actors and writers?
Most are very generous and love to come and enjoy the show. They are good sports -- at least to our faces! Who knows what they think when they are at home. Most all the writers have come. I believe we have been kinder to writers than various stars. Of course, legendary stars like Carol Channing have been very kind to us!
What do you think about the staggering trend of movies into musicals?
I can see how it happened because people recognize a film name. And they like the idea of seeing it done on stage live before them. After all, people know what they like, and they like what they know. But it's all really silly because they are such different mediums. And if a film is beloved, a stage show version can look ridiculous and ultimately disappoint its fans.
Do you have a favorite season of Forbidden Broadway?
I really loved the one in the 1980s when both La Cage Aux Folles and Sunday In The Park were on Broadway. I also loved the 1995-96 season with Rent, The King and I and Julie Andrews in Victor/Victoria. Most recently, I loved the 2012 season with Book Of Mormon.
Has the reception abroad been similar to New York or audiences get less of the infra digs?
Yes! In London, they love the show as much if not more than here in New York. We are going there this June for our fifth time. I have to make alterations to the running order and change a few references, but you'd be surprised how almost everybody everywhere loves Broadway musicals! They even loved Forbidden Broadway in Tokyo and Singapore.
The final song, the chilling "Tomorrow Belongs To Me" about corporate ascendance, is this the future of Broadway?
Right now, we like to joke it is in the corporate era, but the fun thing about Broadway: It's always full of surprises. So who knows? It's just thrilling to wait and see what's new and what's fabulous.
Photo: Carol Rosegg