Small rural towns can be sad places. Residents live in the emotional twilight of high school -- lost dreams, dashed hopes -- amid economic uncertainty. Escape is rare; they lack the means or the will to leave. These "lives of quiet desperation," as Thoreau called them, are the focus of Him, Daisy Foote's latest play, now off-Broadway at 59E59 Theater.
Set in 2003, this is Tremont, New Hampshire, before the market crash. Like many New England towns, there is a class divide: a stoic year-round population and affluent Bostonians with second homes.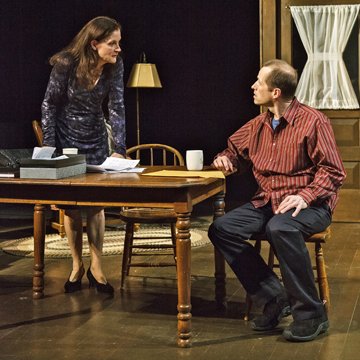 For Pauline (Hallie Foote), Henry (Tim Hooper) and Farley (Adam LeFevre), children of a silent, brooding father, the future is bleak. A dying store, dilapidated home and unpaid bills comprise their existence. From the 1960s avocado stove and bare cupboards, to the worn plaid chair, the house and its occupants reek of neglect.
Pauline has an air of flinty practicality, laced with longing. Woeful Henry pines for inaccessible men. Both are stunted in some measure, the sins of family dysfunction. Meantime, Farley becomes smitten with neighbor Louise (Adina Verson), as mentally challenged as he is.
There are two problems here: First, it's hard to get emotionally invested in the story, as there isn't much of a dramatic arc. Aside from the bare-bones lament, Him is punctuated by the diary entries of a dead father. Turns out, Dad may have been MIA as a parent, but he held an important secret -- and when it comes to light, it pits passive brother against active sister.
Or does it? When the choice is poverty or survival, status quo or new beginnings, honoring the past may be quixotic. Then again, bottled-up anger can obliterate good intentions, which is Foote's point. She's adept at capturing malaise, embedded rage and the muted yearnings of the never-ran. And she's lucky to have such an able cast, led by sister Hallie, who expertly embodies a woman who wears the burden of care like an old coat.
Daisy Foote, the daughter of late playwright Horton Foote, doesn't create engaging characters; they are too busy eking out their days to enjoy even a moment of humor. Ironically, she notes, it isn't life that liberates such people, but death.
Conversely, the American Symphony Orchestra is in celebration mode, marking its 50th anniversary at Carnegie Hall Oct. 26 with Gustav Mahler's monumental Eighth Symphony, which he considered his greatest work.
The piece boasts massive instrumental and vocal power; The Collegiate Chorale and the Brooklyn Youth Chorus are placed on stage and around the celebrated hall. The symphony opens with a burst of choral energy. The 8th-century hymn "Veni Creator Spiritus" (Come Creative Spirit) served as the inspiration for the first movement; the ending of Goethe's Faust II as the second.
The evening opens with Charles Ives' Fourth Symphony, composed between 1910 and 1925. The symphony has evolved over time, referencing a range of musical styles, including American indigenous music and the European classical tradition.
Founded by legendary conductor Leopold Stokowski and now under the direction of Leon Botstein, the ASO's goal is to demystify orchestral music, pioneering what the Wall Street Journal calls "a new concept in orchestras." It presents concerts curated around various themes, drawn from the visual arts, literature and history. ASO is renown for reviving rarely done masterworks.
Similarly, The Collegiate Chorale, let by music director James Bagwell, is acclaimed for performing vocal works by American composers, as well as rarely heard operas-in-concert. The 50th anniversary concert is performed as part of the Vanguard Series at Carnegie Hall.