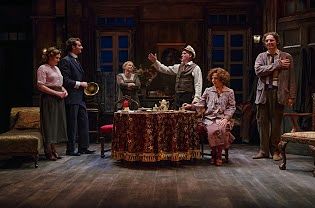 Sean O'Casey's street poetry is on display in the Irish Rep's Juno and the Paycock, the second play in his Dublin trilogy, written in 1924. A tenement family struggles to survive poverty and the Irish Civil War. "Th' whole worl's in a terrible state o' chassis!" shouts Jack Boyle, the flawed patriarch of a beleaguered family.
As the boasting peacock of the title, Jack (Ciaran O'Reilly) is an inebriated egoist who calls himself "Captain" because he once sailed on a merchant ship from Ireland to Liverpool. His grandiosity knows no bounds -- especially when he learns he's coming into a small fortune, an excuse to buy on time and borrow from neighbors.
His weary mate Juno (J. Smith-Cameron) is worn down by war, religion and politics. "Never tired o' lookin' for a rest," she muses, pulling her threadbare coat tightly as she holds her family together. Her wayward husband would rather drink than work, daughter Mary (Mary Mallen) is on strike -- "It doesn't matter what you say, ma - a principle's a principle," while son Johnny (Ed Malone), crippled by a bombing and fearful of IRA retaliation, lives on bitterness. Little wonder the news of an inheritance uplifts the poverty-stricken clan.
But O'Casey, a master of tragicomedy, is also a documentarian, clear on the ravages of desperation. Mary's posh suitor Charlie Bentham (James Russell), like Jack's wastrel friend Joxer (John Keating), can be lethal. Bentham hides behind the mask of manners; Joxer can be feral under his jocularity. Juno, like the other bereft women in the cramped building, exists in a world where alcohol, violence and shame destroy any chance of escape.
As the indomitable Juno, Smith-Cameron fine tunes her performance, packing acerbity and grit in equal measure, while Mallen conveys Mary's determination and vulnerability well. O'Reilly marries bravado to pathos in Jack; he and a nuanced Keating entertain each other with boozy banter, feckless souls who torment women with their inadequacies. Malone's Johnny is heartbreaking. James Noone's evocative set captures the Boyle's shabbiness, artistically lit by Brian Nason and ably directed by Charlotte Moore, who appreciates how ragged nerves can fuel drama.
The Boyle's door is open to all. The Irish Rep's strong production of O'Casey's classic, in a jewel-box of a setting, is worth a visit.
So is the crisp Broadway production of Terrence Rattigan's 1946 drama, The Winslow Boy, now at the American Airlines Theatre. A legal drama staged in an Edwardian drawing room pre-WWI, it addresses a real-life case. A 14-year-old naval cadet, accused of stealing a five-shilling postal order, has been expelled without his parents' knowledge or any representation on the boy's behalf.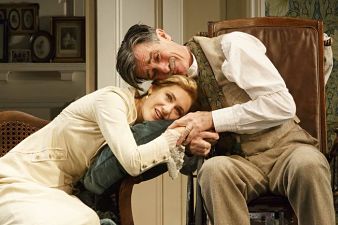 Outraged at the affront to his son's honor, Arthur Winslow (an excellent Roger Rees) takes the unusual step of asking the Crown to authorize a trial. In so doing, he creates a cause celebre, pitting individual rights against the Admiralty. Moreover, he is willing to spend two tortuous years in battle, sacrificing his family's financial and personal security in the quest that "right be done."
And right comes at great cost.
Wife Grace (Mary Elizabeth Mastrantonio) is the epitome of a kindhearted, well-bred woman, keenly aware that her husband is torn between pride and stubbornness, putting his own obsession before all else. Oxford party boy Dickie (Zachary Booth), like his spirited suffragette sister Catherine (Charlotte Parry), will pay the price for his father's crusade.
However assured that young Ronnie (Spencer Davis Milford) is innocent, Dickie privately wonders if it's "much ado about damn-all." It's a tough call -- the House of Commons is dealing with troubles in Ireland and rumblings in Central Europe, yet spends a day debating the Winslow case, which garners public sympathy. That's thanks to famed barrister Sir Robert Morton (a cool Alessandro Nivola), who Catherine assumes is grandstanding, before discovering they share a passion for justice.

Rattigan has meticulously crafted his drama; as the emotional and physical toll mounts, he shows his sensitivity to Catherine's plight, while keeping her a strong, determined woman. Parry is wonderful to watch, her sparring scenes with Nivola crackle. Similarly, Mastrantonio neatly calibrates her emotions; when she bursts, it's an acknowledgement of the indignities honor demands. The play is both funny and thought-provoking, and Rees grounds the production with flair.
The Winslow Boy, an import from The Old Vic, is smoothly directed by Lindsay Posner, who has fashioned a top-shelf revival.
Photo: The Winslow Boy/Joan Marcus