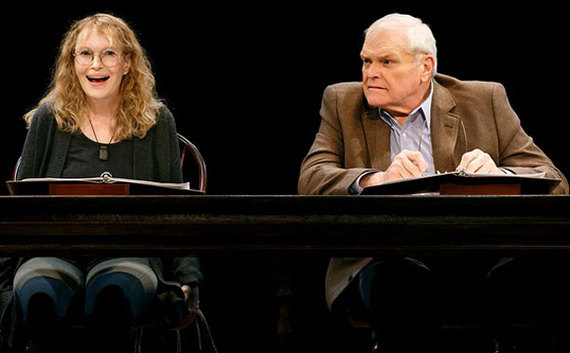 The premise of Love Letters, a chamber piece now on Broadway, is simple: Two people begin writing each other at age 8. Over the next 50 years, from the late 1930s onward, two upper-class WASPS chart their personal voyages via letter.
In an era that prizes digital, Love Letters is a reminder of the power of the written word to convey what a tweet cannot: honest emotion.
Now at the Brooks Atkinson, A. R. Gurney's 1988 play is a favorite for name actors. (The Broadway production will rotate celebrities.) They sit at a table, face the audience, and read from a script that chronicles their lives.
Andrew Makepeace Ladd III (Brian Dennehy) and Melissa Gardner (Mia Farrow) cover wide ground -- from boarding school to college, love and divorce, careers and disappointments. The letters double as diary, as well as a heartbreaking glimpse into lives of assumed privilege that reek of loneliness. The power of connection -- the two are bound by their confidences in each other and the letters that sustain them -- is moving.
Melissa is ever the rebel, a young girl from a wealthy dysfunctional family. The parental divorces, remarriages, alcoholism, even a brief mention of sexual abuse, are noted in her story. She is a potent reminder that "the ruling class" is often narcissistic and destructive, eager to substitute money for care and unable to value individuality. Both Melissa and Andy are groomed to behave accordingly; her sin is daring to think for herself.
Conversely, straight-arrowed, caring Andy navigates his life around her -- from camp onwards, aware of his love for her, yet resigned to watch her tumultuous journey from a distance. He, too, knows about sacrifice, but he's luckier -- he has a family to help navigate his life, and a gender that ensures his place in the power structure.
Collective memory is a potent subject for drama; here it's laden with an overarching, aching sadness. The missed connections, the raw honesty, the various crises, are detailed with precision. The performances are first-rate; Farrow is excellent in a demanding role, while Dennehy's silences speak volumes. His quiet intensity helps ground the poignant production.
While Love Letters articulates via epistolary, Port Authority, the revival of Conor McPherson, best known for The Weir, Shining City and The Seafarer, posits three Dublin men -- young, middle-aged and elderly -- who drift through their lives. They face the audience and each, in turn, relays his tale of woe.

Part of the Irish Rep's fall series, now off-Broadway at the DR2 Theatre, Port Authority reads like an extended one-act, far less compelling than the company's extraordinary production of The Weir last year. Kevin (James Russell), Dermot (Billy Carter) and Joe (Peter Maloney) fill their lives with a strange passivity, especially acute in the youngest man, devoid of job prospects. He's sweet and good-natured, but untethered. Mostly, he admires young women for their gumption; indeed the unseen women in the lives of all three men are positioned as strong and determined.
Responsibility consumes Joe, who has lived his life according to a strict code, while Dermot and Kevin are both consumed by drink. Dermot indulges from marital unhappiness and career dissatisfaction; Kevin is guided by a sense of hapless inevitability.
Is there a connection among the men -- or is McPherson noting a generational shift in downward mobility? The stories aren't devoid of meaning, but the portrait of Irish men is wrapped in casual despair. Given the occasional ramble, it takes time for the audience to care. Still, the performances are spot-on, especially from Peter Maloney, who imbues his woeful Joe with the heartbreak of regret in the line of duty.
Photo: Carol Rosegg