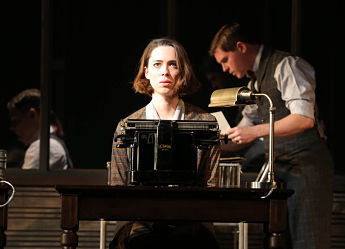 Few know playwright Sophie Treadwell, but they should. An esteemed journalist and actress, she wrote 40 plays in the first half of the 20th century. Her best-known work, the 1928 Machinal, a high point in Expressionist theater, is being revived on Broadway at the American Airlines Theater.
Starring Rebecca Hall, Machinal is loosely based on the Ruth Snyder murder trial, which fed the frenzy of daily tabloids eager to exploit a scandalous story.
Billed as the Young Woman, Hall is oppressed by machines. Trapped by the subway, typewriter and modern automation, she feels increasingly dehumanized. Hounded by her mother (Suzanne Bertish), this young woman feels compelled to marry, yet despises her intended and all aspects of conventional life.
Hall does an excellent job of capturing the fragility and despair of a woman imprisoned by a pompous husband (Michael Cumpsty). Desperate for love, obsessed with being free, she finds her liberation in a seedy bar with a Lover (Morgan Spector). But her happiness is short-lived. Unnerved often to the point of hysteria, she elects a violent option to solve her problems.
Treadwell's script is poetic in emulating mechanized repetition; she's deft at streamlining misery to its essentials. In nine episodes -- labeled business, home, domestic, etc. -- Treadwell is sensitive to the excruciating life of a woman trapped by social circumstance, as well as the arrogant paternalism of the era.
What distinguishes Treadwell from the male reporters of her time was her willingness to peer beneath the surface, to search for emotional motives, rather than capitulate to protocol. Machinal is, in part, an apologia for an unfulfilled life, one brief attempt to seize passion -- at any cost -- in the face of unrelenting suffering.
Machinal is neatly staged. The smart Art Deco sets and costumes by Es Devlin and Michael Krass, respectively, coupled with Jane Cox's dramatic lighting, underscore its Expressionistic themes and Twenties setting. Thoughtful and disquieting, Hall's performance is laudable; she carries the production aided by a solid cast. Director Lyndsey Turner's stylized look -- each episode is set in a box, underlining the claustrophobia -- and carefully calibrated performances deliver a Machinal that speaks to our own mechanized age.
photo: Joan Marcus