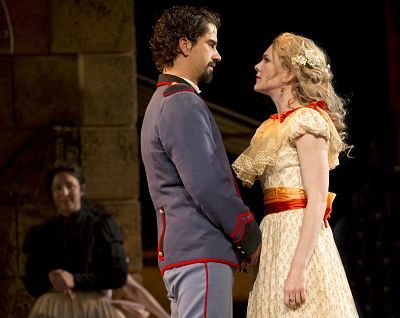 Though all indications suggest we're in 16th-century Sicily, from sets to costumes to the charming Italian improvisational banter that opens The Public Theater's Much Ado About Nothing at the Delacorte, audiences can be forgiven if they think we're in 21st-century America.
Under Jack O'Brien's sure direction, the cast, anchored by the incomparable Lily Rabe and Hamish Linklater, give Shakespeare's language a wisecracking rhythm, lending the evening a fresh energy reminiscent of classic screwball comedy.
Love, silliness and occasional notes of tragedy are the order of the day as Leonato (John Glover) welcomes home returning soldiers to his stately palazzo, where his daughter Hero (Ismenia Mendes) and niece Beatrice (Rabe) reside.
As the sexes mingle, love and marriage soon fill the air, though sabotage ensues at the hands of the villainous Don John (Pedro Pascal). Happily, a resolution is assured, and the evening comes to a festive close with the desired joining of Hero and Claudio (Jack Cutmore-Scott).
The driving force of the play, however, is the high-wattage banter between Linklanter's Benedick and Rabe's Beatrice. At first blush, you would think Rabe's dame-like Beatrice would cut the goofy and boyish Linklater to size. But he rises to the challenge, using his charms and more to hold his own.
John Pankow's Dogberry, a fool in constable's clothing, provides a perfectly portioned dose of puffed-up buffoonery; indeed there isn't a false note among the first-rate cast. Glover's Leonato lends an anchoring sense of dignity to the whole affair.
Every inch of John Lee Beatty's well-imagined palazzo and garden set is used to its fullest, while Jeff Croiter's warm lighting gives a sense of a hot Sicilian day. The wandering band of minstrels are worth noting, too, as the device helps bridge scenes and act breaks with seamless effort.
Many have attempted to bring Shakespeare forward to the present-day by banishing all sense of antiquity. Few are able to retain all sense of the original, while illustrating how timeless the story can be. The cast and crew of Much Ado have achieved it.
Photo: Joan Marcus