The off-Broadway musical National Pastime pays homage to screwball comedies and radio's heyday. Set in 1933 at WZBQ Radio in Baker City, Iowa, it boasts a wacky plot, kooky characters and a charmingly loopy narrative. The curve ball is baseball.
To ensure the Depression-era station stays afloat, the owners hit on a crazy scheme: They'll broadcast a fictional baseball team, the Baker City Cougars, to up ratings. Higher ratings mean more ad revenue. And they hit a home run -- until the jig is up. Or is it? The show, now at Playwrights Horizons' Peter Sharp Theater, offers a cheery score that lets audiences root for the home team.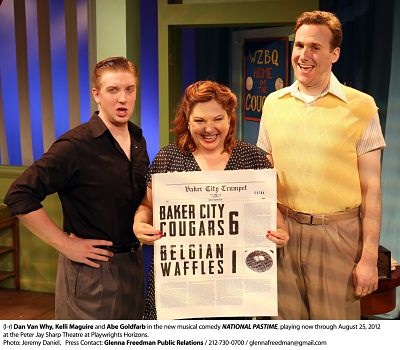 Al Tapper, who wrote music and lyrics, has also enjoyed a career as a successful leverage-buyout specialist. Tony Sportiello is an off-Broadway producer, playwright and the book author. Together, they discussed the show's inspiration.
National Pastime is in the mold of classic screwball comedies. What attracted you to the medium?
Tapper: The great Frank Capra movies and those written by Preston Sturges inspired me. Also, stars like Rosalind Russell and Cary Grant, fast-talking sophisticates. When I was a kid, radio stimulated my imagination like nothing else. It was my dream to play centerfield for the Boston Red Sox.
Sportiello: I grew up as a fan of George S. Kaufman. He inspired me to be a playwright. From Of Thee I Sing to The Man Who Came to Dinner, I loved the movies and plays of that era. The show was written with that tone and style in mind.
The songs have an upbeat, old-school Broadway feel. Every cast member gets a moment to shine. What's the appeal of writing for the ensemble vs. showcasing a lead?
Tapper: It allows for diversity. Since every song in a musical has to be integrated into the story, I was able to write songs for each character with a sense of their unique quirks and personalities.
A fictional baseball team rallies Baker City, Iowa, but it underscores the larger ethos of sports -- even when you can't watch it. What is the lure of baseball?
Tapper: There are so many aspects of baseball that fascinate me. To me, baseball is musical. It's a ballet. Every time a ball is hit, all the players on the opposing team move, the umpires move, the batter is moving down the first-base line. Truly magical.
National Pastime is also an homage to radio. Are you longtime fans?
Tapper: I am old enough to remember when radio was all there was. No television and of course, no Internet. I would lie on the floor of my house and listen to the small little radio in the bookcase. It's what dreams are made of.
Sportiello: I am a radio fan, although not the era of Charlie McCarthy and Kate Smith. I grew up as a Baltimore Orioles fan living in Brooklyn and then New Jersey. There was no ESPN then, so most of the games I had to catch on the radio. There were many nights I went to bed with a radio in my ear, trying to hear the latest Orioles games.

There is sentiment and hope in songs like "If We Build It" and "We Are America," as well as several zippy numbers. Do you see the production as a valentine to a simpler time?
Tapper: That is what appeals to many people who have seen the show. But I feel the show could be written today. Business is bad; foreclosures everywhere. Small towns are going broke, and people cannot find work. Everything old is new.
What are your future plans?
Tapper: The reason for doing National Pastime at Playwrights Horizons is to have a lead producer move it to the next level.
Sportiello: This is a show that will appeal to tourists and anyone who loved the screwball comedies of the '30s and '40s. It's not a complex work of art, a la Sondheim or Next To Normal. Nor is it a biting, funny satire like The Book of Mormon. There should be room for all that in the theater and more, including sweet, old-fashioned stories with catchy tunes and eccentric characters. We'd love for it to run on Broadway, and we think it could then play in every regional house in the country.