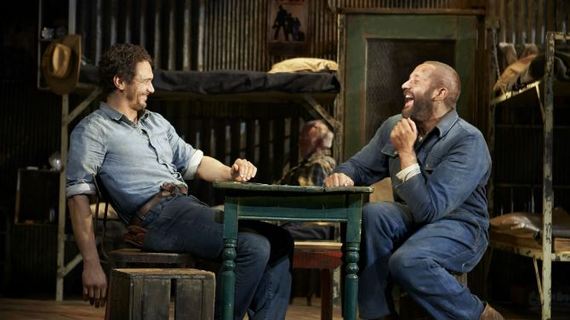 From the moment George (James Franco) and Lennie (Chris O'Dowd) walk on stage, they are mesmerizing. John Steinbeck's searing novella about two itinerant ranch hands, Of Mice and Men, is now a first-rate Broadway revival.
Now at the Longacre, the Depression-era play is a disturbing work that examines the pain of loneliness and the primal need for connection. It ruefully notes that dreams often seem real only when shared. The fantasy George spins becomes Lenny's obsession. George, in turn, is braced by his vision of a farm where Lenny cares for the rabbits.
The power of Of Mice and Men rests in the pathos between street-smart, protective George and physically strong, but mentally challenged Lenny. Their loneliness is endemic on the ranch. Candy (Jim Norton) is aging and disfigured, fearful of his future. Carlson (Joel Marsh Garland) is a bully, while Jim Parrack's Slim tries to keep the peace.
Then there's Curley (Alex Morf), the cruel, insecure boss' son who antagonizes the men, forever suspicious they are after his wife (Leighton Meester), a lonely woman starved for affection and recognition. She's dismissed with the same kind of insulting insensitivity they pay to Ron Cephas Jones' Crooks, the sole black man.
While each man is given his due, the standout in this fraternity of despair is the friendship between Lenny and George, born of dependence and fierce need. Yet trouble looms in various guises. George can only protect Lenny, a giant child, for so long. The big man doesn't know his own strength and, given his limited resources and past problems, it's only a matter of time before tragedy strikes. Steinbeck raises profound questions about personal vs. social responsibility, played out against a backdrop of endless longing.
Under Anna D. Shapiro's moving direction, the acting is uniformly singular and excellent. Meester holds her own as the sole female. The sound design, accompanied by David Singer's music, is a haunting expression of loss. But the locus of the play -- the pair's relationship -- is an astounding thing to watch.
O'Dowd captures Lenny's limitations with a few singular hand gestures; his extraordinary portrayal is heartbreaking. Similarly, Franco's George is tightly crafted; his gruff kindness masks a deep, quasi-parental love. The chemistry between them is palpable; their final scene together is masterful. O'Dowd and Franco give two of the most impressive performances of the season.
Casa Valentina, Harvey Fierstein's latest Broadway work at the Samuel J. Friedman, may be based on reality -- a 1960s Catskills bungalow resort where family men felt free to dress up like pretty girls -- but it's more polemic than play.
Each man, from a slick political operator to the muscular resort host, has a story to tell. They may share a passion for the world of self-made women, but their individual sensibilities are distinct. That's thanks to a strong ensemble; all the characters are ably rendered. But whatever psychosexual drama may lurk beneath their camisoles never slips out.
Fierstein shoots down bigotry and intolerance with well-placed speeches. But he can't avoid sounding preachy -- and that's the problem. Debates aren't drama.
George (Patrick Page), is a strong man with an extraordinarily sympathetic wife (Mare Winningham). They are a happy, united couple running a niche getaway, the Chevalier d'Eon, nicely designed by Scott Pask, who captures the rustic allure.
The piece opens with John, a shy young man (Gabriel Ebert), meeting Bessie (Tom McGowan), a decorated war veteran who revels in Oscar Wilde quotes. Soon, other regulars, including a preening, but kind Gloria (Nick Westrate) and elderly Terry, (John Cullum, who waxes rhapsodic about petticoats), transform John into Miranda. It's done so well he nearly clicks his heels in glee. (Costumer Rita Ryack is adept at defining characters in appropriate period pieces.)
But trouble is brewing: George gets embroiled in a nasty mail porn charge. The story behind the story comes courtesy of Charlotte (an effective Reed Birney). She heads an organization committed to repealing laws against transvestites. Determined to achieve social acceptance, she's clear on where to draw the line: keeping reviled homosexuals out.
Charlotte has a little McCarthy-style evil of her own brewing, which pits her against the Judge (Larry Pine.) Ironically, she may play the heavy, but it's a MacGuffin, the subplot disappears without any resolution.
In short, take away the dresses, and what do you have? Nothing much happens dramatically; there is no big reveal. That's unfortunate, because the premise is an interesting one. Director Joe Mantello and his solid cast evoke empathy and sensitivity for the characters. Their anguish, like their momentary joy, is heartfelt. But the real story of the men who, often with their wives and children, escaped the confines of their regular lives for the "heaven" of the Chevalier d'Eon resort, deserve a better tale.