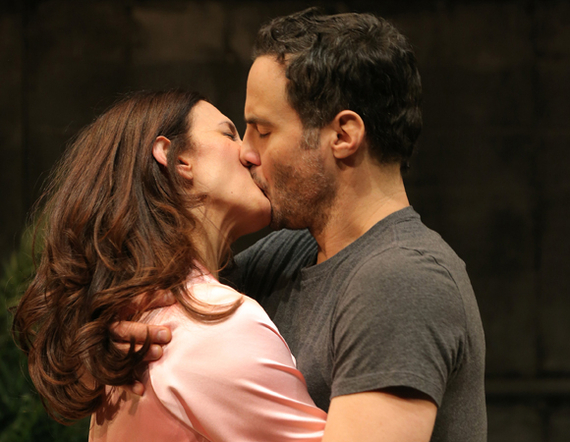 A theatrical rule of thumb: If Jessica Hecht is in a play, see it.
Her latest effort, Stage Kiss, at Playwrights Horizons, is a gem. An actress known as She (Hecht) is cast in a silly 1932 melodrama, only to discover she's playing opposite He (Dominic Fumusa), an old lover. The two shared a torrid affair years ago -- and that dormant passion is reignited with a stage kiss.
Sarah Ruhl's wonderful new romantic comedy, a play within a play, sends up revivals and romance, as well as the affectations of theater. Two stories, a goofy melodrama and the He/She affair, reflect the over-the-top emotions theater can engender.
Whether it's the relationship between the volatile leads, or the terrific exchanges with the daffy director (Patrick Kerr) and gay understudy (Michael Cyril Creighton), the production, thanks to a crazy adorable script, scores.
As Stage Kiss makes clear, art imitates life, and life imitates art. It ponders what is real: What happens on or off stage? Romance is wild and intoxicating; marriage, by contrast, is day in, day out, enduring.
It's an odd experience -- actors who have to repeatedly kiss on stage. Do they fall for each other because of such encounters? As the lines between reality and fantasy blur, He and She, much like their on-stage characters, tumble into each other arms -- with unexpected results.
Ruhl, last seen on Broadway in the serious drama In the Next Room or the vibrator play, demonstrates a gift for mining kooky humor in casual moments. Todd Almond's original music and Neil Patel's set adds to the fun. Director Rebecca Taichman seamlessly directs a wonderful cast, including Daniel Jenkins, Emma Galvin and Clea Alsip. Alongside the sublime Hecht and sexy Fumusa, they supply two-hours of nonstop entertainment. Don't miss it.
Photo: Joan Marcus