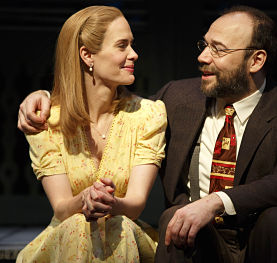 There is something touching about outsiders finding each other. In the case of Talley's Folly, set in a boathouse in the summer of 1944, it's a lively Jewish accountant with a torturous past, and a Southern Protestant whose liberal sensibilities put her at odds with her conservative clan, which hopes she'll move out.
Now being revived at the Laura Pels Theater, Talley's Folly has two superb actors -- Danny Burstein as Matt, the eager, frenetic suitor, and Sarah Paulson as Sally, the lonely nurse's aide who wonders about the wisdom of running away with a man she knew for a week last summer.
Never mind that her family suspects him of being a dangerous "Communist" out to destroy America. Matt, with his Jewish-inflections, is sensitive to anti-Semitism. It's sometimes hard to fathom why Matt is wooing Sally; she's restrained and seemingly impenetrable -- never responsive to his overtures. Yet he's convinced there is a strong bond between them -- it's just a matter of getting in sync.
As Matt tells us, the 97-minute story will be "a waltz, one-two-three, one-two-three," but it's really a tug of war. Each carries dark secrets and a deep, pervasive anger. Until they share their truths, there can be no truce. Matt's ardency is juxtaposed with Sally's resistance; he teaches her that true love accepts. It's not to be feared, but embraced.
The boathouse setting, the folly of the title, is rundown and forgotten. Yet it's an appropriate venue for Lanford Wilson's valentine to connection, played out with all its sorrows and limitations intact. The waters are rarely smooth, but the performances are beautifully wrought.
Conversely, Guillermo Calderon's play Neva, now at the Public Theater, is named for the Neva River, in St. Petersburg, Russia. The time is Jan. 22, 1905, the date of the Bloody Sunday massacre. Workers delivered a petition to Czar Nicholas II; in response, his officers killed more than a thousand peaceful marchers.
Neva is a meditation on staging art in violent times. While revolutionary protests are happening outside, three actors inside an empty theater -- Masha (Quincy Tyler Bernstine), Aleko (Luke Robertson) and famed Olga Knipper (Bianca Amato), widow of playwright Anton Chekhov, are waiting for the cast to rehearse her late husband's play The Cherry Orchard. Olga is unaware of the revolutionary tumult; she is obsessed with her own life and artistry. Talented, narcissistic, demanding and engaging, she is immune to her surroundings in the creation of her art.
However, Aleko is keenly aware of both the power of theater and the necessity for political awareness, as is Masha, whose final monologue passionately muses on the force of theater in a radically changing society.
Calderon is keenly aware of living under repression; he came of age under the dictatorship of Gen. Augusto Pinochet in Chile. That contrast between "the world outside and the domestic world is something I wanted to do here," he told The New York Times.
Because much of the play is personal, endlessly reenacting Chekhov's death scene, Neva can seem less commentary and more memoir. This is a world within a world; a dark stage, single light and three actors who ruminate about making the personal political and the political irrelevant.
There is no traditional narrative; Neva is a series of staged scenes rather than a coherent whole. Still, the writing is captivating and the performances are a master class in versatility.
If levity and family fun is needed after such serious fare, try Bello Mania at The New Victory Theater March 15 to 31. The circus star has performed worldwide, noted for his crazy hairdo and comedic abilities.
A seventh-generation performer born to a family of daredevils, ballerinas and equestrians, Bello Nock joined the Big Apple Circus in 2000. Four years later, he wowed millions in the U.S. with Bellobration for Ringling Bros. and Barnum & Bailey.
Bello, who prides himself on being a "comic daredevil," designs his owns stunts. Some of his more outrageous feats: hanging by his toes under a helicopter flying over the Statue of Liberty and riding an elephant through Manhattan's Midtown Tunnel.
In Bello Mania he's joined by wonderful performers who compliment his sometimes hair-raising, often goofy but always entertaining show.
Talley's Folley Photo: Joan Marcus